Doobert Elite, Pilot.dog and PetMatch Rescue of Pennsylvania are teaming up to transport five dogs. PetMatch is an amazing rescue that Pilot.dog has been working with since they started flying rescue dogs. The ladies in charge of the rescue, Pam Knichels and Christine Farrell, are so caring and loving which is one of the reasons why Pilot.dog loves bringing dogs to them.  A few weeks ago Pilot.dog did a rescue flight where one of the dogs, Freda, missed the flight. They are now headed back to get Freda and four of her friends.
Let's introduce you to these five dogs! The first is Eloise who was found as a stray and brought to a local shelter in Whiteville, North Carolina. Eloise is 3 year old, boxer/hound mix around 55 pounds. She was scared and overwhelmed at the shelter like any dog would be but her foster said Eloise is doing great now that she is out of the shelter environment. Eloise loves everyone and the other dogs she has been around but ignores her cat friends. Eloise loves to be around the pool at her foster home but has yet to take a dip!
Next is Freda.  Freda and another dog were owner surrendered by the same family due to a loss of job.  The other dog was flown up to Pet Match Rescue of PA two weeks ago. Freda was said to have a cold and could not get a Health Certificate in order to be on that flight. Luckily, the shelter held Freda for PetMatch until she was able to fly.  Freda is a female staffie/lab mix approximately five months old.  Freda is a very sweet dog and she kissed every dog in the kennels as she left shelter.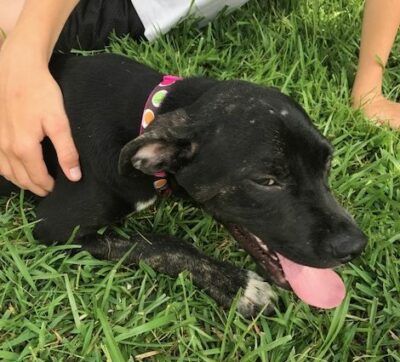 The next two is a pair of bonded brothers, Wally and Seth. These two came in from the same address but were still considered strays. They were timid at the shelter, but were still super sweet. Wally is around 40 pounds  and Seth is a little bigger around 45 pounds. Wally is the one with the half black face and Seth has the mask. Wally and Seth are around five months old and are going to be big boys.
The last dog is Clover. How could you not love those ears! Clover was found as a stray and was very shy toward everyone at first. Luckily, the other dog sharing a kennel with Clover got her to come out of her shell. Clover thought she had won the lottery when someone adopted her but she was sadly returned only a couple weeks later because her new fur sibling didn't like her much. Clover is young with lots of energy and enthusiasm, loves to play fetch and she loves other dogs but needs a good leader as an owner who can train her. Clover is close to one year old and weighs 35 pounds.
All five dogs are being flown from a shelter in Whiteville, North Carolina. It is a very small town between, Lumberton, North Carolina and North Myrtle Beach, South Carolina. Pilot.dog says their dogs are wonderful and they have flown quite a few to PetMatch from them. This shelter is considered a high kill shelter but Animal Control who is in charge of the shelter does everything possible to get the dogs adopted or into a rescue to save their lives and do everything in their power to not put an animal down unless it's absolutely necessary.  
Thanks to the organizations involved to make this transport possible. Doobert Elite is a new membership based program of Doobert.com focused on organizations and volunteers serious about raising the bar in animal rescue transport. With best practices based upon years of experience the goal is to harness the best practices in transport to bring sustainable success for the organizations and volunteers. Pilot.dog is a husband and wife team who formed a nonprofit group to fly and rescue dogs. Along the way they have met many kind, warm, and compassionate people that they wanted to start this nonprofit organization to share their stories. Pet Match Rescue aims to pull dogs and cats from bad situations locally, across the United States, and abroad. They rescue, rehabilitate, and rehome animals in the Pittsburgh area to give them a second chance at life.
You can help these five dogs by contributing to the fundraiser for their flight. To donate you can go here.