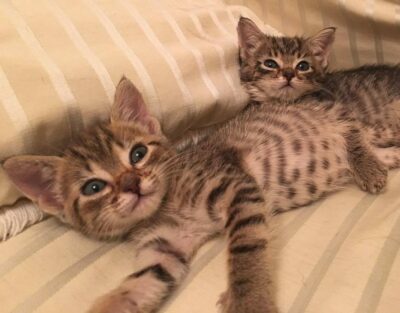 Digger and Mixer are looking to pave a permanent path into your heart!
Cat Around Town Project got a desperate call from an individual who works construction. It turns out that there were four kittens found in pieces of their equipment on the job site, with no mom in site. Since the area was unsafe and unsuitable for kittens, the individual took the kittens and contacted Cat Around Town Project.
When Cat Around Town Project arrived at the site, they affectionately named them, 'The Construction Crew', Digger, Dozer, Skidder and Mixer! Mixer an
d Digger had someone interested in them shortly after being rescued. All four kittens were housed and bottle raised by one of the volunteers.
Digger got her name because the day her foster received her, she bathed them and was trying to scrape two triangle patches of fur off her face because she thought it was dirt. Digger would be happy for the rest of her life doing nothing but loving people. She loves to snuggle and be held. You can't pet her enough and playing is too much fun. But mostly, she can't get enough love.  Mixer considers herself the foreman and is the first one to lead the crew in playing and when ready, will demand plenty of cuddle time.

Their foster had them less than one week and everyone fell in love with them! At their foster, Mixer, still wobbly and unsteady, refused to be put down and would crawl right back into your lap. Mixer wanted to be sure you knew she would offer plenty of cuddle time. A friend of their foster family, was interested in adopting Mixer and Digger. Mixer and Digger tested negative for FIV/Felv and were ready to be adopted!

Karen Lee, with Cat Around Town Project, was the coordinator for Digger and Mixer's transport. Cat Around Town is a rescue group promoting a cooperative effort to reduce the free roaming cat population in our community through adoption, education, and TNR. These two were transported over 1,000 miles from Lugoff, South Carolina to Quinlan, Texas. Karen Lee had never done a transport before but she was determined to get these girls to their new home!
Her motto is that she would go over the moon to place the kittens she receives in the perfect forever home. Using Doobert, she was assisted every step and found enough volunteers to get these two to their new home. To learn more about Cat Around Town Project click here.