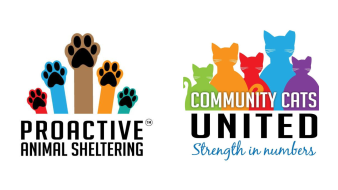 Community Cats United, Inc.: Pioneering Proactive Animal Sheltering
Welcome to Community Cats United, Inc. – a global movement dedicated to making a difference in the lives of our furry friends, one community cat at a time. We are a relentless, grassroots network of volunteers, and we believe in the power of unity, compassion, and proactive solutions.
Our Mission:
Empowering Caretakers Worldwide: At Community Cats United, Inc., we are a collective force committed to the well-being of community cats and dogs. Our mission transcends borders, bringing together over 100,000 compassionate individuals, rescue groups, and advocates from across 127 countries and all 50 US states. We stand up for all animals who suffer and work tirelessly to alleviate their pain.
A Humane Approach: We champion the humane practice of trap-neuter-return (TNR) as the most effective solution to combat the overpopulation of community cats. But we don't stop there. Dogs are a part of our mission too. Through spaying/neutering, colony caretakers, rescuers, and fostering, we aim to enhance the lives of cats and dogs globally.
We believe that every city, parish, borough, and state should have access to free or reduced-fee spay and neuter services to alleviate the suffering of street, community, and companion animals.
Strength in Unity: Our community believes in supporting each other. Whether you're a trapper, foster parent, rescuer, caretaker, or cross-poster, we provide a platform for you to share experiences and knowledge. Together, we amplify our voices, making a profound impact on behalf of our beloved community cats.
Proactive Animal Sheltering: This visionary approach focuses on reducing overpopulation and shelter intake through spay/neuter, encompassing owned dogs/cats, community cats, and shelter/rescue animals. Proactive Animal Sheltering is our answer to creating a brighter future for all animals.
How You Can Help:
Community Cats United, Inc. is a 501(c)3 non-profit organization with over 100,000 members worldwide. Your donations may be tax deductible, and every cent goes directly to the care and well-being of community cats.
Donate: Your generosity fuels our mission. Every donation, no matter the size, contributes to the welfare of community cats and animals in need. Help us make a lasting impact today.
Volunteer: Your help is invaluable. Reach out to your local shelter, rescue group, or community cat organization to volunteer and make a world of difference to a homeless animal.
Partner with Doobert Forward: Are you an animal rescue or shelter organization? Join us in partnership with Doobert Forward! This revolutionary online store allows pet parents to shop for pet products while contributing to animal rescue organizations.
When you sign up, your organization becomes a benefactor, receiving 5% of each order as a donation. Join us and support this vital cause while providing a brighter future for animals in your care. At Community Cats United, Inc., we believe in the power of collaboration. Partnering with Doobert Forward is an excellent way to enhance your financial resources while continuing your critical work in animal rescue. Let's make a brighter future for our furry friends together.
Ready to make a difference? Donate today or sign-up your organization with Doobert Forward and be a part of the solution. Together, we can change lives!
Welcome to doobert.com
We'd love to have you! Are you looking to sign-up yourself or your organization?