Meet Gabbie!
She was seized from her owners and taken to NE Georgia Animal Shelter in Lavonia, Georgia. When Gabbie arrived at the animal shelter, they immediately rushed her to the vet. Gabbie is about 5 years old and was bred until she could no longer have puppies. Since she could no longer have puppies, her family couldn't make any money off of her. They then turned to using Gabbie as a bait dog in dog fighting.

The horrible world of dog fighting took its toll on Gabbie, leading her to have the conditions she currently has. She is currently in private boarding where she will receive the rest of the vet care that she needs. You can see from her pictures that she has a lot of healing to do but will have those scars that will tell her story forever.
Thanks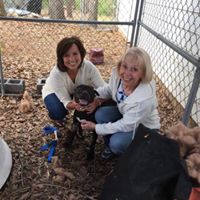 to Rescue Transport USA and all of the volunteers involved, Gabbie was transported from the shelter in Lavonia, Georgia to the temporary foster in Lindale, Georgia. After she spent time at her foster, Gabbie moved to a more permanent situation in McDonough, Georgia.

Gabbie spent two weeks in a foster home where she has healed enough physically that she is ready for her heartworm treatment. She will remain with Share the Love Rescue until she completely heals, but until then she  will cuddle, rest, and keep on smiling!