Doobert transports more than dogs, and this week's story is for the cat lovers!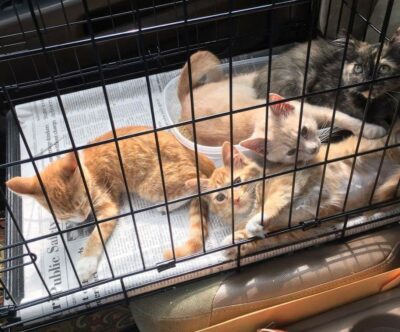 Naranja was brought in by the Jefferson County Animal Control alone and terrified. He was found covered in fleas and had eye infections in both of his eyes. His journey was supposed to happen over two weeks ago but he was too thin, and too sick.
Another little fur ball on this transport was Janet. She was also brought in by the Jefferson County Animal Control, along with her siblings, orange tabbies, Jack and Chrissie. A local rescue had an adopter who was looking for two, orange Tabby kittens, so Jack and Chrissie were adopted right away, leaving Janet behind.
Luckily, there was someone at DASH Animal Rescue in Ohio who has a weakness for Tortoiseshell cats just like Janet! Janet had a severe upper respiratory infection (URI) when she was found, but she was successfully nursed back to health. With Janet being sick, it took her over four weeks to be able to get her on a transport to her new rescue.  
The other two kittens on this transport were Columbia and Charleston. These two came in as part of a litter of six. They were the runts of the litter, weighing only 1.3 pounds, at six weeks old.  Columbia and Charleston were also animal control pickups, like Janet and Naranja. They have been transported to DASH Animal Rescue where they will be reunited with their siblings who were transported two weeks earlier.
Thanks to Rescue Transport USA for safely and successfully transporting them to their new rescue. Rescue Transport USA takes animals from high kill shelters and transports them to rescues all over the country with the help of dedicated volunteers. These animals are then able to find their forever home, and once adopted, Rescue Transport USA can also assist with the transport to their new home. This past weekend, all four kittens were transported over 500 miles from Jefferson, Georgia to Ashville, Ohio.
To learn more about Rescue Transport USA you can go here, https://www.facebook.com/rescuetransportusa/?fref=ts