This week's tip is about grooming your dog. While it's important to groom your dog so they feel and smell clean, grooming is also part of their health regimen. Basic grooming includes: a bath, nail trim, cleaning out their ears, maybe a simple dental wipe, anal gland expressing and more. Dogs that have hair rather than fur require regular grooming; not just a bath to help keep their fur from becoming matted. They require regular hair cuts from an experienced and gentle groomer.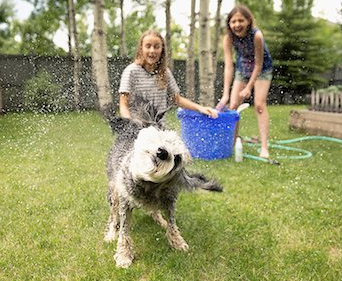 A few breeds that have hair include poodles, poodle mixes, Shih Tzu's, and Portuguese Water Dogs. While they are often hypoallergenic, dogs with hair require more in-home care like regular brushing than dogs with fur. All dogs require a regular bath to keep them clean and healthy and it also gives you an opportunity to check for anything on their body that might require veterinary care. Most pet stores offer grooming services, or you can research a mobile groomer. If you are bathing your dog yourself, have plenty of towels handy, it can get messy. A nice alternative is a doggy dunk where the tubs are raised and you don't have to bend over as you would in your home bathtub. They supply the towels and clean up afterward as well.
Here is today's tip:
Whether you bathe your dog at home, take them to a DIY doggy dunk, or use a professional groomer, regular grooming is essential for your dog's health. And remember to always use shampoo that's formulated for dogs. Figure out what's best for you and your dog, (ask your vet if you're not sure), and find a trusted groomer.
For more information about grooming and health, grab a copy of What to Expect When Adopting a Dog.