Email has always been an essential communication tool, but now that everyone is collaborating remotely, it has quickly become an everyday staple.
Fosters, volunteers, and staff members may be reaching out to you left and right. And waking up to a flooded inbox may already start feeling like the norm.
But, there's actually a better solution than just embracing the overwhelming feeling of constantly swimming in a pile of messages and it's an app called Boomerang!
What Is Boomerang?
Boomerang is a Google plugin that makes managing emails so much easier. Whether you're struggling to keep track of people you need to follow-up with or simply want to organize your inbox without sacrificing important emails, this is the app to get.
Learn more about its features and how you can get started on using it down below!
What Can You Do with Boomerang?
You can use Boomerang for free or upgrade to a paid version. But, when you sign up, they do give you a free 30-day trial of their Professional plan which can help you decide which features you need.
The features below come with the free plan, but you'll only be limited to 10 message credits.
The best option would be the Personal plan, which costs about 5 bucks a month and comes with unlimited message credits.
Schedule Emails
Take control of your time by writing up emails when you're free or while on the go, and scheduling them to be delivered at just the right time using Boomerang's Send Later feature.

Send Recurring Emails
Keep track of weekly, monthly, and yearly appointments, events, or even birthdays by scheduling recurring emails to help you remember.
Set Up Email Reminders
Want to declutter your inbox without getting rid of important emails? You can use Boomerang to temporarily remove an email and have it return to your inbox just when you need it.
Track Responses
Always having trouble remembering to follow-up with recipients that don't respond? Set up their emails pop back in your inbox after a certain period of time.

Use Read Receipts
Find out when a recipient clicks and opens your email by including Read Receipts. This works on several platforms and even when the recipient is reading your email on a mobile device.

Write Better Emails with AI Assistance
Boomerang also has a feature called Respondable which analyzes your email as you type and helps you gauge how likely you are to get a response.

Pause Your Inbox
Maybe you already have enough emails to respond to and want to finish those before dealing with a new batch of messages.
Or, you're taking a break and want to keep yourself from being tempted to reply to work-related emails.
Boomerang actually lets you pause your inbox to halt incoming messages and unpause it when you're ready.
How to Get Started with Boomerang
Step 1: Go to Boomeranggmail.com

Step 2: Click Add this to your Gmail

Step 3: Click Add to Chrome

Step 4: Click Add Extension
And you'll see the Boomerang icon on the upper right-hand corner of your Chrome browser.
How to Use Boomerang
Scheduling Emails
When you compose an email, you'll see a Send Later button at the bottom.
Click the Send Later button then choose when you want to send the email.
You can also enter a specific date.
And set up the email to be a recurring message.
Setting Up Email Reminders
Next to the Send Later button, you'll see a panel where you can indicate when you want that email to pop back in your inbox.
And also set the conditions for the email reminder.
Turning On Read Receipts
In the same panel as the settings for the email reminders, you'll see a small envelope icon. Click on it to turn on read receipts and you'll receive an email once the recipient opens your email.
However, Boomerang did specify that some email clients aren't compatible with the read receipt feature and that recipients can choose not to show read receipts.
So, there may be times when you don't get a report of your email being opened or clicked.
Pausing Your Inbox
After installing Boomerang, you'll see a Pause Inbox button below Compose in your inbox.
When you click Pause Inbox, you'll be able to turn on auto-responder and write a short message that you want to send to the people emailing you while you're away.
You'll also be able to specify email addresses and domains that you want to continue receiving messages from or permit the delivery of emails containing certain words. Pretty cool, right?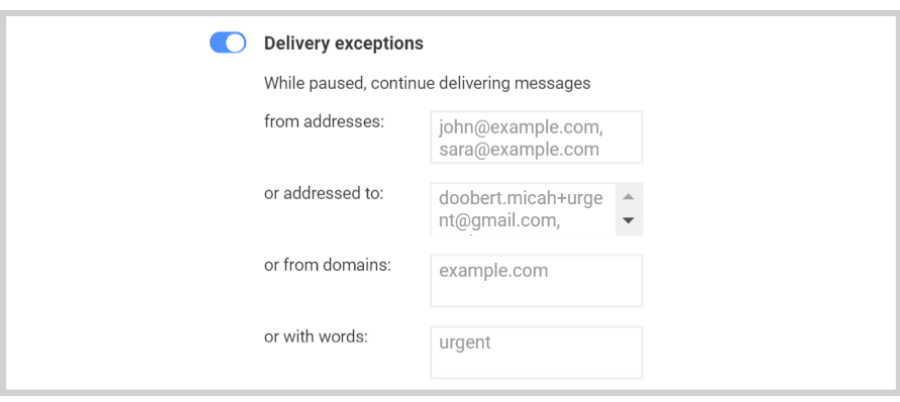 Then, at the bottom, you can pick when you want to unpause your inbox.

Want to start using Boomerang? Visit their site here.