Meet Max! He was recently transported from Oxford, North Carolina to Midland, Michigan to his new foster home.
Max's owner could no longer keep him, so they left him in a drop box at a local shelter after hours. The shelter Max was left at was getting very full and he only had 72 hours left in the shelter. It was a rush to get Max safe, and in the last hour, Pointer Rescue Organization saved him.
When Max was found, he had medical issues with one of his eyes and one of his paws. Max had very bad calluses on his elbows and was always looking for attention. and he would paw if you stopped petting him. Pointer Rescue also says that Max was fearful of the grass, but would look for concrete, as if he never knew anything different. After taking antibiotics and steroids, his conditions are starting to heal. Unfortunately, Max tested positive for heartworm, and will start treatment at his new foster.
Max had an overnight with a family along his route and they shared their story of their time with Max. They said that Max is such a sweet dog and did not know how a family could just give up a part of their family. Max is very well behaved. At his overnight stay, he knew how to tell them that he wanted to go outside, but he was timid once he got outside into a new environment. With another foster sibling and more dogs barking around the neighborhood, Max needed a little encouragement after sitting right next to his foster family.
After a while of taking in his surroundings, Max felt more comfortable in this new place. It was a sad sight to see Max timid of being somewhere new. After being in the same home for his whole life, to moving to a foster, they felt he could feel he was no longer at home.
At his overnight Max made a great friend. So close, they almost adopted him, but they couldn't at the time. One of the people watching Max was 82 years young, and she wished she was twenty years younger so she could enjoy going out on walks with him. Max would sit in front of her, receiving unlimited head scratches! When he first arrived at his overnight foster, Max did not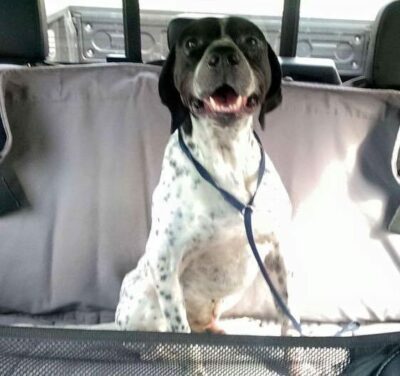 appreciate hugs or kisses, but by the time he left, they were one of his favorites!
The next morning, Max was ready to start his journey to his new foster home in Michigan. He hopped right into the front seat. As the ride went on Max climbed to the passenger seat and dozed off. When it was time to switch drivers, Max did not want to leave, hiding behind his first driver. It was a struggle to get him into the next car but Max did it. They say he is a very proud, well mannered dog.
His new friends wish Max nothing but a good and happy life and to find his forever home very soon. Thanks to Pointer Rescue, Max is at his new foster, ready to be adopted and find his forever home. Pointer Rescue is a non-profit group of coordinators and volunteers across the United States dedicated to the rescue of purebred Pointers. They pull English Pointers from Shelters, provide foster homes and ready them to be Companion Pets for approved adoptive families. Max is on his way to a new and healthy life.