Meet the Puppy Trio!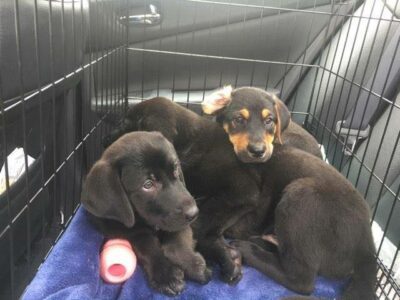 These three pups, Callie, Carter and Chopper were part of a local family in Mooreville, Mississipi. They had a batch of puppies that they wanted to get rid of but they could not find a home for these three. Storyteller's Express was contacted by an adopter they are familiar with who worked with the surrendering party.
They got the pups to to the vet for their basic vetting needs as well as their health certificates. The pups were fostered by the person who contacted Storyteller's Express until they could fill their transport. Their foster even drove the first leg of their trip!
With the help of dedicated volunteers, these three traveled over 1,000 miles from Mooreville, Mississippi to Ogdensburg, New York. The trio had a lot of interest as they made their way North. Callie, Carter and Chopper are amazing puppies and as of this past weekend, they are all in their forever homes! One of the pups got adopted on their transport after a home visit in Maryland, one was adopted by a local foster in New York and the third was adopted by a local family!
To learn more about Storyteller's Express, you can find them on Facebook.