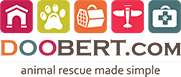 Contact:   Alyssa Grunfelder
               (262) 349-0148                                                                                                  FOR IMMEDIATE RELEASE
               alyssa@doobert.com
               Doobert.com
Volunteers Transport English Setter to Her Forever Home
Charlotte, NC – A local rescue organization and Doobert volunteers transported an English Setter, Nahla to her forever home in Charlotte, North Carolina.
Nahla had a very loving home with her family in Oklahoma. Her owner left for medical school and the family realized they could not give Nahla what she needed. The family wanted to make sure they were giving Nahla the best life that she deserved. They decided to give  her to a local rescue, A Better English Setter Rescue.
She went to a foster in Iowa in February and quickly adapted to her new foster home. Nahla was adopted by a family in North Carolina! Thanks to Above and Beyond Transports and all of the volunteers involved, Nahla was transported over 400 miles, from Cambridge, Ohio to Charlotte, North Carolina to her forever home.
Volunteers use the custom-built software on Doobert.com to save animals by volunteering, fostering, and/or transporting animals.  This software helps solve the most difficult aspect of coordinating animal rescues: transportation.  With Doobert.com, animal lovers around the country come together to bring animals to their forever homes.
Volunteers and organizations can sign up for free to rescue more animals at http://www.Doobert.com.
###