Running a nonprofit takes serious dedication and passion. You normally don't get anything in return for the work you do, but you do it anyway because you believe in your mission and the change that it will bring to the world.
But, getting the word out about your organization and the reason why you do what you do can be difficult, especially when you don't have enough connections, social media presence, or a budget.
Thankfully, there's this company called Cloztalk that aims to help nonprofits not only raise awareness about their mission but also raise funds at zero cost.
What Does Cloztalk Do?
Cloztalk helps nonprofits by creating merchandise for them for free and selling it on their website to raise awareness as well as funds.
So how this works is a nonprofit gives them access to their name and logo then Cloztalk prints these on different types of garments, such as caps, shirts, and hoodies.

That nonprofit's supporters and Cloztalk's audience can then purchase these merchandise. Cloztalk takes care of everything—from inventory to orders to shipping.
And 20% of the net profits are donated to all their nonprofit partners "based on each nonprofit's pro rata share of total sales for that year.".

As a way to raise awareness, buyers receive a description of the nonprofit that they purchased merchandise from. But aside from that, Cloztalk also promotes their nonprofit partners on social media.
How Do You Become A Nonprofit Partner?
Cloztalk is very transparent about what becoming a nonprofit partner entails so you won't feel like they have a hidden agenda or anything like that.
They provide you with an agreement to sign that details what they need from you and what you'll get. They even linked their Nonprofit Agreement on their site for curious nonprofits to view.
If you're interested in becoming a nonprofit partner for Cloztalk, follow the steps below.

Step 2: Click the Nonprofit Application button

Step 3: Click Apply Here 
Step 4: Fill-out their online form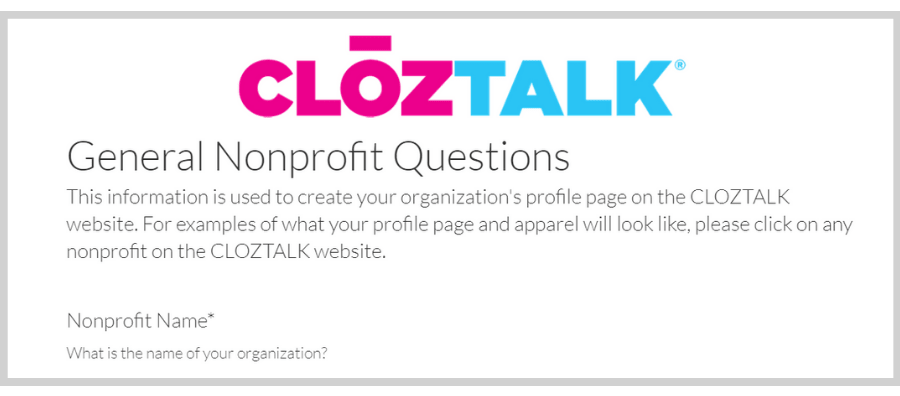 Step 5: Sign the Nonprofit Partner Agreement
After filling out the online form, Cloztalk will email you a one-page agreement that you'll need to complete and sign electronically.

Step 6: Wait for approval
Once approved, you'll receive a mutually signed agreement.
Step 7: Get your very own page on their website.
After finalizing the partnership, Cloztalk will design your merchandise and send it to you for approval. The approved design will then be posted on your nonprofit's page on Cloztalk's website, ready to order!

Ready to get a spot on Cloztalk's website? Click here!