With Thanksgiving a few days away a lot of people may be preparing to travel for the holiday. If you are planning on taking your pets with you, check out these tips from the American Veterinary Medical Foundation.
Your pet needs a health certificate from your veterinarian if you're traveling across state lines or international borders, whether by air or car. Learn the requirements for any states you will visit or pass through, and schedule an appointment with your veterinarian to get the needed certificate within the timeframes required by those states.
Never leave pets alone in vehicles, even for a short time, regardless of the weather.
Pets should always be safely restrained in vehicles. This means using a secure harness or a carrier, placed in a location clear of airbags. This helps protect your pets if you brake or swerve suddenly, or get in an accident; keeps them away from potentially poisonous food or other items you are transporting; prevents them from causing dangerous distractions for the driver; and can prevent small animals from getting trapped in small spaces. Never transport your pet in the bed of a truck.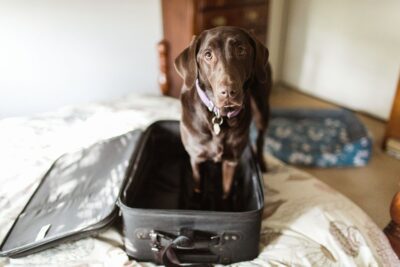 Talk with your veterinarian if you're traveling by air and considering bringing your pet with you. Air travel can put pets at risk, especially short-nosed dogs. Your veterinarian is the best person to advise you regarding your own pet's ability to travel.
Pack for your pet as well as yourself if you're going to travel together. In addition to your pet's food and medications, this includes bringing medical records, information to help identify your pet if it becomes lost, first aid supplies, and other items.
Are you considering boarding your dog while you travel? Talk with your veterinarian to find out how best to protect your pet from canine flu and other contagious diseases, and to make sure your pet is up-to-date on vaccines.
We wish everyone safe travels and a happy Thanksgiving!