Planning to build a website for your organization but don't know where to start?
We know just the thing to help you get yourselves online without doing a single line of code!
What are we talking about? All-in-one website hosting sites!
They'll provide you with everything you need, from a custom domain name to a website hosting plan to even a website builder!
What Are Website Hosting Sites?
To get your website online, you'll first need to invest in a website hosting service provider.
A website hosting service provider will supply you with the technology and services that you need to make your website accessible to internet users.
Know that many of them offer discounts to non-profits, particularly 501-c3 organizations, so don't forget to ask about that once you've found the one that you want.
Which Ones Do We Recommend?
While most website hosting companies require that you already own a domain name, some provide you with everything you need to get your website online, right in one place.
And the three that we recommend: Wix, Go Daddy, and Kualo among the most popular one-stop-shop website hosting service providers. Plus, all are totally beginner-friendly!
Wix 
The first on our list is Wix. If you're a total web design newbie, Wix can be a great place for you to build a website.
In addition to website hosting and both paid and free domain names, they also offer a super-simple website builder and beautiful website templates.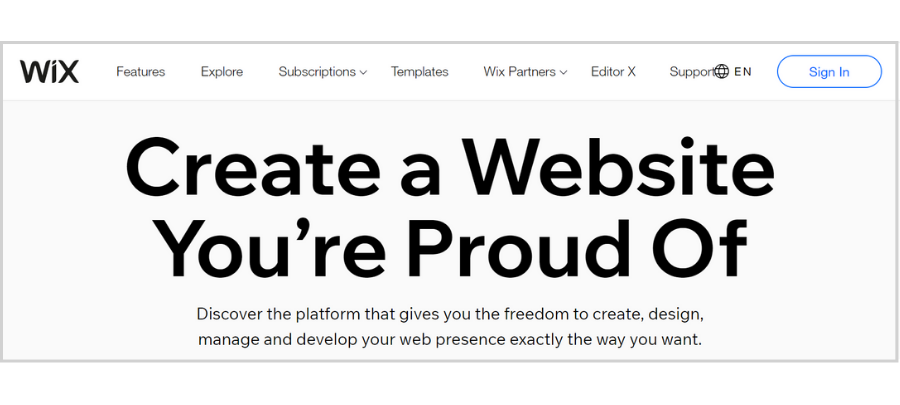 Web Hosting with Wix
Once you go into Wix, all you need to do is sign up and you'll be able to build and publish a website for free.
Here's the catch though: aside from not being able to use a custom domain name, your free Wix website won't be ad-free…
…and you won't have access to Google Analytics.
For an ad-free website and a custom domain name, you'll need to upgrade to a Premium plan.
The cheapest Premium plan is Connect My Domain, priced at $4.50 a month (billed annually), but that only lets you connect an existing domain name and provides you with 1 GB bandwidth and 500MB storage.
If you're on a tight budget but need your own domain name, you can opt for the Combo plan instead.

For heavier duty websites, they also have the Unlimited and VIP plans.
In our opinion, if you're just starting out and not necessarily expecting hundreds of daily website visitors, the Combo plan is your best bet.
It's affordable and pretty much has everything you need for a fully-functioning website.
Besides, when you find that it no longer suffices for your needs, you can always upgrade.
Wix Website Builder
Wix gives you the option to either let an ADI (or Application Desktop Integrator) create a website for you or go the DIY route.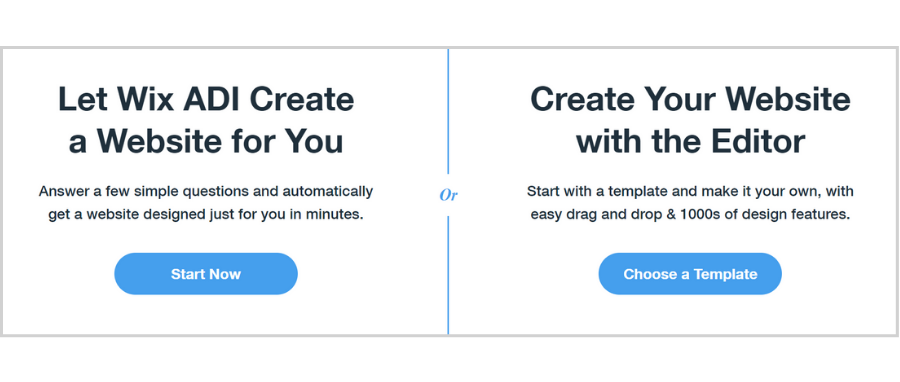 For the first option, Wix selects a template for you based on the answers you provide and even generates a color palette for your website based on your organization's logo colors if you choose to upload it.
You'll also be able to select the features that you want to be added to your website, like a blog section, online store, forum, etc.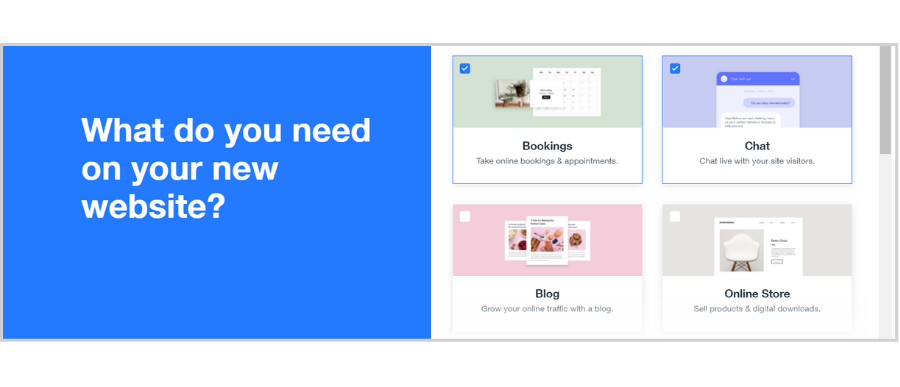 For the second option, you'll be the one to select the template that you want and manually add the features that you need to your website—if they're not already included in your chosen template, that is.
Wix has a wide selection of niche-specific website templates, which makes it easier for you to choose one that represents your organization best.
Since you'll be creating a website for your animal shelter or rescue, you can simply pick a template from the Pets & Animals category and tweak it to your liking.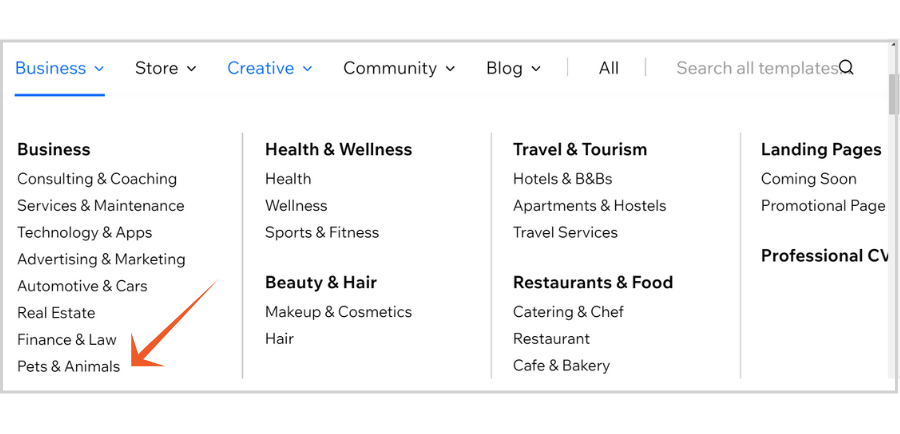 You can add, remove, animate, resize, and rearrange elements, such as texts and images, to create the look that you want for your website, which is pretty neat!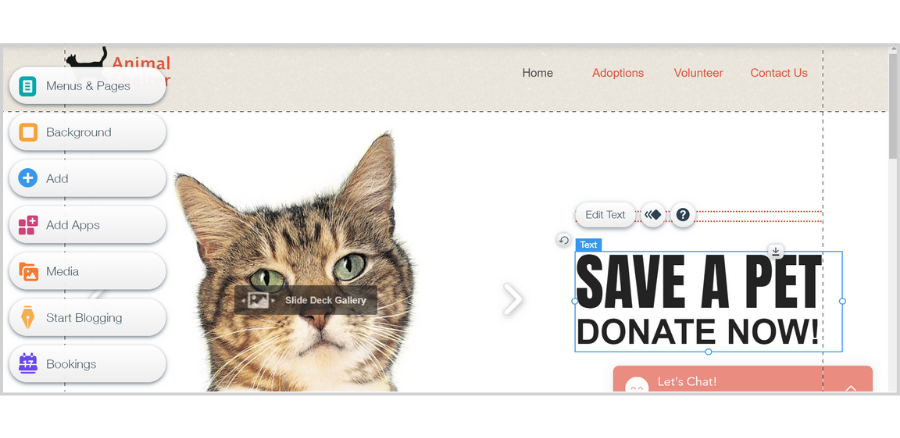 You can also edit how you want your website to look on mobile devices.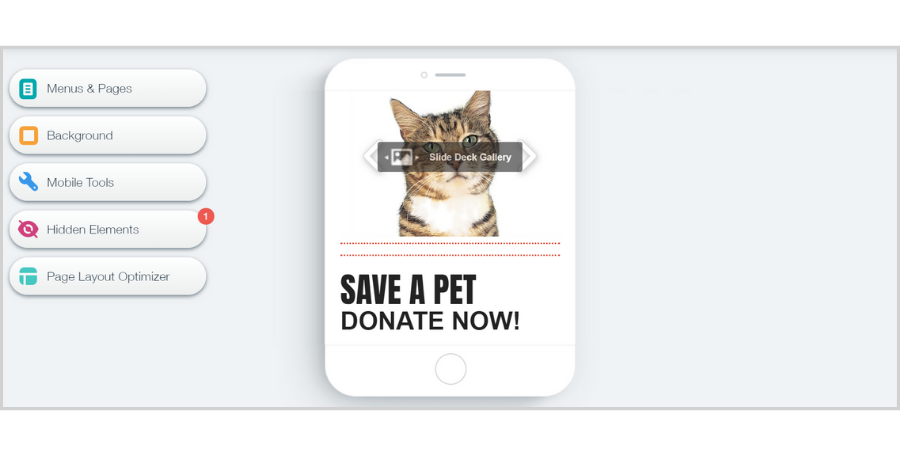 One thing to know about Wix, though, is that once you've selected a template, you won't be able to pick a new one; just change up the look of the one you've chosen.
So it's very important to pick one that would work for your organization longterm.
Those wanting to integrate more advanced features or get a fully customizable website might also find Wix too simple and limited.
Despite its cons, though, Wix is definitely worth checking out, especially if you have little to no experience with creating websites.
Plus, with Wix, you can design a website for free and publish it using a free subdomain name, so it's perfect if you simply want to try your hand at managing a website without spending money.
GoDaddy
GoDaddy is mostly known for being the world's largest domain name registrar, but it also offers dozens of products and services, including shared hosting and a user-friendly website builder. Like Wix, its interface is simple and easy to navigate.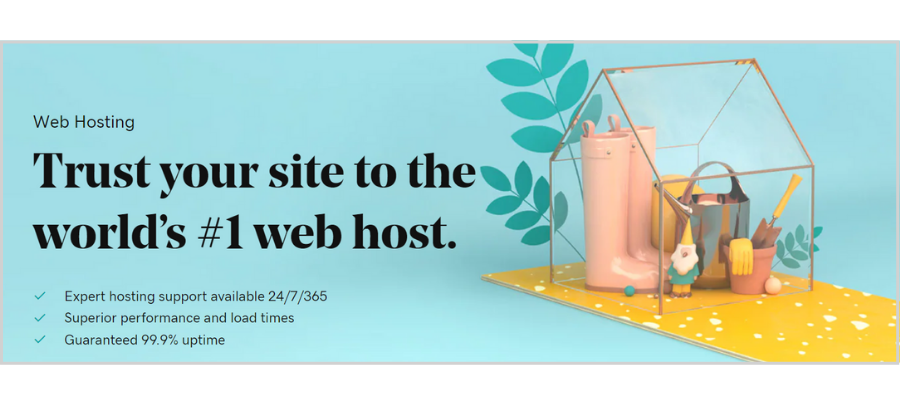 Web Hosting with GoDaddy
As the biggest domain registrar in the world, Go Daddy can get you almost any domain name extension that you want.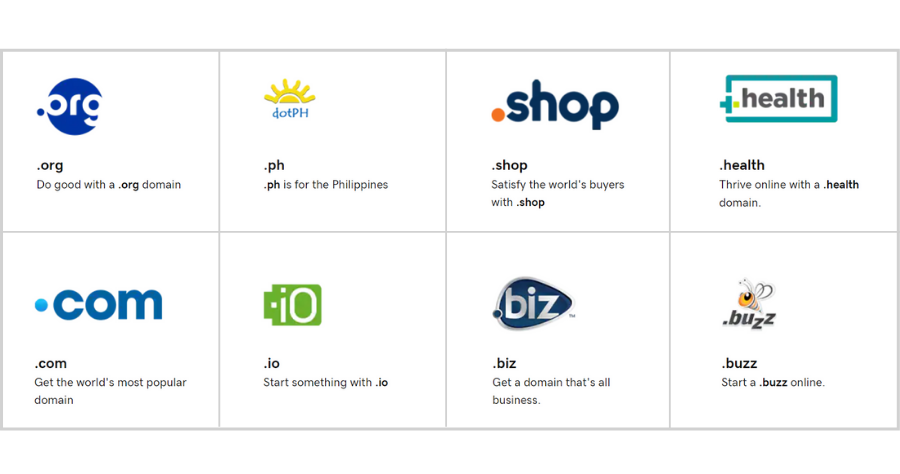 It's also known as one of the most reliable all-in-one web hosting sites, providing exceptional website uptime and speed performance, 24/7 customer service, and many different hosting solutions.
Whatever type of hosting you might have in mind for your organization, you can most likely find it on Go Daddy.
If you want a professional-looking email address to go with your domain name, Go Daddy also offers email hosting plans.
You can choose between their Individual and Team professional email plans.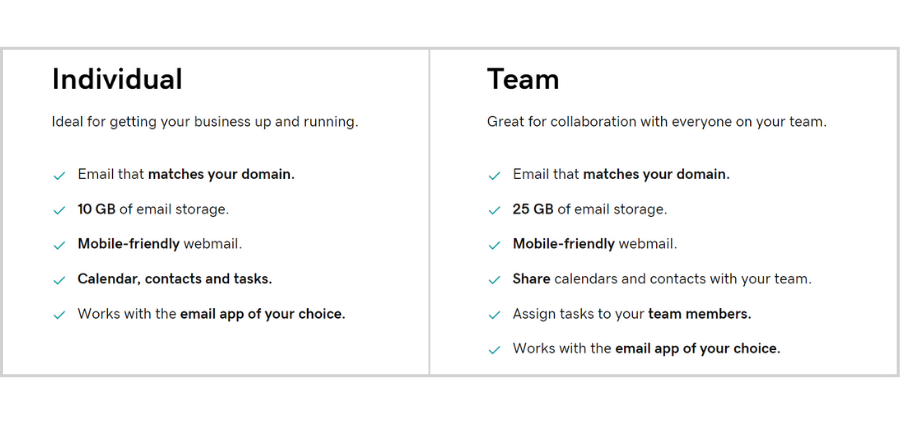 Overall, it's worth recognizing that what Go Daddy might lack in the website building department, it certainly makes up for in its domain name registration and website hosting capabilities and services.
GoDaddy Website Builder
Go Daddy's website builder is another great option for beginners, but some might also find it a little too beginner-friendly.
The process is pretty straightforward: you sign up, pick a website template, and make the changes that you want.
You can easily make edits to the pages that come with your chosen theme.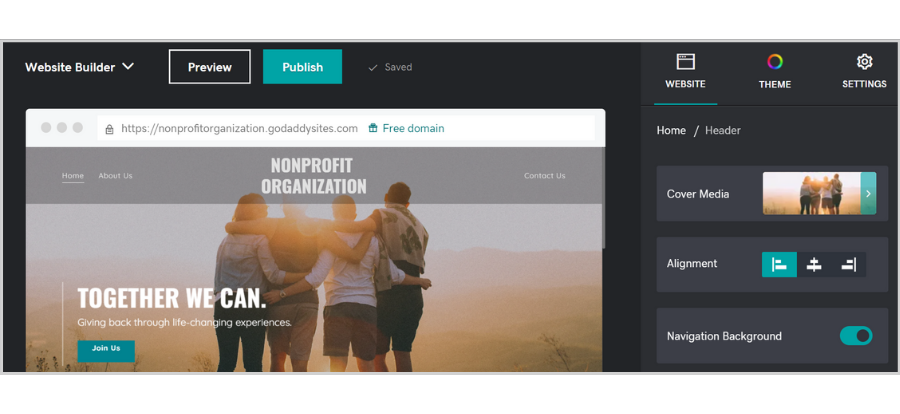 You can also create additional pages if you need to.
Adding new sections within the pages, say, for blogs or a photo gallery, is very easy and can be done with just a few clicks.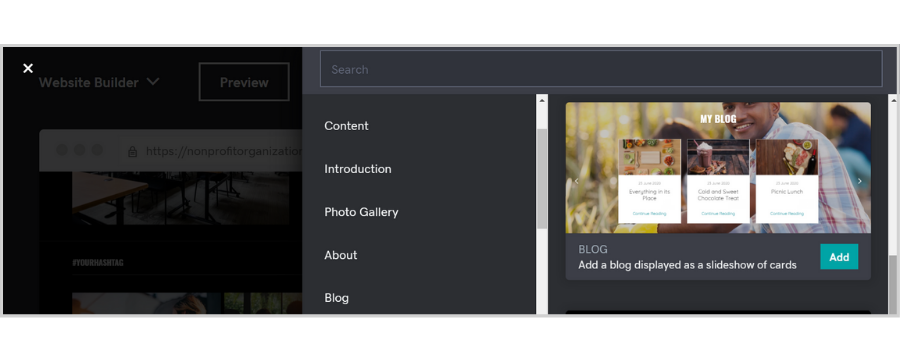 You can also include website add-ons, like messaging and pop-up announcements.

If you want to display your organization's logo on your website, you can do so, as well.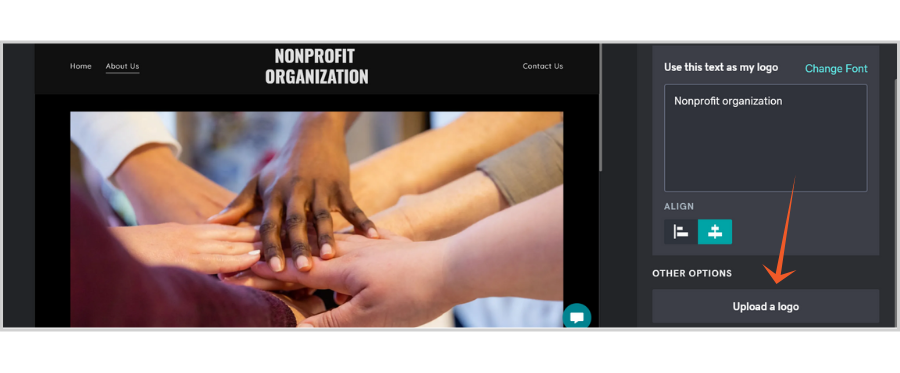 However, not much customization can be done for the placements of the elements and the colors.
The majority of the structures on the templates are fixed.
And for the theme colors, out of the three, you can only change one; the black and white colors are permanently set.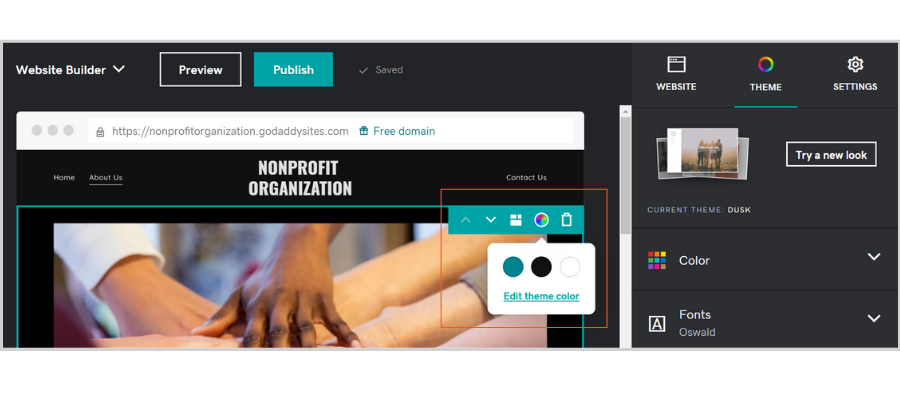 As for the fonts, you can choose the primary and secondary font style that you want.
If you're not that confident about your font-pairing skills, then you can simply select from their list of pre-paired fonts.

Their collection of website themes is also great and browsing through it, you'll see they have very modern-looking designs.
And if you ever get bored with how your website looks down the line, you're free to select a new theme anytime.
Don't worry. You won't need to start from scratch in doing so. Go Daddy simply displays the information on your old site in the format of the new theme.

Keep in mind, though, that unlike Wix, Go Daddy doesn't have a free plan.
However, they do offer a one-month free trial that lets you build and publish a website for free, just without a custom domain name.
You won't need to provide your credit card details for this—just an email and a password. So if you simply want to try out their website builder to see if it's the right one for you, then you can certainly do so without spending a single penny.
Kualo
Kualo might not be as big and well-known as the two we mentioned above, but it can certainly hold its own when it comes to web hosting, among other services. All of its operations are also powered by 100% renewable energy, so it's definitely a great company to support.
Web hosting with Kualo
Kualo is known for providing its website hosting customers with super-fast website-loading speed and exception 24/7 customer support service.
Their website hosting services include shared hosting, business hosting, WordPress hosting, and reseller hosting.
They have various plans to choose from but the good news for you is…

…they offer free web hosting services to small charities and a lifetime discount to larger ones!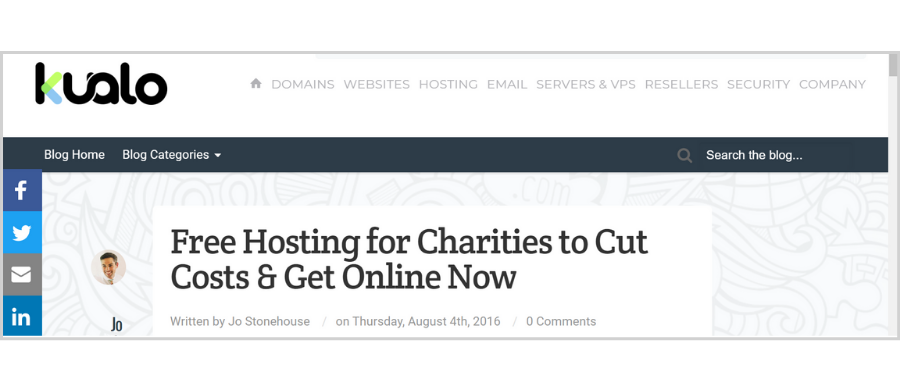 Their free website hosting service comes with access to tools like Joomla and WordPress, as well as their awesome website builder (Kualo ProSite).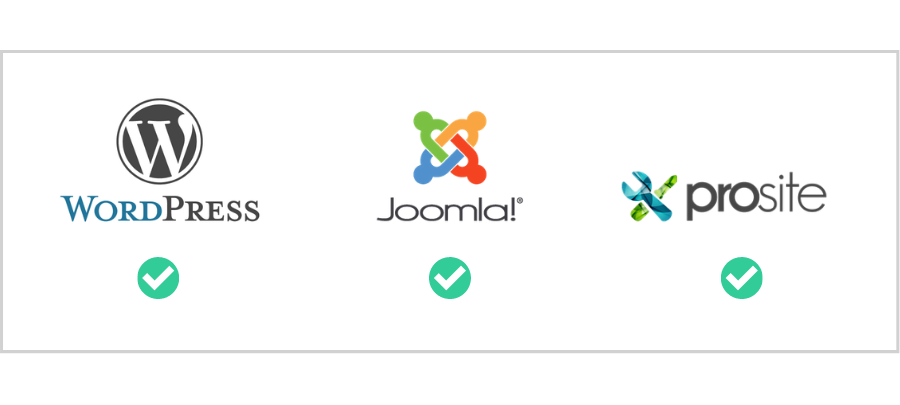 Kualo also refunds any charities on a shared hosting plan that have already provided advance payment.
To find out if your organization qualifies, you can check out this blog from Kualo.
Kualo Website Builder
There's a lot to love about Kualo's website builder.
For one, all of the over 200 website templates they offer are fully customizable.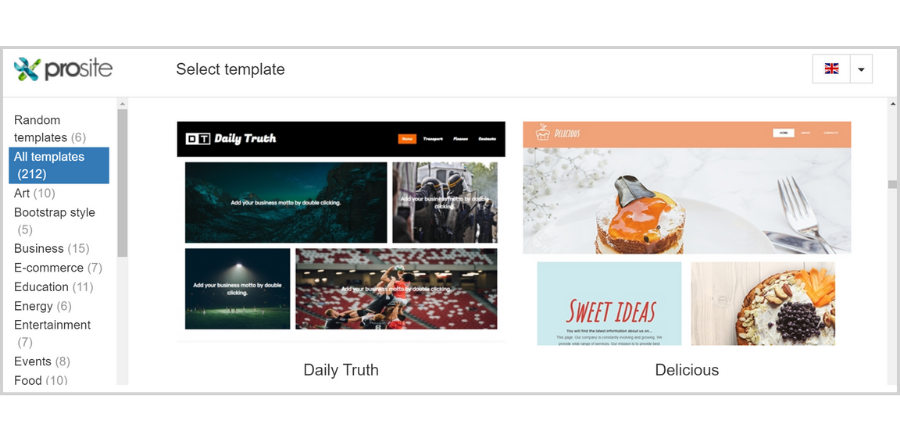 You can literally just drag and drop elements⁠, such as text, photos, buttons, and forms, anywhere within your website.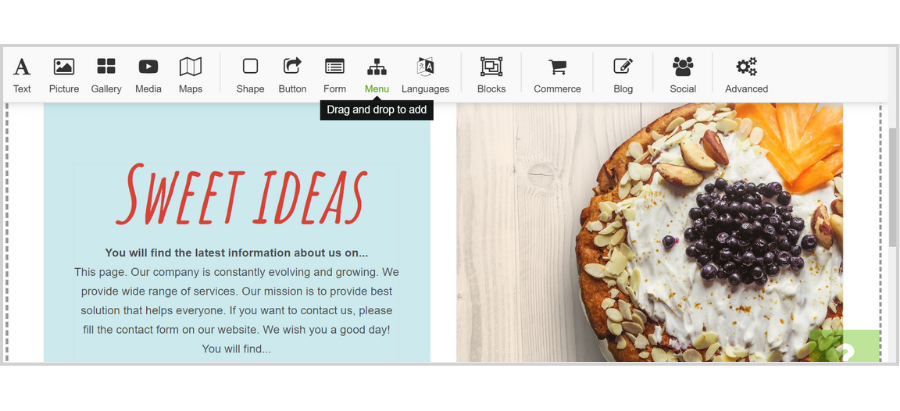 Unlike other website builders, there are no fixed layouts or structures on Kualo's website templates, meaning you have total control over how you want to design your website.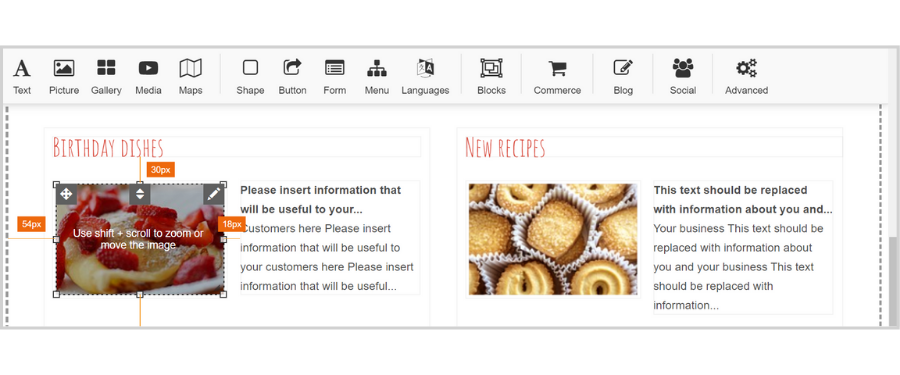 You also have the option to customize how your website will look on mobile phones, tablets, and desktops.

If customizability is a big factor for you, then you should definitely check out Kualo.
Need Help with WordPress?
Thinking about going the WordPress route but afraid of getting overwhelmed with all the technicalities? We have just the tool for you!
Have you heard of WPBeginner? It's a website that serves as a complete guide for WordPress users, as well as rookies like yourself.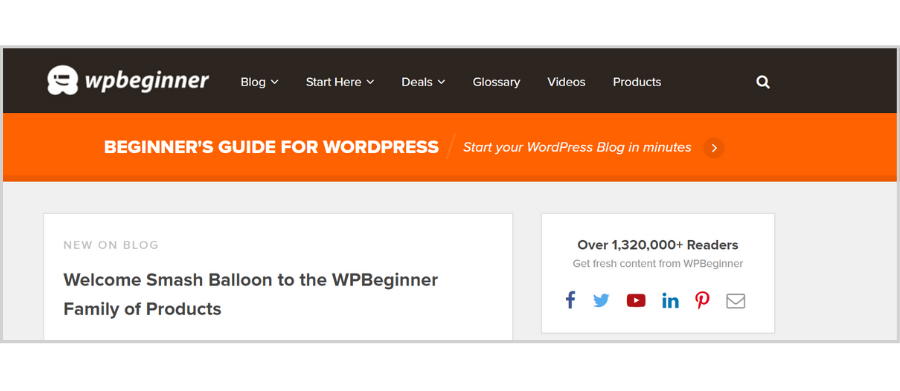 It's the best resource for everything WordPress-related, including answers to the questions you might have when you're face to face with your new WordPress website.
They have everything from step-by-step guides to blogs to the latest WordPress News.
You even get access to free WordPress video tutorials just by creating a free account, which is awesome!

So whether you have your mindset on WordPress or another website host, doing some research helps a ton.
Just because you're not familiar with how something works now doesn't mean it has to stay that way.
WPBeginner is only one out of the many resources out there to help you in your journey to getting your organization's website online and on your target audience's radar!
Still not quite understanding how these tools can help? Check out our video for more details about how you can get your website started!
Have you made your decision? Which website hosting site are you planning on choosing and why?