Welcome back! I'm here for my next installment from The Volunteer Photographer's Zone. 
In the Volunteer Arena:
So, December is off to a Trifecta Start! LOTS of much needed Doggy-love this weekend :0)….Two Transports PLUS a photo Hand-Off Capture!  
Saturday I'm driving a leg in the relay transport for Butterball (½ Pyranese) for Above and Beyond Transport. Butterball is coming through Virginia Saturday afternoon and running up the 81 corridor.  I hear she's a good co-pilot, so she'll have front seat privileges — and I get extra hands on time as I PWD (pet while driving!)  I'll get to meet Michael in Strasburg when I hand-off. Good times!
Sunday is a bit busier in my 'Doobert World'.
Starting with driving a morning leg for Rescue Transport USA, it's a Mom with her 2 puppies coming from GA on Saturday, staying overnight in Richmond, VA area and off to RedRockRescue  (Our beloved Heather) in PA on Sunday.  Sugar, Sugar Plum, and Baby Girl. (Black and White Boxer mixes) I'll drive from Fredericksburg to Alexandria.  I already put the word out that if the Sunday starts a few minutes early (I'm second leg that day) and the before or after legs have co-riders (extra hands on deck) I would be glad to grab 10 minutes and do some special photography on-the-fly!  I also put the bug out in that FB Chat that if the other drivers grab some 'Happy Snaps' (a phrase my dear fellow photographer Chuck coined) I could make them a Video Photo Story of the 2-day transport!
Then my bestie Rusty at Liberty Ride Transport invited me to do photography for another special needs bulldog coming through VA Sunday.  Ava & Sadie are both on that run, but Ava will be picked up in Lexington by her fur-ever family  (YAYE!)… so I'll just capture Sadie in either Charlottesville or Richmond. Plus Rusty loves the Video Photo Stories, so I'll grab the drivers' pix from the FB Chat and the two will still be in the Photo Story.  Our lovely miss Julie of Opie's Special Needs English Bulldogs Rescue is the sending rescue for this transport!
My Secret is safe with you: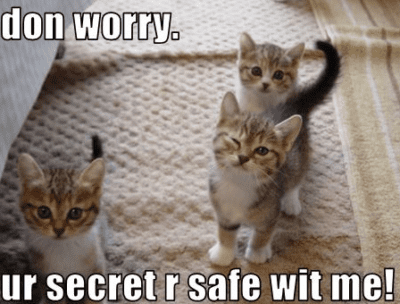 Some people think my doggie rescue volunteerism is to help save the doggies, ya?  So Shhhh! Don't tell anyone — I do the transports and the photos solely for the purpose of getting Doggy-Luvins! But that secret is just between us, so, Shhhh! Don't tell!  LOL.
Q: Why do you all volunteer?  Write and share in the comments!
Until next time – JJ signing off – need a filled gas tank, Doggy Go-Bag (my Driver's Transport Kit) check-over, and fully charged batteries on my DSLR!
Love & Cheers,
JJ
visit me anytime at: BlueJ Imagery & Art