On July 10th, 2016, I prepared myself for an adventure – becoming a volunteer transporter for Doobert.com. My mission that day? To drive a precious litter of seven shepherd puppies from Binghamton, NY to their new home in Utica, NY. The prospect of meeting these adorable puppies filled me with anticipation and excitement, but a touch of nervousness crept in too.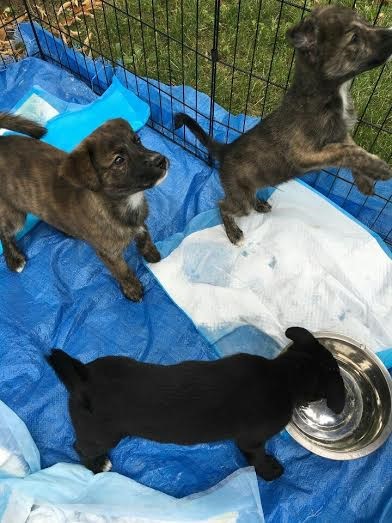 As I prepared for the transport that morning, the responsibility of ensuring a smooth journey for these seven energetic pups weighed on my mind. I wanted everything to go perfectly. So, I took some time to put together a few tips for new volunteers, like you, who are about to embark on their first transport.
Prepare Early:

Gather all your supplies well in advance, ensuring that everything is ready to go before you hit the road,

such as food and water, blankets and bedding, food bowls and first-aid supplies.

. While the animals will likely have everything they need, having a few extras on hand never hurts.

Educate Yourself: Head over to the Doobert website and dive into the "How to be a Doobert Transporter" guide. This resource will equip you with the knowledge you need to be an exceptional transporter.
Arrive Early: Make it a point to get to the pickup meeting point a little ahead of schedule. This way, you can familiarize yourself with the location and ensure that everything runs smoothly, without any delays.
Stay Connected: Communication is key! Stay in contact with your fellow volunteers, especially the Transport Coordinator. Keeping everyone in the loop about the trip's progress and the animals' behavior is vital.
My transport with the shepherd puppies turned out to be a fantastic experience. I met another dedicated volunteer, Dawn, outside a Cracker Barrel restaurant, where we gave the pups a quick break in their pen before continuing their journey. These sweet, energetic puppies were remarkably well-behaved.
After loading their crates and supplies into my car, the pups promptly fell asleep, cuddled up together. The rest of the journey was peaceful and uneventful, and we arrived safely at our final meeting point. There, Brenda from Whispering Pines Animal Rescue was waiting to welcome the puppies and take them to their new home.
Then, Brenda revealed that these sweet and beautiful puppies had narrowly escaped euthanasia at their previous shelter in Georgia. Thanks to the tireless efforts of volunteers like us, they would now get the chance to thrive in loving forever homes. This revelation filled me with a deep sense of gratification and happiness.
The very next morning, my family and I visited Whispering Pines Animal Rescue with a special purpose in mind – to explore the possibility of adopting one of the female pups from the litter. Our hearts were won over that day, and we returned home with a new addition to our family: Kora.
Now, Kora serves as a constant reminder of that remarkable day when I embarked on my very first animal transport for Doobert.com. It's a journey that has left an indelible mark on my heart, and I'm excited to have you join our compassionate community of volunteers. Together, we can continue making a profound difference in the lives of animals in need.