If you had a puppy, what would you name it?
This week's transport is a little Beagle girl. She has no name yet, but has plenty of people wanting to giver her a name! This little girl has a contest going to decide what her name is. Participants can share what they think she should be called, after a Facebook vote, the winning name goes to the little Beagle!
This little Beagle arrived in the Adams County Humane Society as a transfer from a different shelter. She is very, very small and only weighs 4.3 pounds! Being only four and a half weeks old, her shelter knew they had to find her the perfect foster. Luckily, she found ARF German Shepherd Rescue.
ARF German Shepherd Rescue was asked if they would be able to foster this little girl, and without hesitation they said yes. The rescue arranged an emergency transport through Doobert. In less than 24 hours, the transport legs were filled! With the help of the volunteers on her transport, she made it safely to her new foster.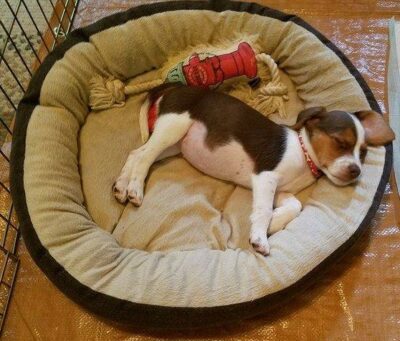 Traveling just over 50 miles, from Friendship, Wisconsin to Poynette, Wisconsin her volunteers drove through the pouring rain to give this girl a new start to her life. ARF German Shepherd Rescue says "Doobert rocks as this was all set up in a day and this wouldn't have happened without their fabulous volunteers!"
Little beagle girl is starting to adjust to her foster home by learning manners and her bite inhibitions. She also has foster siblings who she gets along well with! She will be ready for adoption within the next month or two, so keep your eyes open, and give this little girl a new forever home!
To learn more about ARF German Shepherd Rescue click here, or visit their website, http://www.arfrescue.com/