Doobert.com recently completed a transport in conjunction with Best Friends Animal Society that helped a victim of Hurricane Harvey reunite with their pet through support of a common site with information for owners called FindMyLostPet.com.
Best Friends Animal Society set up an impromptu shelter at the NRG Arena in Houston, Texas where lost pets from Hurricane Harvey were kept safe in hopes their families would find them and take them home. Luna was one of the hundreds of pets at the shelter waiting for her family. Using the Find My Lost Pet website, Luna's family saw her picture and knew right away it was her. They contacted the volunteers at NRG Arena who we worked with to set up a transport to get Luna home.
The transport was quickly filled by a dedicated couple, Laura and Jeff, who drove the entire transport, over 100 miles. Before the transport, Laura and Jeff worked to get donations from local pet stores and received a crate, bed, toys heart worm, flea meds and food for Luna. Luna's history hasn't been very easy as they came to find out. She was initially an abandoned dog roaming the streets of Laredo, Texas. She was brought to Houston and had been passed around many, many times.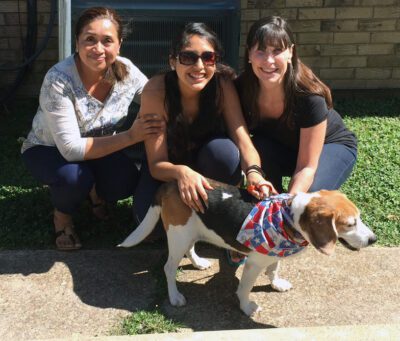 On Saturday, September 30, Laura and Jeff drove to the NRG Arena to pick up Luna and start her journey home! Laura said that Luna was an absolute angel during the transport and was such a sweetheart. Luna enjoyed the drive even though they were stuck behind a 10-car pileup on the way to College Station, Texas. Luna seemed to enjoy the calmness of the ride with the quiet conversations they had with her and soft music playing. This was a far cry from the NRG Arena with over 500 rescues still waiting to go home.
Luna's family was elated that they were going to see her very soon as they said, "The family is in delighted shock that we finally get to see our precious Luna! Thank you and your organization immensely for this gift!" Luna had a warm welcome home with endless hugs and love. She is now safe at home with her family. Watch the video below to see the sweet reunion!