Looking for a platform where you can find a job working with animals?
Try PackHire as a job search engine.
An online job board and recruiting service specific to the pet industry, PackHire aims to help pet people and pet professionals connect and find careers in the pet industry.
According to Seda, one of the company's co-founders,
"Our mission is to help pet people and pet professionals connect and find careers in the pet industry. So, we work with both businesses and candidates to help them come together and find the career or hiring match for their business."
PackHire: Where Pet Lovers Find Jobs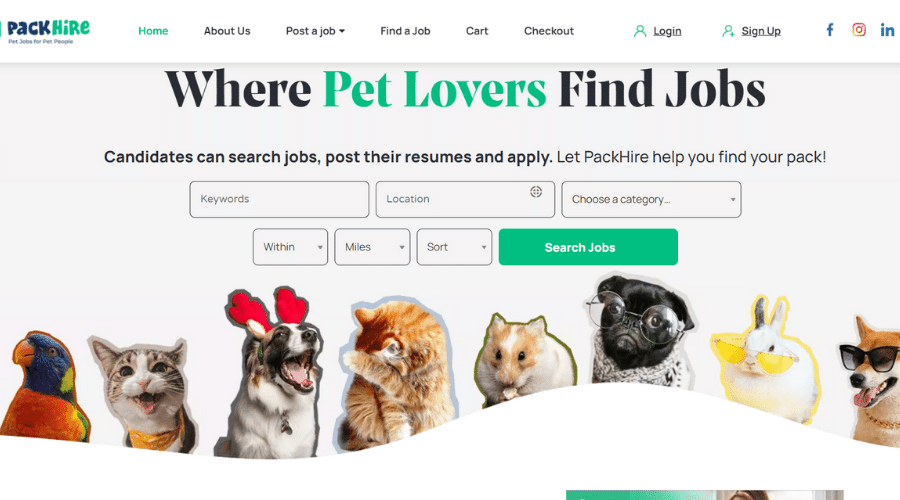 Although there are many well-known job boards, like ZipRecruiter and Indeed, it was important to Seda and their team that PackHire becomes a platform that encompasses the whole pet market.
This is especially true considering that the pet industry has very niche job boards within various segments.
Seda continued,
"We're the first to market in this niche if you will… So, hopefully, PackHire sort of becomes a one-stop shop that can help folks who know they want to work in this industry, know they love working with pets, or know they wanna get into it. It will help them to refine and navigate different segments that may interest them."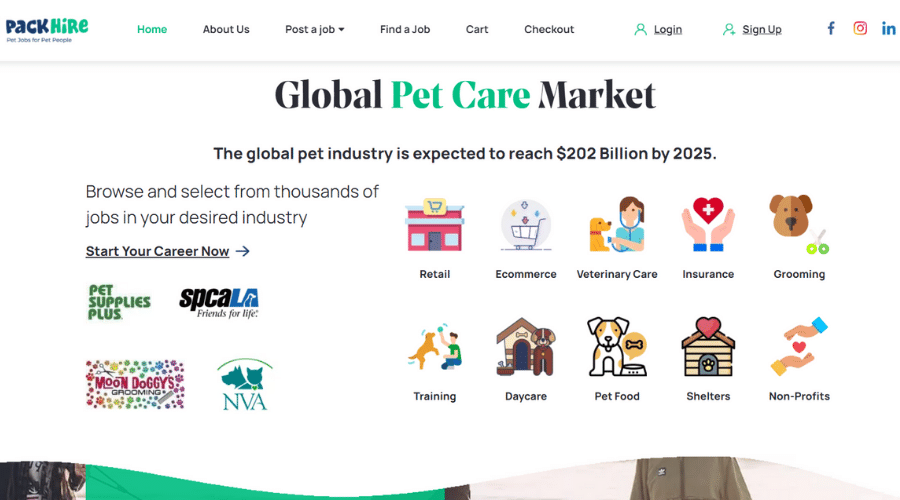 Basically, Seda wants each and every visitor to come to their website and be able to search for anything that may be right up their alley. This includes the whole range, from rescue jobs and jobs in the pet food or pet tech industry to pet eCommerce and veterinary care.
In addition to that, because its clients include businesses in the pet space that are looking to hire, PackHire also helps by offering to source and place candidates for these clients.
"We found out through different surveys we've put in the market and recently through SuperZoo, which we attended as an innovation incubator attendee, that a lot of customers and a lot of businesses are needing help finding people. There's just a general labor shortage…"
Learning of the shortage, Seda then decided to apply her years of experience in legal recruitment into the pet world, which she was passionate about.
And That's How PackHire Came to Be
Seda then shared,
"I started looking for positions for myself in the market. I went on Indeed and ZipRecruiter… And the search results I was getting were garbage. I mean, I think the top one of my search, one of them came back as a nursing home manager. The other one was a gentleman's club events manager. Just nonsense."
Not believing what she was seeing, she and her partner discussed how they could possibly resolve the problem.
Luckily, even without technical experience, they had an expert team they could rely on.
They also learned a lot of things, including establishing new mindsets and looking at things from other perspectives.
Now, PackHire has launched in 2020 and is looking to cater to pet businesses worldwide moving forward.
Learn more about PackHire!
Visit their website at https://packhire.com/.