Animals deserve a second chance, whether finding their forever home or spending the rest of their days running in the field. That's one of Living Free's organization's missions. This animal sanctuary provides homes for healthy dogs and cats whose times are up at public shelters. They specifically rescue animals from various pounds and do their best to put them back in the best condition for rehoming. 
How about the animals that are not adopted? Well, they still have a promising future ahead of them.
"Hopefully, they'll find a home — that's always better. But if they can't, they've got a pretty good life here."
This is one of Ray Barmore's statements that reflects the values of the sanctuary. However, they also have other programs that center around veterans, called War Horse Creek.
What Is the War Horse Creek Program?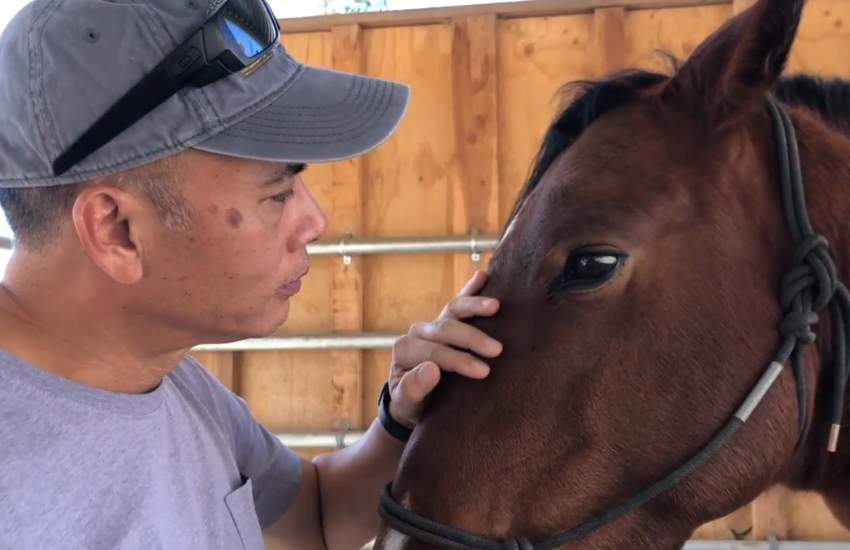 It's known that many veterans struggle to adjust to civilian life. Most of them experience mental health issues that make coping with their traumas from service even more challenging.
Unfortunately, not all are willing to partake in therapies. Pharmaceuticals are also wary of their increased risk of addiction to certain medications.
Living Free's War Horse Creek program aims to help veterans touch their inner patience, understanding, compassion, and empathy that was once dormant from their military tenure through Horsemanship.
According to Ray Barmore, Living Free's Executive Director,
"We use horses — mostly mustangs — to help veterans transition from military mindset back to a mindset more compatible with civilian life."
Veterans can participate in a program based around "Collaborative Horsemanship," where they can relearn humanity with the horses. They can use those skills to build new and existing relationships with friends, family, and society.
"Horses require that the quieter, softer, and easier you are with them, the more you get out of the horse."
Ray and the rest of the War Horse Program staff utilize their mustangs to help veterans rethink how they are trained in the military.
A New And Gentler Approach To Veteran Transition
Collaborative Horsemanship also helps veterans develop life skills, including wellness, higher education, job retention, conflict resolution, financial literacy, and more. This aims to significantly help veterans improve their lives in the civilian world alongside their loved ones. 
Veterans can also get to do a lot of recreational activities within the Living Free property and even have a chance to connect to their rescue animals. This provides the downtime and relaxation they need to experience life once again.
More than providing homes for healthy dogs and collaborative horsemanship, Living Free is helping animals and people that love them with a second chance at life. 
If you want to know more about their War Horse Creek program or want to adopt from Living Free Animal Sanctuary, you can always visit their sites.