Promoting pets online is a vital step to helping them find a family to call their own. However, with the amount of content circulating the interwebs nowadays, the competition to catch a potential adopter's eye is getting tough.
Low-quality photos and generic captions just don't cut it anymore. To stand out, you need to tell a story through photos, videos, and content that really show a pet's personality.
It almost makes you wish that there's a place where you can put all the amazing things about your foster pets for the world to see, right?  Well, that's exactly what Ambassador pages are for!
With Ambassador pages, foster volunteers can help you get the content that you need to promote pets more effectively. You can then easily share these pages anywhere you want online – in an email, on your website, or on social media!
Recently, Ambassador pages also got a cool new update! You can read all about it here!
How to Create An Ambassador Page
When you add a new animal to Doobert or import an existing animal profile from another database, they automatically get their own Ambassador Page. Follow these steps to learn how to set it up.
Step 1: On your Doobert Dashboard, click Animals then Dashboard.
For volunteers, simply click on the Fosterspace tab to find a list of the pets you're fostering.

Step 2: Click the name of the animal.
After adding or importing an animal profile, you (or the pet's registered foster) can simply click on the name of the pet to start populating their Ambassador page.
Step 3: Add the photos, videos, and other fun stuff!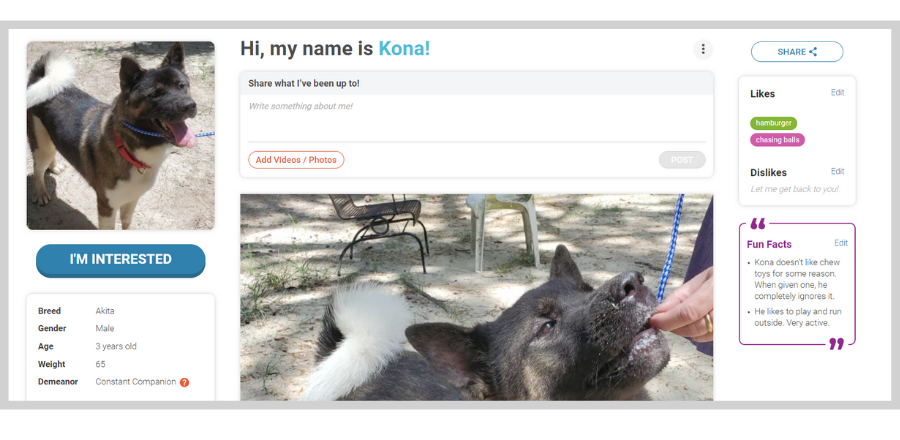 To edit other parts of the Ambassador page, click on the three vertical dots on the upper right-hand side and then click Edit Profile.
Ready to use Ambassador pages to promote your pets online?