Diarrhea is a common problem among cats. Many things can cause it, but the most common ones are bacteria or viruses. Oftentimes, it will go away on its own after a few days. However, if it persists, diarrhea could be a symptom of a more serious underlying health problem, such as gastrointestinal issues. In this case, you should consult your vet immediately. In the meantime, if you are wondering what to feed a cat with diarrhea, look no further! This article will discuss the nutrients cats need to recover quickly and fight off infections more effectively.
Diarrhea in Cats & Its Causes
Diarrhea is a condition in which the contents of the cat's digestive tract are quickly passed through the intestinal tract. It is often caused by a virus or a bacterial infection. Other common causes also include:
eating too fast (especially if they're kittens)

ingesting foreign objects like toys or other things that may be toxic

stress or anxiety

dehydration

food poisoning from consuming spoiled food

intestinal parasites

like tapeworms or roundworms

reactions to medications or other chemicals ingested

food allergies

changing the cat's litter box too frequently (this can irritate the GI tract)

overly rich or fatty foods
It is important to remember that the cause of diarrhea is not always serious. In fact, it is a relatively common condition in cats that may resolve itself without any treatment. In some cases, however, it is vital to treat the underlying cause of diarrhea to prevent more severe complications. For example, if your cat is vomiting and has diarrhea, it is crucial to seek veterinary care immediately.
Nutrients that Cats Need to Treat and Prevent Diarrhea
To help you determine what to feed a cat with diarrhea, the following are the vitamins and minerals they need to treat and prevent the condition. These nutrients are found in a variety of different foods. This includes commercial cat food as well as homemade meals prepared at home.
Fiber
Dietary fiber is the part of a plant that enzymes cannot digest in the small intestine. It passes through the intestines intact. Dietary fiber's role in helping manage cat diarrhea cannot be overemphasized. This is because it helps to maintain normal bowel movements and prevents constipation. In addition, it helps to nourish the friendly bacteria in the large intestine that produce B vitamins and provide protection against disease.
However, too much fiber can also aggravate diarrhea because it takes longer to digest and promotes the movement of waste materials through the gut too fast. It is, therefore, important not to give too many fiber-rich foods to a cat with diarrhea. Instead, you should only give them a small amount of high-fiber foods such as brown rice or apples mixed with a low-fiber diet until their stool becomes firmer and less frequent. Ask your vet for the right amount of fiber that would benefit your pet.
Probiotics
The good bacteria in your cat's digestive system are essential to its immune system. They play an important role in regulating digestion and eliminating waste from the body. They also support the growth of healthy cells in the digestive system and promote optimal immune function. Proper amounts of probiotics in your cat's diet can help treat and prevent diarrhea, and maintain a healthy digestive system overall.
The most beneficial probiotic supplements for cats are those that contain reasonable quantities of lactobacillus acidophilus, bifidobacterium lactis, and bifido bacterium animalis subspecies lactis. They are available in pill form or as liquid drops that you add daily to your cat's food.
Vitamin B12
B12 is a vitamin that helps the body convert carbohydrates into energy and maintain healthy skin and nerves. It also plays a vital role in producing red blood cells and DNA. Studies showed that supplementation of vitamin B12 could help treat signs of gastrointestinal illness in cats.
While you can get vitamin B12 from meat and dairy products, it can also be found in some grains and vegetables such as beans and peas. Many commercial cat foods are fortified with vitamin B12 to help provide your kitty with the essential vitamins it needs to stay healthy.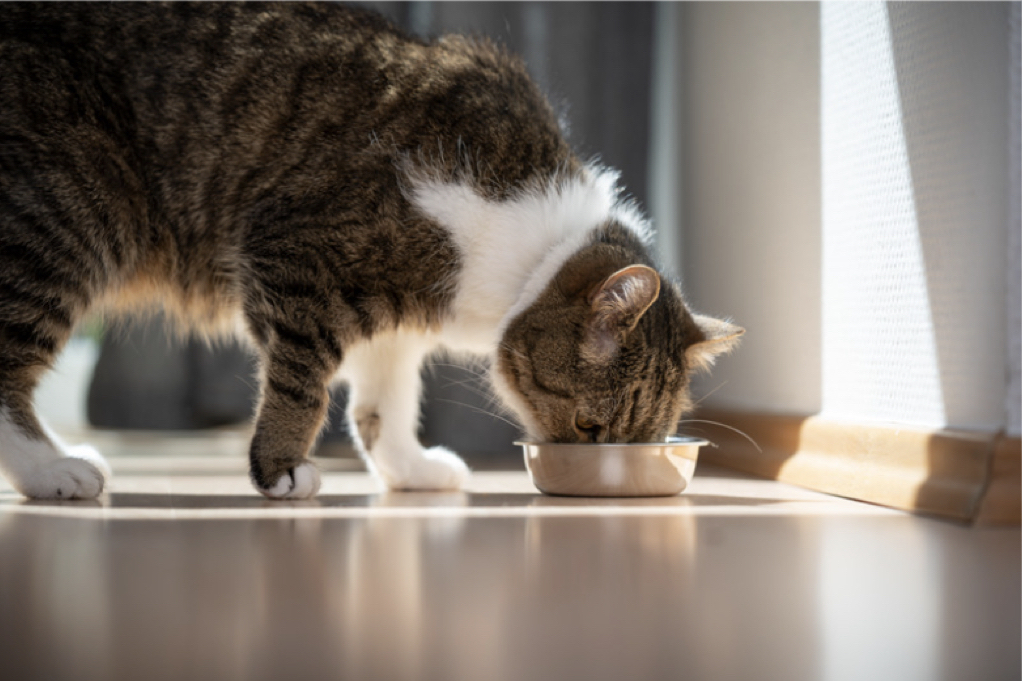 Novel Protein
Cats with diarrhea can also benefit from including novel protein in their diet. This protein consists of proteins that domestic cats have not eaten before in the wild. Examples include insects, snakes, lizards, mice, fish, birds, and seaweed. These types of protein are typically harder to digest than meat proteins and therefore help to promote regular bowel movements. Most high-quality cat foods also contain at least some novel protein.
Takeaway
If you notice that your cat's stool suddenly because loose and watery, it's normal to worry, but you don't have to panic. If there's no other symptom, you may just wait it out. And as you do, provide your pet with foods rich in fiber, probiotics, vitamin B12, and novel protein. Then let your kitty rest as you monitor their condition.