Nowadays, food pantries have become a vital source of free, wholesome food, nutrition education, and health screenings in the neighborhood. 
The goal of a community food pantry is to directly assist neighborhood residents who struggle with hunger and food insecurity.
But what about the pet cats and dogs in that area?
This is how Theresa Oschmann, founder of Paw Pet Pantry, got to the realization that cats and dogs do not get their needs in food pantries.
"Our mission is to provide no-cost dog and cat food to those in our community who are experiencing financial hardships. And we also supply some pet supplies. With that, we are keeping animals in loving homes and reducing shelter intakes and euthanasia."
Feeding Cats and Dogs In Need Through Collective Help
According to Theresa, she and her husband have been donating to several food pantries across upstate New York.
Every time they ask the organizers if they also offer cat and dog food for pet parents, they will get a "no" response.
"They said that they can't provide that because of zoning laws and other legal stuff. Then I asked them if they need cat and dog food for those people who are asking. Then bam, the proverbial lightbulb goes up. We needed to make this happen. That's when we reached out to our local shelters and food pantry and asked if they wanted to partner with us."
That's when they started working on Paw Pet Pantry. With three rescue pets on their own – a dog and two tuxedo cats, better known as the Rescue Trio, they realize that not all animal needs are met especially for those pet parents who rely on food pantries.
Another important factor why they started Paw Pet Pantry is their collective love for animals.
"My husband, for the last five years, has been working in a tool and die company. And one day, a colony of six or eight cats showed up in the shop where he works. He started to take care of them and feed them. He also kept them warm since the winter here can be nasty."
To make Paw Pet Pantry possible, Theresa started to reach out to people's food pantries, and other non-profit organizations and even sought assistance from the Chamber of Commerce. 
"The Chamber of Commerce has about 120 people. But think about 120 people, how many people do they know? It's like a massive spider web of people."
With the support they are getting from volunteers and other organizations, it is undeniable that they will still get declined when asking for help.
However, this did not stop Paw Pet Pantry to branch out to more locations. 
"One thing, when we run into a food pantry that's not interested in our program, that's okay. There is always another one so keep going. You might reach out to ten food pantries, and there will always be three or four that will love your idea and partner with you."
Years from now, Theresa envisions that there will be tens of thousands of Paw Pet Pantries.
The goal is to feed hundreds of thousands of cats and dogs in communities.
And with the tagline "Where no pet goes hungry", this can be achievable with determination, teamwork, and passion.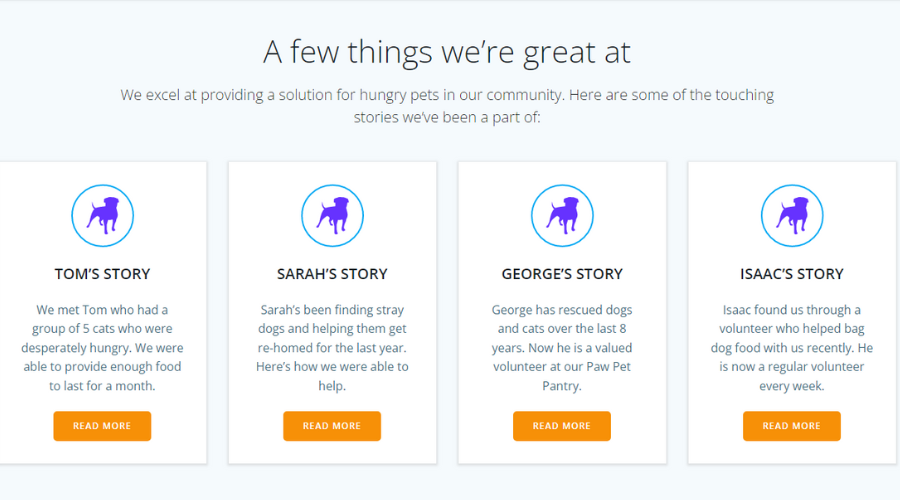 "When you have a vision, go for it. Do not let anything stop you. If you're opening a food pantry for pets, don't take "no". You just keep going and keep going. And ask the questions. There's nothing like a stupid question. 
Learn more about Paw Pet Pantry!
Visit their website at https://pawpetpantry.org/.