A person who can combine and bring together their passion and interest is truly remarkable and admirable. Pam Webster did just that! She built The Crocheting Cat Behaviorist around her love for cats and crafts to support and spread joy to homeless felines.
With crocheting and cat behavior, Pam is determined to do her part to help rescue cats become more comfortable in their new homes, and aid pet owners resolve cat behavior problems.
"It makes them so much more comfortable having something that smells like them."
What Are Cat Calming Blankets?
Pam Webster loves crocheting. She helps the cats from the rescue she works with, Kitty CrusAIDe, by gifting them with cat calming blankets to help them adjust once they get adopted into a new home.
These blankets are mainly square crochet blankets that are soft and warm — which most cats will love and appreciate.
"I guess it's just the texture."
Pam mainly started making these calming blankets for her cats. She created them to give her cat something soft to cuddle with. Plus, she fondly thinks about how her cats would love to accompany her whenever she crochets, often lying on them as she works.
She mainly takes inspiration from the internet when designing her blankets. Being a professional crocheter at this point, a single blanket can take only about a day and a half to finish!
She thought that if it was something her cats loved, there was a good chance other cats would do as well. That was when Pam considered making rescue cats calming blankets as a gift.
"You know how I'm working with this rescue group. Why don't I make some blankets for those to go home with when they get adopted?"
Crochet Blankets or Cat Behavior Sessions: Get Them Here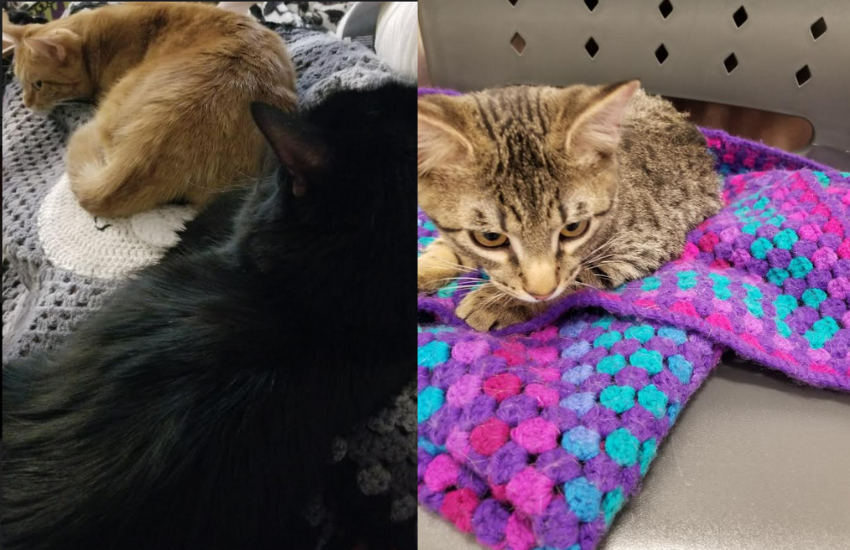 Pam is a recent graduate from an Animal Behavior College. She started a professional career out of her degree and passion, becoming a certified cat behaviorist. She helps pet owners deal with and learn more about common cat behavior problems.
You can book her cat behavior sessions if you are struggling or experiencing cat behavioral problems like inappropriate scratching and litter-box-related issues. She can also help with harness or leash training!
Coming to her, Pam will recommend solutions that can help resolve these behavior problems. Booking a session will also get your cat a free calming blanket!
Currently, Pam is only exploring future possibilities with her business. For the crocheting side, she wants to teach other people to crochet and make more calming blankets for cats needing comfort and familiarity.
As for the cat behavior aspect, she revealed that she likes sharing her knowledge about it. She wants to educate others on properly handling a cat and dealing with certain behavioral issues.
It also turns out that being helpful and passionate runs in the family! Pam's daughter is currently expressing interest in becoming part of the business.
Check out her official website if you want to purchase Pam's calming blankets. You can also book cat behavior sessions there!