So, you're looking to adopt a pet?
Beautiful Together Animal Sanctuary is a nonprofit that may be able to provide you with pet adoption options.
Co-founded in 2014, the nonprofit rescues at-risk animals from shelters and inhumane conditions by finding homes that would love them.
According to Tamara Lackey, Executive Director of the Beautiful Together Animal Sanctuary,
"We're kind of just trying to do the combination of pull as many animals out of shelters as we can as a foster-based rescue and build the sanctuary…"
Beautiful Together Animal Sanctuary, Envisioned
Headquartered in Chapel Hill, North Carolina, the nonprofit originally focused on supporting children waiting for families.
In fact, part of its mission is to create programs for children in crisis. To this end, they initially did numerous projects both in the U.S. and overseas.
Eventually, however, Tamara and her team learned that animals, with the therapeutic connection they provide, were vital in their nonprofit work.
Because of this, they started earnestly rescuing animals as of January 2021.
"The fostering and rescue work really ramped up, and seeing that connection (with dogs and how they help teenagers manage mental health crisis) really made a difference… So, we thought, 'What if we have a homebase for Beautiful Together?' And it could connect this significant need, as it relates to animal welfare in North Carolina with the children who really benefit from spending time with animals,"
Tamara said.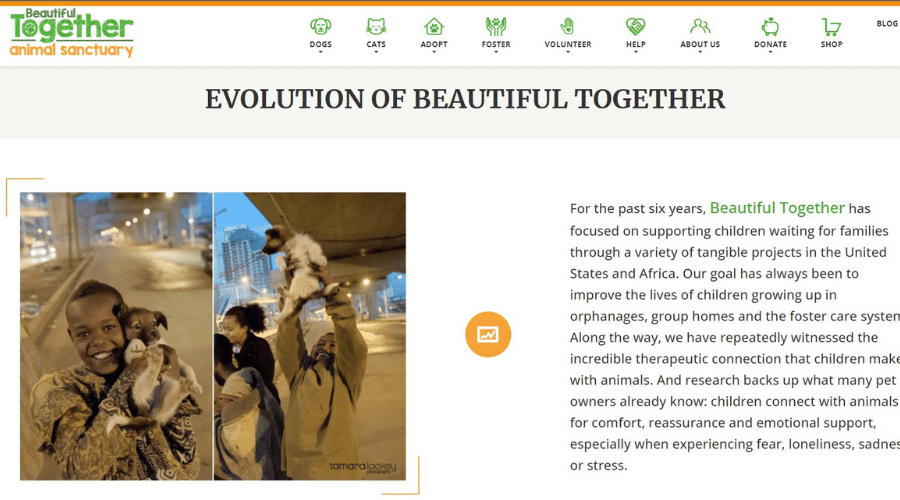 Even the organization's website states its goal: "connect the vulnerable and the voiceless in purposeful ways that benefit us all".
Beautiful Together Animal Sanctuary on Providing Safe Refuge for Animals in Need
Tamara also observed that most of the shelters they work with are overworked, underfunded, and understaffed. This encouraged her to include pets as part of their focus.
"They're just kind of begging people to help because they don't want negative endings for these animals. And so, myself and our rescue and a whole bunch of other rescues here are doing everything they can. But, it's hard because the influx is so significant. There's such a large number of animals coming into these shelters, and there's a capacity issue."
This then gave them the idea of helping animals get into foster homes.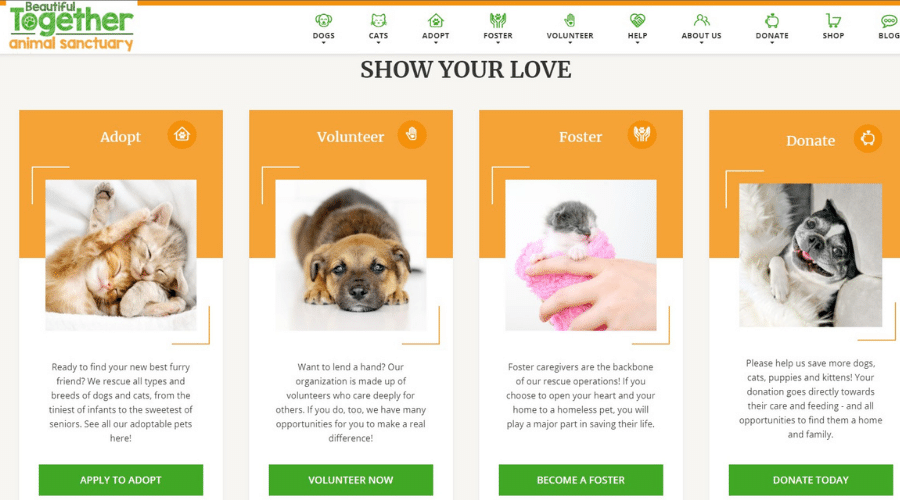 They later turned to the concept of a sanctuary as a stop-gap. This way, they can still move the needle even when they're in need of getting more people to help.
A photographer by profession, Tamara's work has also been instrumental in showcasing a lot of the work they do and getting more support.
Tamara remarked,
"We're very fortunate to partner with best friends who were just so great in terms of their ability to open up their resources. They gave us a lot of the kind of blueprint for how they're doing it, which was so helpful for us and helped us skip a big step."
At the moment, the goal of Beautiful Together Animal Sanctuary is to have its therapeutic programming in place for children coming onto the property. Tamara and her colleagues are thinking of doing this by way of community education.
Learn more about Beautiful Together Animal Sanctuary!
Visit their website at https://beautifultogethersanctuary.com/.