If you're looking to volunteer for an animal welfare organization, you'll find plenty of options on Doobert. You can even create multiple volunteer profiles to help more animals!
Maybe you don't just want to be a transporter but a foster and a virtual volunteer, too. Doobert gives you the freedom to choose how you want to help organizations save more lives!
And in case you're worried about your schedule getting all crazy, you have absolutely nothing to worry about. We've got you covered! The information you provide in each volunteer profile, including your availability, will only apply to that specific profile to keep things organized and manageable for you.
Once you've created and activated the profiles you want, organizations will be able to find you using our Volunteer Search function and send you an invite to collaborate.
Learn how you can create or update your volunteer profiles below!
How to Update Your General Profile
Your general volunteer profile is the one used throughout Doobert and what other users will see. You have complete control over the information you want to show and when needed, you also have the option to make your profile private.
Here's how you can edit your general profile:
Step 1: Go to My Info

Step 2: Click on Profiles & Vehicles

Step 3: Provide some basic information about yourself

Step 4: Add your vehicle information
Step 5: Click Save
Transporter Profiles
There are several ways you can help as a volunteer transporter on Doobert:
Rescue relay transports – These are volunteer-based transports where you work with other volunteers to transport animals usually from one state to another.
Local rides – These are transports within your local community (less than 50 miles).
Clinic rides – These are transports that help pet owners who don't have access to transportation get their pets to the vet for scheduled checkups, vaccinations, or surgeries.
Volunteer pilot – We notify you about trips that match your profile so you can fly animals to where they need to be.
Airline employee – By providing the airline you work for and where you're based, you can help us coordinate flights for animals that need transport.
You can choose to do more than one type of transport and to keep things organized, you'll have a separate profile for each. To get started, simply click Transporter.
Then choose the Transport Profile you want to activate.
How to Create A Foster Profile
Looking to help through fostering? That's awesome! Most animals don't do too well in a shelter setting so foster homes are so important in rehabilitating pets and preparing them for their forever families.
Opening your home to a pet also frees up a space at the shelter for another animal to be rescued. Plus, who wouldn't want to bring home an adorable fur baby, right? Fostering is definitely one of the best ways to volunteer!
Follow these steps to create your foster profile:
Step 1: Click Foster Home.
Step 2: Specify how long you can foster
Step 3: Specify your preferences

Step 4: Provide basic household information

Step 5: Answer questions about your home environment

Step 6: List your references
Step 7: Click Save

How to Create A Pet Photographer Profile
Have a passion for animals and a knack for making anything and everything look good in photos? Shelters and rescues need you! Create a photographer profile and use those skills to help rescues find homes!
Step 1: Click Photographer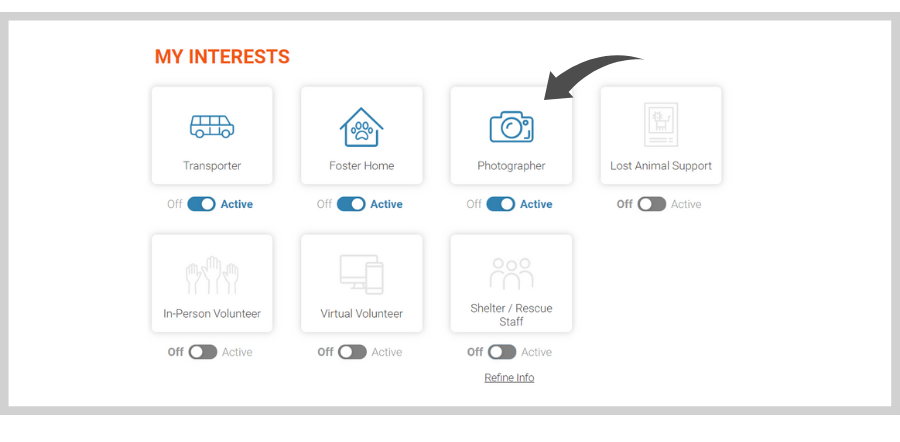 Step 2: Specify your availability

Step 3: Provide some basic personal information

Step 4: Click Save

How to Create A Lost Animal Support Profile
Are you good at communicating with people, creating flyers, or navigating through various Facebook pages and groups? Then you'll be an awesome lost animal support volunteer! Here's how you can create  your profile:
Step 1: Click Lost Animal Support

Step 2: Choose how you want to help
Caseworker: You assist the owner through text and email and help them develop a strategy to successfully locate their pet.
Craigslist Monitor: You monitor Craigslist sites in your area for lost or missing pet postings and post flyers to the sites as well.
Facebook Liason/Networker: You post flyers to "lost animals" Facebook pages.
Matchers: You watch shelter websites and Facebook pages for matches to missing pets.
Facebook Admins/Flyermakers: You receive the lost and found reports from the owners and finders and create flyers to post online or in print.
Dead End Microchip Volunteers: You help track down owners of lost pets with "dead-end microchips".
How to Create An In-Person Volunteer Profile
Are you more of a hands-on person? Then you might prefer to be an in-person volunteer for organizations near your area. Follow these steps to create your profile:
Step 1: Click In-Person Volunteer
Step 2: Specify your available times
Step 3: Provide your maximum travel distance and zip code
Step 4: Choose how you want to get involved
You can select more than one.
Step 5: Click Save

How to Create A Virtual Volunteer Profile
Stuck at home but still want to help animals in need? Virtual volunteering is the perfect option for you!
Whether you want to offer your social media management skills or donate your extra time to assist with managing adoption applications, we're here to make it easy for you to connect with organizations looking for help.
Follow the steps below to create your virtual volunteer profile!
Step 1: Click Virtual Volunteer
Step 2: Choose from the list of tasks
There are social media tasks.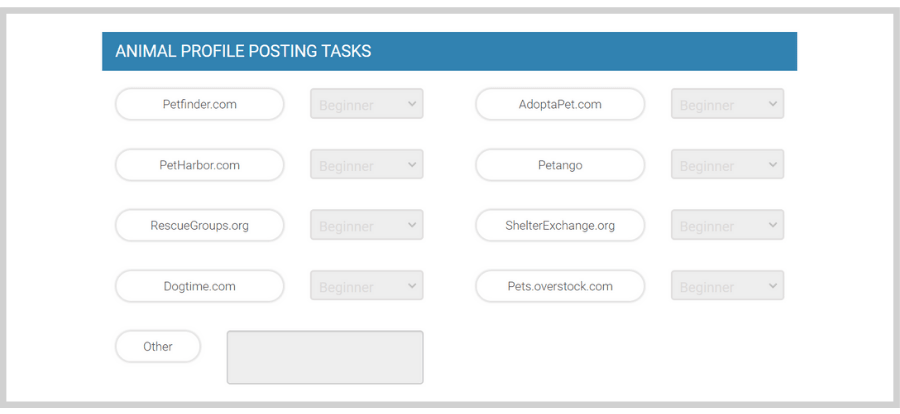 And a few other support activities.
New to Doobert and want to start helping organizations save lives?
Sign up today and become an official Dooberteer!