Written by: Jessica Brody, OurBestFriends
Let's face it. As parents, we've all heard it before. That sweet, innocent voice of our beloved child asking: "Mommy, can I keep him?" Or the almost angelic pleading: "Daddy, can we get a puppy?"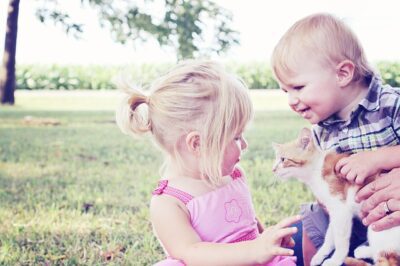 Yes, your kids have been begging you for a dog. Maybe your spouse has, too. If you're being completely honest with yourself, perhaps you've been secretly longing for a pet, too.

But here's the catch: you're a working parent with a busy schedule. Between soccer games on the weekends and business trips during the week, you have found yourself questioning whether you really have the time to bring a new pet into the mix.
Can you really devote the time and energy to a pet right now? Or would that be a selfish decision? The decision to adopt a pet is completely one that you will need to make on your own and nobody else can make it for you. It depends on many factors specific to your family and your unique situation.
That's right; only you can determine whether or not you can fully commit to pet ownership. This is an important consideration, and one that you should research well in advance of deciding to bring home a new pet.
Once you've determined that you do in fact have the time to commit to a new pet, there are some important steps you should take to make this a smooth transition for everyone in the family:
Safety First
Start by making your home more "pet proof." Pet proofing keeps your animal safe in all rooms of the house.
Pet C
are
Not all people work from home – so unfortunately, it's not always possible to be with our pets throughout the day. If you're one of those who don't work from home, don't worry. Office workers who have long hours during the day or who travel a lot for their jobs still have options for pet ownership. You can always consider hiring a pet sitter to care for your pet when you aren't around. This especially applies to the first few weeks after adopting your new pet. This ensures your pet is properly cared for and can reduce the dreaded separation anxiety that many dogs feel while their humans are away.
Socialization
Socializing your new pet can be a great way for the two of you to bond. For dog owners, one fun way to do this is by bringing your dog to pet-friendly parks, restaurants, coffee shops, and other areas to practice obedience training and socialization skills.
Congratulations on deciding to take the journey into pet ownership together as a family. This new chapter you are about to embark upon will be sure to provide you with unimaginable amounts of joy, companionship and – yes – even some great stories for years to come.