Did you know that many dogs suffer from injuries resulting from them jumping off of high beds? In fact, some of their common injuries include cruciate ligament ruptures, back troubles, strains, sprains, and early onset canine arthritis.
To help lower the statistics of pet injuries, hand-crafted pet ramps customized for dogs, like those from Rufframps, can help.
According to Jason Johnson, the owner, and creator of Rufframps,
"We are trying to save as many dogs as possible from injuries from jumping up and down from the couch or bed, which every dog owner experiences… It could be a small injury, could be a really bad injury. And some of these injuries are actually life-threatening. Like, some dogs have to be put down after hurting their backs."
A family-owned business that, unfortunately, doesn't ship to Canada, Alaska, Hawaii, or Puerto Rico, Rufframps started in February 2016 as a part-time hobby Jason tangled with after work hours and on weekends. Now, it has turned into a full-scale enterprise wherein Jason and his wife allocate their full-time working hours.
A Life-Changing Experience That Led to Rufframps
A pet parent who has been doing woodwork as a hobby, Jason decided to venture into creating pet ramps after seeing photos and reports of wheel warrior dachshunds on social media.
It inspired his interest, especially since he knew first-hand how dachshunds were highly prone to back injuries.
He shared,
"So, the odd thing is, some dogs, when they hurt their back, not only do they get paralysis, but it sets off what's called myelomalacia… And that's what happened with one of my dachshunds. He actually—he hurt his back. And within a week, we had to have him put down because it turned into myelomalacia. And I had never heard of that until it happened."
Not wanting the same devastating experience to happen to other pet parents, he then turned his attention to making dog ramps that are specially designed for each pet's needs.
He added,
"I've seen it as my shot to be able to do something for the dog community. It was almost like I was made to do this. It's right up my alley. You know what I'm saying? I love them, and I got the skills to be able to do this… It was something that I love to do because I would get such great feedback from all these people saying how much their dogs love it and how much it eased their mind that their dog was safe."
What Sets Rufframps Apart from Competing Dog Ramp Brands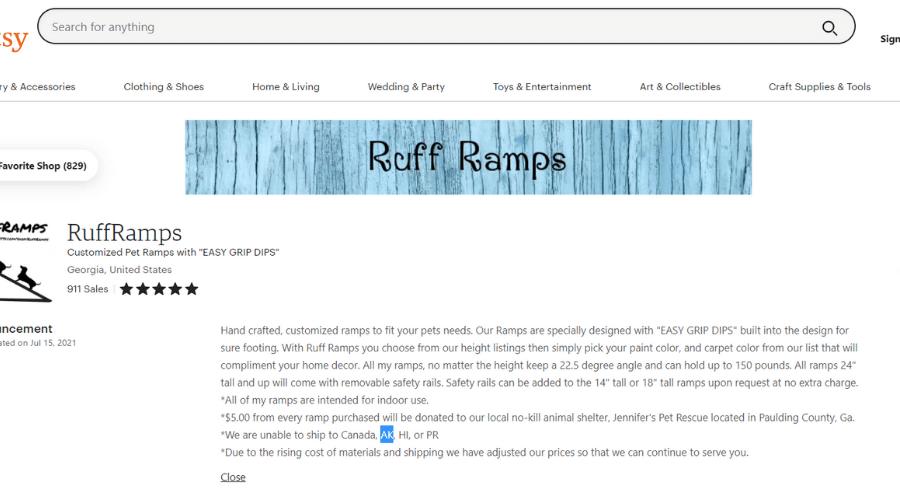 Despite the tight market competition, Jason is confident that Rufframps has what it takes to continue serving pet parents and their fur babies for a long time.
According to Jason, Rufframps is not only dedicated to bringing customers the best and safest pet ramps on the market; the brand also develops its pet ramps with a modular design.
"First of all, I think we're the only modular system on the market… It's made in sections. These sections can be detached at any point. Say, you're moving to a new home, and you don't want to have to pick up this giant bed ramp and try to figure out how you're going to get it to the new house… So, you can take it apart, all the sections apart easily, and move it,"
Jason explained.
Another thing that adds to the uniqueness of Rufframp's dog ramps is that they have an "easy-grip dip" that provides better traction and less slipping for puppy paws.
Acting like a ladder, the pet ramps from Rufframps give dogs leverage for when they go up and down the ramp. The ramps' angle never changes, and they offer the largest landing.
Apart from that, Jason and his wife also try to make the dog ramps as lightweight as possible while remaining extremely sturdy. In fact, they take pride in the fact that Rufframps' items can hold even large dogs up to 150 pounds. You can also replace your carpet at any time with the brand's product offerings.
"Go to the hardware store, get the spray glue. You spray the ramp, and you spray the back of the carpet. If you don't spray both, that adhesive is not going to take. So, you got to spray both. You got to spray the carpet and the ramp, and you can replace your carpet anytime you want if you want to change the color. You know, honestly, you can take that ramp, and you can repaint it any color. It's really easy."
Considering the positive reviews on Etsy for the pet ramps from Rufframps, it's clear that Jason and his wife's efforts to save as many dogs as possible are paying off.
"(We just really want) people to just really think about, don't let your best friend get hurt, you know, and having to pay thousands of dollars for spinal surgery, or even a couple of hundred dollars to take them up there… Spend a little money now to save you a lot of money later—or heartbreak,"
he said, closing the podcast.
Shop for personalized dog items at Rufframps!
Visit their online shop at https://www.etsy.com/shop/Rufframps.