If you're a dog owner or a dog-friendly business owner looking for a supportive online community, the K9 Nation app can help you in your journey.
Founded by Becky Baker, K9 Nation is a free mobile app that helps dog owners in the UK live their best lives with their dogs. It aims to resolve the genuine need for information and to have a trusted and transparent go-to place for all dog owner needs.
As per Becky,
"The idea behind the app is that we are creating a one-stop shop for dog owners that acts as a free information resource and tool that they can trust and will be the go-to place for anything they need to live their best lives with their dogs."
K9 Nation: Features and Functions
According to Becky, one of the features of K9 Nation is that it provides an online support network and community for like-minded dog owners.
It also gives dog owners and dog-friendly businesses access to a whole host of walks, products, puppy advice, and services that have been rated and reviewed by fellow community members.
Becky shared,
"The app has a range of different features. There's the community feature, which is really important to me and the values of the business. That's where people can connect with other like-minded dog owners. There's a news feed. It's very sociable. We talk about a lot of our campaigns that we do as a company in there. We've also got the 'Walks' feature of the app, which is great so you can find walk from all over the country. You can see what facilities they are, what's nearby to them in terms of any retail or hospitality, a pub or a cafe. You know, we love a pub here in the UK."
In addition, the K9 Nation app also has a Marketplace feature, which gives dog owners access to a whole range of business services and products that they might need for their dogs.
It also has articles and expert members talking about different topics, from tips on what to do if your puppy is biting to subjects like dog-friendly places to stay in.
"It's community-driven, so everything is reviewed by the community, by other, like, micro dog owners… As a brand, we don't have an opinion. We just provide the platform for dog owners. So, it really is trusted and impartial…"
Developing the K9 Nation App
It all started five years ago when Becky adopted her Cockapoo, Buddy, as a child.
Like many other new and excited pet parents, Becky did all her research and planning before deciding to take the final step and become a dog mom.
However, she, later on, realized that all her preparation still wasn't enough to get her ready for the responsibilities that being a pet parent entailed.
"I thought I knew what I was doing, but then I got the dog, and it was really tough. I had a need for so much different information,"
she confessed.
One of the things she struggled with was the number of different resources that provided all sorts of various information.
For instance, one website would only give details about walks, while another told readers about dog-friendly restaurants. If she wanted to go see friends, she also had to consult a handful of different websites before she could find everything she needed.
What made it worse was that, at the time, nothing was accessible on mobile yet, which frustrated Becky even more.
As a last resort, Becky ended up gravitating towards a Facebook group for pet parents who took care of the same breed as her fur baby.
"I have to say, it was invaluable just to hear people going through similar pain points that I was going through. They were giving me little tips… all these wonderful things. And that's where the idea for the community side of [K9 Nation] came because dog owners need to support each other."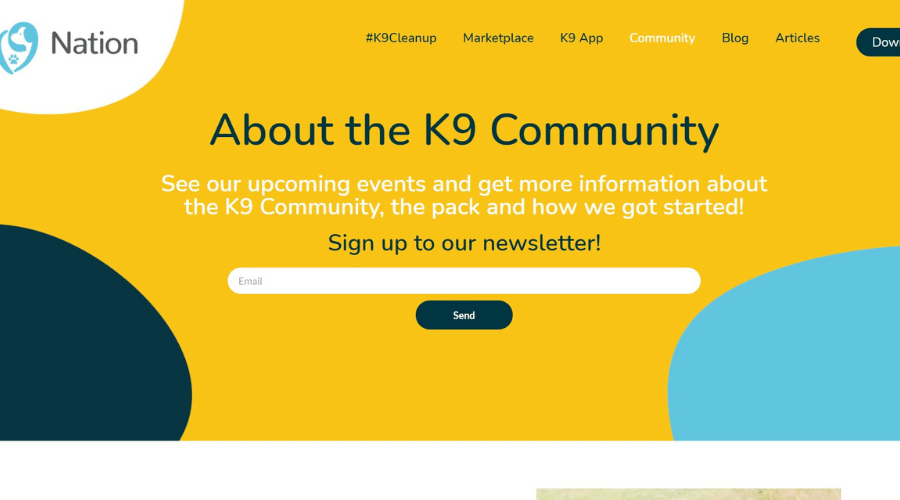 As a software product manager for clients in the legal sector, Becky toyed with the idea of using her background to help solve her problem. And after hearing feedback from other dog parents like her, she finally decided to jump the gun in 2019 and developed the app.
"In the last, I'd say, 15 months, it's a really exciting time for us at K9 Nation, and that's great for me, because it just means I can reach more and more people. And I can make this app even better for dog owners out there… If we can just help one dog going out there and enrich their life and help them with that dog, then for me, we're doing a good job,"
Becky said.
A Place for Everyone With the K9 Nation App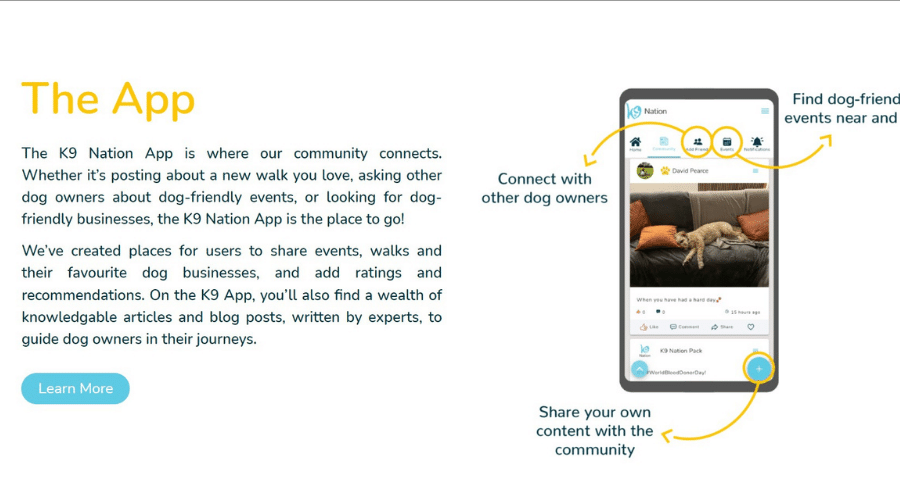 Wanting to give dog owners the tools they need to have a great life with their pets, Becky and her team developed K9 Nation as a place that supports dog owners and dog-friendly businesses alike.
"We want to be able to support the person who dresses their dogs in tiaras and down to the farmer who needs to train his working farm dog. There's no judgment in our community. Everyone has a different need as a dog owner. And as long as you're a responsible dog owner, and there's no harm being caused to the dog, then the community is there to support you."
Because of this, it's no surprise that a lot of people in the K9 Nation community can't help but rave about the app.
As one user, Charlotte, testified on the website's testimonial section, "As someone who loves dogs, an app all about dogs is just amazing!"
So, if you, too, want in on the fun of being a dog parent, don't think twice about accessing K9 Nation on your phone.
You can download the app for free from the Google Play Store or App Store.
Learn more about K9 Nation!
Check out https://k9nation.dog/ to know more.