Have you ever given your dog a bully stick only for them to end up biting off a chunk that's a little too big and choking on it?
A terrifying situation like that is enough to make you swear off treats for good.
If you're one of the concerned pet owners who did, no one can blame you. After all, it's your beloved canine companion's safety we're talking about here, right?
However, we also can't deny that bully sticks are one of the best long-term chews out there, given that they're easy to digest and free of harmful additives and preservatives.
So if you haven't found a better alternative to bully sticks and are wishing that there was a safer way to give the treat to your dog, we're here to tell you that Bow Wow Labs has you covered!
About Bow Wow Labs
Bow Wow Labs created a safety device called the Bully Buddy to allow dog owners to give bully sticks to their pets without having to worry about choking hazards.
In our latest episode of the Animal Innovations Show, Johnna Devereaux, the Director of Nutrition and Wellness for Bow Wow Labs shared the inspiration behind the invention of the Bully Buddy and how the device works.
According to Johnna, the inventor of the Bully Buddy himself had been in a situation where his dog ended up choking on the last part of a bully stick.
Thankfully, his dog was able to safely regurgitate it out.
That experience, however, led him down the path of trying to find a safer way to give his dog a bully stick. Unfortunately, at that time, there were none.
Johnna says in the podcast,
"He started scouring the internet, you know, trying to figure out, 'How can I give this bully stick, this great, long-term, nutrition chew, to my dog in a way that's safe?' and the only thing he found, oddly enough, was vice grips."
Of course, who in their right mind would allow their dog to chew on metal vice grips, right?
So with no other options available, he decided to take matters into his own hands and innovated the Bully Buddy.
How Does Bully Buddy by Bow Wow Labs Work?
The Bully Buddy is a device that uses the screw mechanism to secure the bully stick into place while dogs chew on it, keeping them from accidentally choking on that last bit.
The Bully Buddy comes in different sizes too, so whether your dog is a tiny Chihuahua or a giant Great Dane, you can bet that there's an appropriately sized Bully Buddy to fit your furry friend's needs.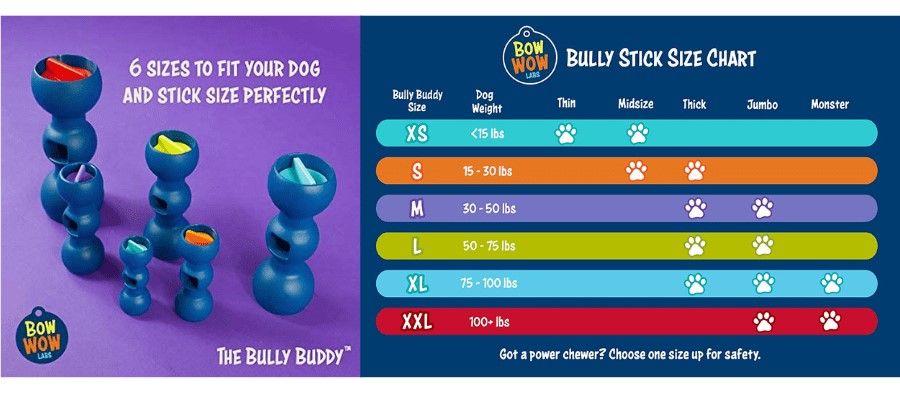 Bow Wow Labs also offers their own line of bully sticks, called the Safe Fit Bully Sticks, which come in a variety of sizes and are specifically designed to fit into a corresponding Bully Buddy device.
Learn more about Bow Wow Labs!
Visit their website at https://www.bowwowlabs.com/.