In the last adoption tip,  I shared ways for you to find an adoptable dog in your area, and how to meet a dog through a rescue group or a shelter. This week, we're talking about online resources when searching for an adoptable dog. There are a few reasons why you might want to search online: you might be looking for a specific breed, or a young dog, or a senior dog. If that's the case there are a few databases that can help you with your search.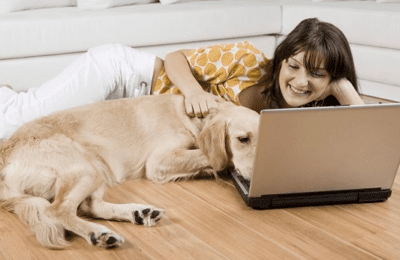 The two that I've used that are most popular are petfinder.com and adoptapet.com. Here is how it works. You can enter your zip code, a breed if you're looking for one, preferred age, color or size, you name it. Then the database pulls up all the adoptable dogs in your area. You can then
narrow down the search to dogs you are willing to visit within a certain square mileage and make arrangements to go visit the dog in person. Both options are really great ways to use technology to help us find our puppy love. Please don't mistake these databases that are helping homeless dogs find homes for people who are selling dogs online. Often, people selling dogs online are selling Puppy Mill dogs and that is not cool.
So here's tip #6:
There are a number of online resources and organizations that can help you search for an adoptable dog in your area.
Our dog Ninja was found on Petfinder. We were ready for a new dog and knew we wanted a buddy for our dog Gonzo. Our dog, T-bone had recently passed and I was still an emotional mess and not up for a visit to the shelter. My son wanted a black lab and I wanted a pitbull and we searched and found a Lab/Pit mix who sounded sweet and had had a rough first two years. We met him with Gonzo (our blonde mix), they fell in love immediately and with the exception of a couple of minor bumps, Ninja has been our amazing dog for the past seven years.
To learn more about Diane's book or to purchase, click here.