If you're the mayor of a city or the head of an organization that wants to become pet-friendly, why not work with Pet Friendly Works?
Founded by Karen Bartoszek, the consulting agency assists organizations, businesses, and cities in designing and implementing programs that help you become pet-friendly.
According to Karen, who also serves as the President of Pet Friendly Works,
"We want to help you create a program that is uniquely yours, that looks at the strengths that you have in your city and builds upon those. And we step back and look at the vision, look at the mission statement, and then we work with them to create a team."
About Pet Friendly Works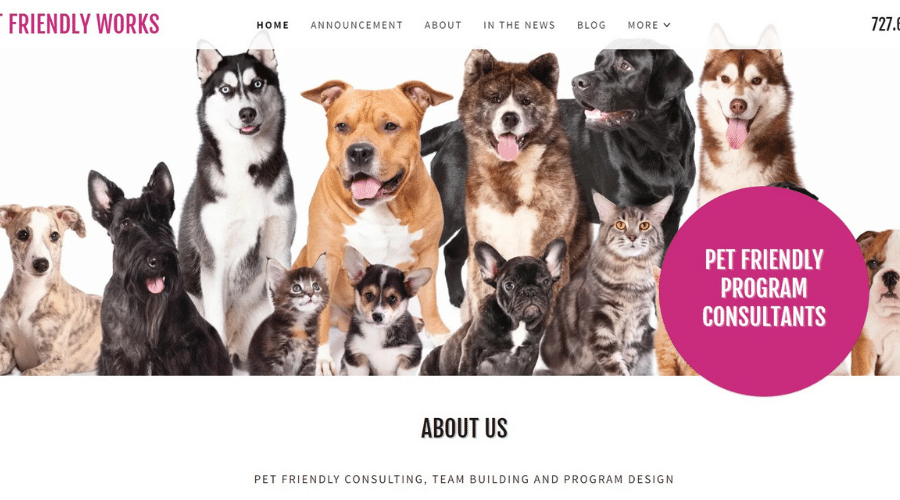 A consulting, team-building, and program development firm, Pet Friendly Works sets the bar on what it means to be pet-friendly. Its roster of clientele includes businesses, cities that are already pet-friendly, and even organizations that seek to become pet-friendly.
Although the company officially started in 2016, Karen has had the agency's vision in the works since 1996. It was after she got her first dog that she dreamed of operating a business that's centered around pets and travel.
"It was all powered by my love of pets and the belief that there was so much more that businesses could be doing to welcome pets. And again, there were economic benefits for those businesses. And then the benefit that people could spend more time with the pets that they love."
Despite its rebranding from its original name "Pets Living the Dream", Pet Friendly Works' goal continues to be the same: making pet-friendliness a part of every organization's culture for years to come.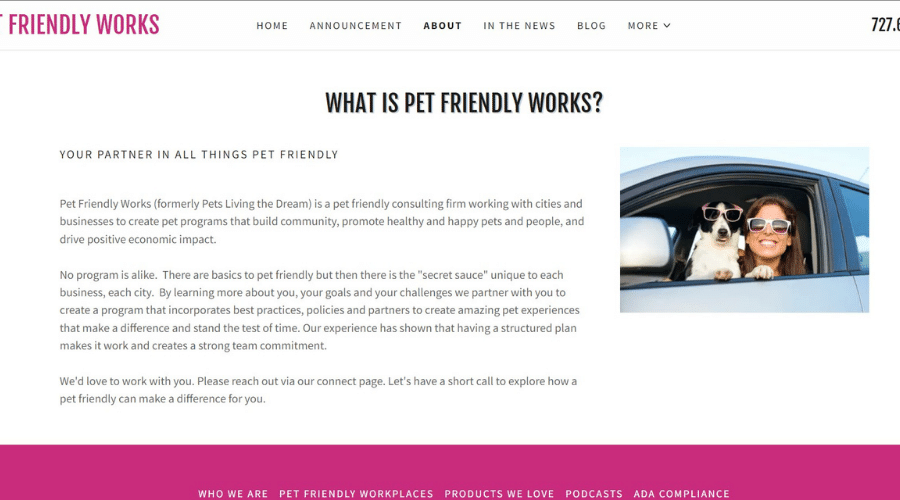 As for what criteria they use to classify a city as pet-friendly, Karen replied,
"It really is (about) getting a group of really passionate animal lovers together and saying, 'Hey, how can we use this? How can we use this framework to help build out and make things better for the people that live here and the pets that love them and vice versa?'"
Benefits of Working With Pet Friendly Works
The beauty of creating pet-friendly programs in cities and organizations is that it makes a powerful difference for pets, people, and the community.
Plus, it has positive economic impacts, too.
For instance, with pet-friendly neighborhoods come people who may decide to stay longer in the community (e.g., a period of 48 months instead of just 18 months in a non-pet-friendly neighborhood).
This may mean more spending for the products and services offered by small businesses that are already pet-friendly or are operating in pet-friendly locations.
"When all those things come together and are built into the fabric of the community, it changes the culture. More pets find loving homes, and people are more connected. It's fun and spreads the unconditional love that pets provide. What could be better than that?,"
Karen said.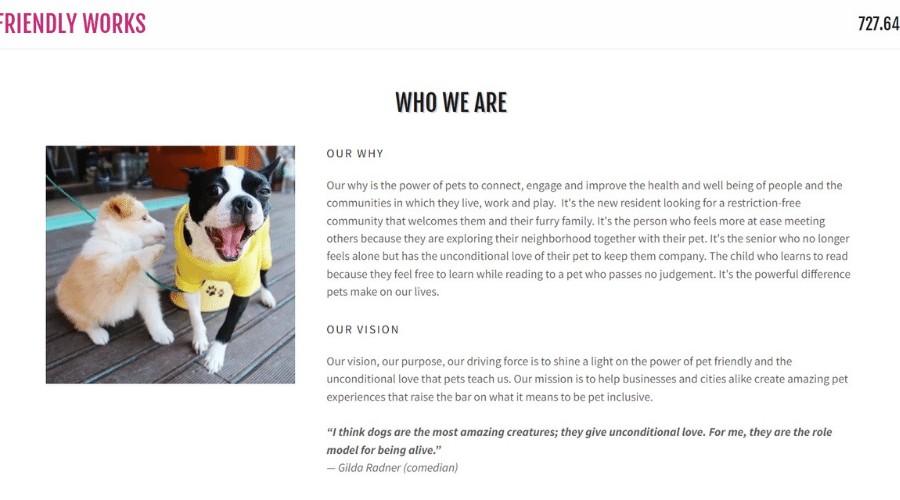 This is especially true when you consider the fact that most pet parents today consider their fur babies as part of the family and want to spend the rest of their lives together with their animals.
In fact, Pet Friendly Works was able to build a strong public-private partnership for St. Pete, one of the clients they've worked with, thanks to this.
Karen commented,
"It really gets people engaged. They feel so passionate about this and come up with some really creative ideas that can help build out the initiative within the city. And, again, these programs and initiatives are unique to that city…and their strengths that they have in that community."
With St. Pete, for example, one of the initiatives they are currently working on is the development of a program for pet-friendly and restriction-free housing.
After all, pets have become many people's constant companions due to the COVID-19 pandemic. Therefore, not allowing pets in residential and commercial buildings may, instead, have a negative impact on the community.
When asked what they hoped to achieve in the future, Karen had this to share:
"When pet-friendliness becomes a part of a community and/or business, more pets find loving homes, and people gain an unconditional love like no other. That is the greatest impact we can hope to have."
Learn more about Pet Friendly Works!
Check out their website at https://petfriendlyworks.com/.