Have your dogs enjoy first-class fun in an ecosystem that offers a dog park indoors, daycare, and boarding for dogs!
At Skiptown, you and your pup get all these and more!
According to Niki Chimberg, who is the Head of Product at Skiptown in Charlotte, North Carolina,
"Our goal is to improve the lives of pets and their people, and sort of help bring the pet industry into the 21st century. So, we do that with a flagship facility in Charlotte called Skiptown. We are a tech-enabled pet services ecosystem, so we offer daycare, boarding, and dog park."
Skiptown as the Perfect Spot for Pups and Their People in Charlotte
Consisting of pet-loving team members who also love tech, Skiptown is your pooch's dreamland filled with a lush, turfed outdoor and indoor play areas with plenty of sun and shade.
The company has people who are pioneers in providing personalized, cutting-edge dog care. They primarily do this through a pet care program that focuses on knowing everything about your Fido. This way, they can custom-fit the program to your canines' specific physical, mental, and emotional needs.
To visit Skiptown in Charlotte, all you need to do is download its app and register your four-legged furbabies. Next, check in to the bar and park on the app before visiting in person, purchase a Skiptown pass, and that's it!
Take note, though, that you don't need to have a dog to visit Skiptown. Thus, you don't need to buy a Skiptown day pass if you're visiting solo. However, you still need to create a Skiptown profile if you're thinking of paying the facility a visit.
The Skiptown Technology That Allows You and Your Pup to Live the Best Life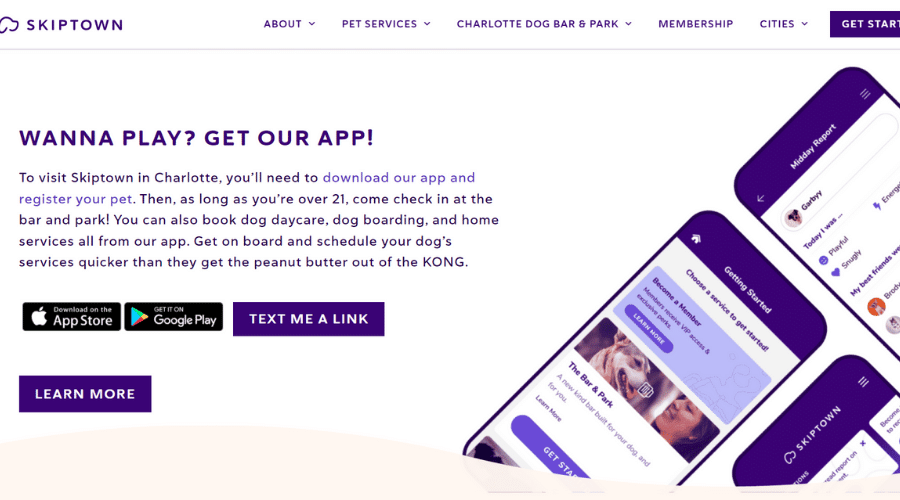 Niki not only spearheads the company's product and service line development but also its new site selection and design. Aside from that, she has helped streamline all of Skiptown's services through a piece of technology infrastructure that they developed.
This serves as the gateway to all of Skiptown's services so that pet parents can easily enjoy everything Skiptown has to offer at their convenience.
In fact, as stated on the company website, aside from their people and processes, their technology is one of the things that sets them apart.
"We actually started as an on-demand dog walking company. We worked with some trucking algorithms to develop an algorithm that helped route our dog walkers to different homes… So, we built out our technology for that. But then we realized the value of having a platform where all of your pets' information, their likes and dislikes…can be tracked."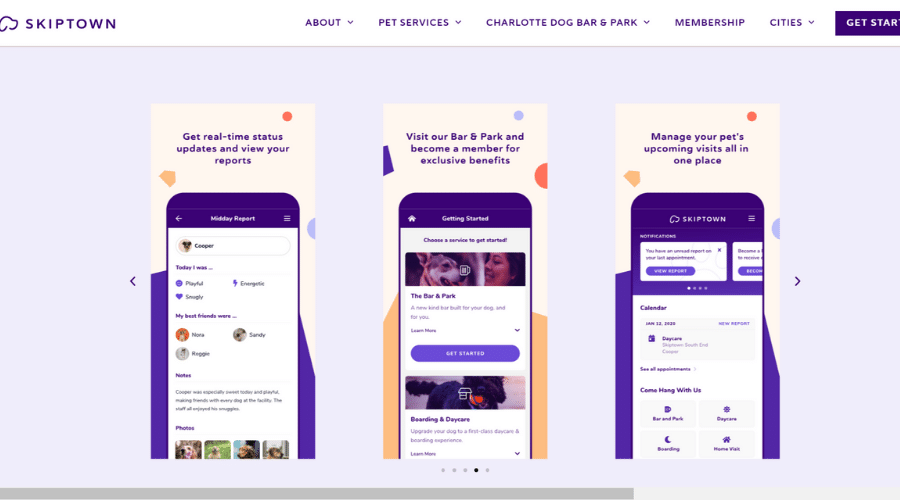 Wanting to make sure that all of the information Skiptown had is right at pet moms' and dads' fingertips, Niki and her colleagues developed a client-facing application to make it easier for pet parents to worry more about having a great time with their companion animals and less about remembering their pups' information every time they interact with a new person.
Not only that, but the app also helps the team on Skiptown's daycare and boarding aspect, as it prompts the members with everything that they need to do throughout the day.
Lastly, the app also comes with an admin web platform that allows Skiptown's administrative team and local management team to have oversight of the operations of the entire facility throughout the day.
"We have the honor of designing things that solve problems in the pet industry, both from a facility side and from the tech side to just streamline and, like I was saying earlier, sort of bring these operations into the 21st century,"
Niki said.
Learn more about Skiptown!
Check out their website at https://skiptown.io/.