Having trouble getting your dog to drink a lot of water? DoggyRade Isotonic Drink may be the best solution to help keep your pet healthy.
Manufactured by Tonicity, DoggyRade is a healthy and nutritional liquid formula for Fidos. It won the Product Innovation Award at the 2021 Pet Industry Federation Awards, while its Pro version picked up the Pet Care Product Award at the New Product Showcase.
According to Alon Rosenberg, who co-founded Tonicity and was born and raised in Israel,
"DoggyRade is obviously for dogs. It's a ready-to-use drink, and it's more recreational. So, if you go out with your dog, if you travel with your dog or just want your dog to have fast hydration in a way that the dog will feel like a treat because it's extremely palatable, then you will use a DoggyRade."
The Virus That Developed DoggyRade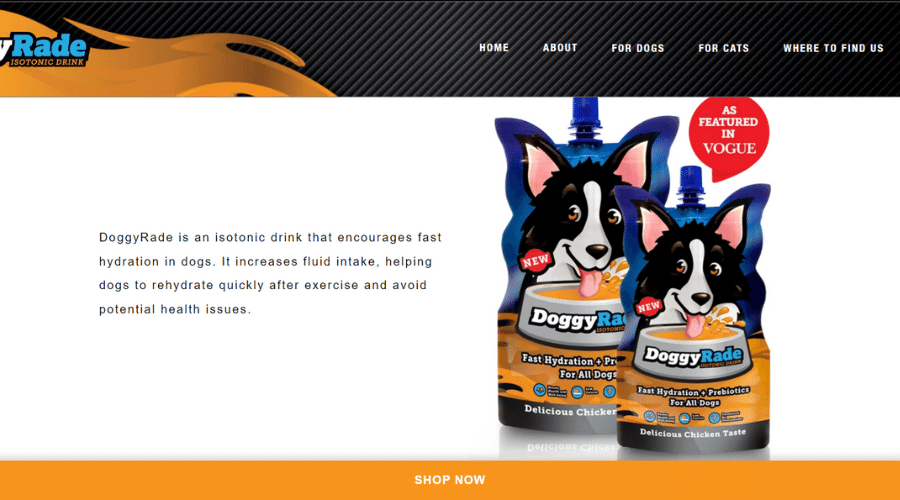 The idea for the isotonic drinks began back in 2014 when the U.S. swine industry was confronted with the porcine epidemic diarrhea virus (PEDV).
"[The virus] caused severe diarrhea that led most of the time to the death of piglets. So, to help the piglets fight this virus, we were looking to make some form of a formulation that will act as fast hydration and also support the gut system of piglets,"
Alon shared.
At the time, their goal was to give piglets the energy and hydration they need to fight the virus.
Fortunately, they found that the key was simple: feed the villi and nourish them in the form of an isotonic drink. Villi are the small cells inside our guts that take all the digested food into our bloodstream.
"We did so many tests on piglets, and the result was so amazing that at some point, we said that we need to take this formula, change it a little bit, and make it more palatable for dogs and cats but use the same benefit and the same knowledge. It took us almost five years to bring it into the companion animals' world."
DoggyRade, KittyRade, YummyRade: Tonicity
'

s Three Product Offerings for Pet Hydration

With their successful formulation of an isotonic drink for piglet hydration, Alon and the Tonicity team then went on to develop three other products for dog and cat hydration.

Eventually, they came up with DoggyRade, KittyRade, and YummyRade.
"DoggyRade and KittyRade are isotonic, ready-to-use drinks for dogs [and cats], while YummyRade, the third member in the family, is actually a meal enhancer. All three products have natural ingredients and serve the same purpose: they offer fast hydration and gut support for pets,"
Alon explained.
To further elaborate, DoggyRade Isotonic Drink supports good intestinal health in pooches through its natural prebiotics, amino acids, and electrolytes. This is especially helpful in cold weather when dogs are more vulnerable to gastrointestinal issues.
"With dogs, sometimes it's difficult to notice how much liquid they lost, and usually, when you give them water, they will not drink enough. So, you need to stimulate them a little with DoggyRade because the palatability, the natural chicken liver flavor, [will make] the dogs drink much more. Not only that, but because of its isotonic properties, the amount of water that will get into the dog's body—and not into the dog's bladder—is much greater. So, all around, the dog will enjoy drinking. It's like a treat, and the dog will get much more liquid than water."
On the other hand, cats generally don't drink enough fluids. This can cause a lot of health issues, including kidney disease. For this reason, KittyRade is a great way to make sure that felines' digestive system is balanced.
Alon emphasized, though, that cats can be fussy and aren't used to drinking liquid. Thus, it might take them a day or two to get familiar with KittyRade.
As for YummyRade, it has the ability to enhance both the palatability and quality of pets' dry food. While it doesn't have the isotonic and fast-hydration properties of the other two, it contains properties that support the guts.
If you want to get a discount on their products, simply use the code "10DOOBERT" as many times as you want to get a 10% discount.
Learn more about DoggyRade!
Visit their website at https://doggyrade.com/.