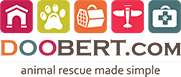 Contact: Alyssa Grunfelder
               (262) 349-0148                                                                                                 FOR IMMEDIATE RELEASE
               alyssa@doobert.com
               Doobert.com
Volunteers Transport Two Puppies to Ellijay, Georgia
Ellijay, GA – A local rescue organization and Doobert volunteers transported two puppies, Gully and Dani, to their new homes in Ellijay, Georgia.
Gully, at 5 weeks old, was buried in the trash and a local hunter heard his cry. The hunter did not see any other puppies alive. Gully spent three weeks in a foster home where he was properly fed, met other dogs and received unconditional love.
Dani was found on the side of the road in Mobile, Alabama. She had been hit by a car and left on the side of road to fend for herself. A local veterinarian found Dani and it looked like she had been dragged by the car that hit her, leaving the equivalent of road rash.
Gully and Dani traveled over 400 miles from Mobile, Alabama to Ellijay, Georgia. Thanks to VT Dog Rescue and all of the volunteers on this transport, Gully and Dani have the chance at a new life.
Volunteers use the custom-built software on Doobert.com to save animals by volunteering, fostering, and/or transporting animals.  This software helps solve the most difficult aspect of coordinating animal rescues: transportation.  With Doobert.com, animal lovers around the country come together to bring animals to their forever homes.
Volunteers and organizations can sign up for free to rescue more animals at http://www.Doobert.com.
###