Xena was a little puppy that was brought to the DeKalb County Animal Services' shelter in Georgia in September of 2012 after she was found passed out in someone's front yard. She weighed only four pounds and was very close to death at the time of intake. Xena was not expected to make it through the night, but miraculously, she survived against all odds.
Rescuers gave Xena lots of fluids, nutritional supplements, and an immediate vet appointment as soon as she was rescued due to her declining condition. The veterinarian staff believed that she must have been kept in a small, confined area and starved in a cage before being left to die. She was completely dehydrated and had scabs all over her nose, signaling that she was probably trying escape from her enclosure. DeKalb County Police are still actively looking for her abuser.
After her amazing recovery, Xena was soon named "the warrior puppy", and was put up for adoption soon after. Linda Hickey, from Johns Creek, GA., found Xena and her story to be beyond inspiring. After reading stories on the Internet and looking at the Facebook page that was created for Xena, Hickey quickly adopted the puppy.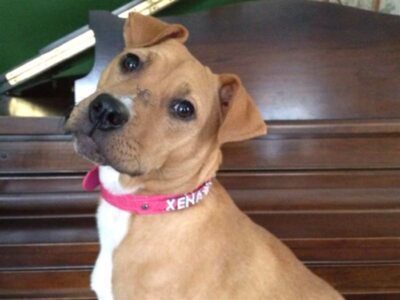 Hickey's eight-year-old son Johnny has autism, which often leaves him to a life of solitude. Most of his social interactions are awkward and make Johnny feel uncomfortable, and some situations can trigger extreme terror and temper tantrums. However, everything changed after Xena was brought into Johnny's life. The family has two other dogs, however they are too old and fragile for Johnny to play with. On the first trial day, Xena was brought along in the minivan to pick Johnny up from school. Since that day, the pup was sitting in the boy's lap in his car seat, and it hasn't changed ever since.
The bond Johnny was able to make with Xena was very unlikely, so much so that some called it a miracle. His mother says that Johnny has never talked so much in his life and that he is the happiest she has seen him in all of his eight years. There is no social awkwardness between Xena and Johnny, and that has made all the difference in his life.
There is little research that addresses the influence that companion animals can have on children with autism, however some studies show that children with autism speak and interact more when they can pet animals and engage with them in other ways. Companion animals have a calming presence, and can help children get through their day much easier. For example, Johnny went to get a haircut one day but could not get over his anxiety. The next day, Xena came along and Johnny was able to get a fancy new hairdo. Another struggle that Johnny has been able to overcome with Xena's help is his personal-space issue. He normally gets very overwhelmed, but he is totally fine with letting the pup lay on him, all 43 pounds of her. Although the research is limited, Xena is a perfect example of how much of a positive impact an animal can have on a child.
Since the adoption, Hickey has been updating Xena's Facebook page with stories about Johnny and Xena's experiences. She never expected the amazing support and love that overflowed onto the page for her family. This amazing story begs the question of, who really rescued who?