A dog crate is an essential everyday dog accessory – one you'll need to keep your pet safe while traveling with them or away from home. 
There are various scenarios or times when your dog inevitably needs to curl up in a crate. Since this accessory will serve as a resting place for your puppy, you will need to ensure that the crate is the safest and sturdiest you can find!
Introducing the perfect solution: the Rock Creek Crates!
5-Star Rating For A Crash Test
According to Shawn Carlsen, current head of Rock Creek Crates,  
"We like to think that we manufacture the strongest and safest dog transportation crates in the world."
The current version of the crate uses aircraft-grade aluminum. It has an internal welded frame, resulting in a highly sturdy metal dog crate! These are professionally designed crates that have ample room and ventilation. It uses lightweight material that makes it incredibly easy to transport.
Rock Creek Crate's story started way back in 2014. With the vision and goal of creating a safe and robust pet crate, Jed Packer and his partner, Mike, founded the company. It began a new chapter when Shawn and Jed's daughter, Chalyce, purchased the company in 2020.
With Chayle's natural love and understanding for dogs and Shawn's passion for manufacturing and elite design, they made a great team that successfully created Rock Creek Crates' current iconic design. 
Their design gained an excellent 5-star rating from the Center for Pet Safety crash test! 
"It's the first, and to this day, the only metal and aluminum crate to ever get this certification."
This metal crate passed the rigorous and demanding test, earning it a high-rated crash test certification. Furthermore, the crate passed the first time, which is a remarkable feat!
It proves that Rock Creek Crates is a high-quality dog accessory with unmatched durability and sturdiness. 
Bid Flimsy Dog Crates Goodbye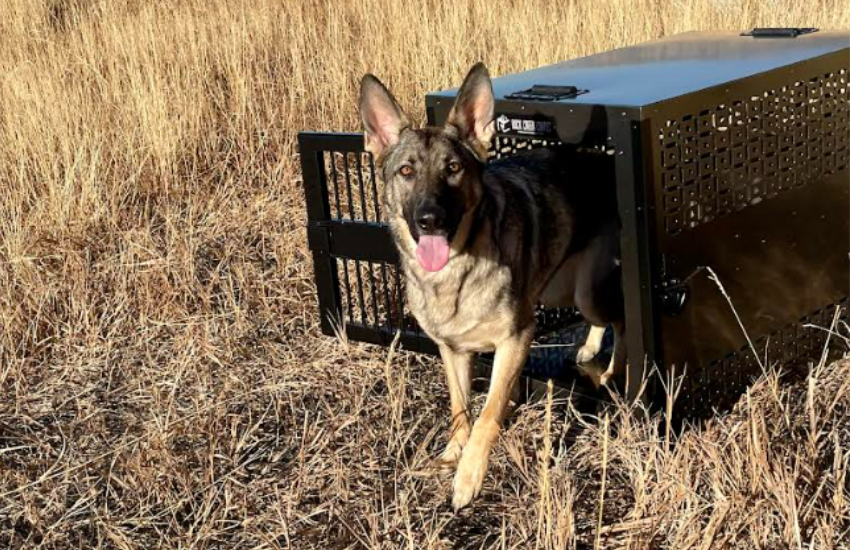 "To build a proper and safe mode of transportation for animals."
Security and safety always had been Rock Creek Crates' main priorities. They were designed to survive a possible car crash and put pet parents at ease. With these metal crates, there will be no need to worry about unexpected break-outs or escape artists. 
You won't have to rely on flimsy dog crates anymore. You can rest easy, especially knowing that your pet will use a crate based on the highest standards and quality.
Rock Creek Crates aims to be a powerhouse pet accessory that you can use far into the future. 
The company is currently only selling its standard stationary crates for now.
"We're probably on revision 300 of our current product. I have a lot of plans with modifying the crate."
They are currently working on more ways to modify their current design to make it better. Though, they won't stop with a single product. In the subsequent years, Shawn can envision the company releasing completely new designs that one-up the standard they set themselves. 
Rock Creek Crates is available in the United States, Europe, and Saudi Arabia. If you wish to avail this remarkable and attractive mobile dog transporting device, you can purchase one directly from their website.