Are you looking to experience a novel setup where your families and your furry best friends can come together?
Then Bar K in Kansas City, Missouri is the place to be!
Co-founded by Leib Dodell, Bar K combines the concept of a fully staffed dog park with a bar, a restaurant, and an event space to create a brand new destination that offers a unique experience for both humans and their four-legged babies.
"It's an entire community. And that word 'experience' is exactly right. It's like one of the most experiential destinations you can imagine. There's just so much going on here. It's so joyful. People are so engaged with one another and with their dogs,"
Leib enthusiastically gushed in the podcast.
Founding the Bar K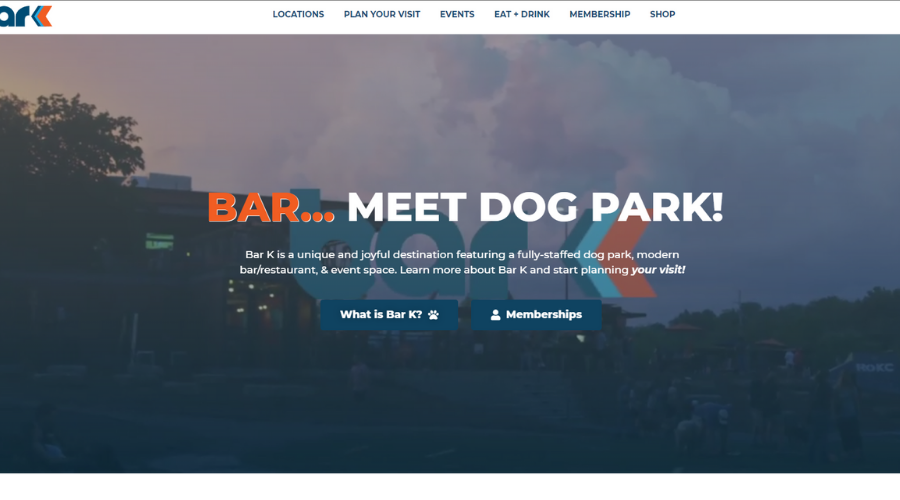 Established in August of 2018, Bar K aims to bring together a community of like-minded individuals to engage and share connections with themselves and their pets. Leib derived the idea from his own personal experience as a lawyer who had a jam-packed schedule and couldn't make as much time for his pups as he would have preferred.
Wanting to enjoy a unique social experience with his pets, whom he considered his family, Leib, along with his business partner, took a business leap, and the adventure has led to the development of Bar K.
Park Features and Services
Leib stressed,
"The thing I want to emphasize is, it's so much bigger and grander than probably what your audience is imagining. You know, you hear dog park bar, and you think of sports bar with some wood chips in the back. But that's not what we've created here… Everything that you can imagine doing, now you can do with your four-legged friends, too."
That said, Bar K currently features two acres of an expansive and dog-ready location right in the industrial heart of Kansas City. It also has a stage where people can conduct music performances, unique musical equipment that they can play to their utmost pleasure, and even event spaces where groups of people can gather to suit their purpose.
Their clients have also even utilized the vast area to hold a variety of celebrations, from dog birthday parties to full-on weddings with bridal gowns and office dogs.
However, the fun doesn't stop there. According to Leib, he and his team are currently in the process of overseeing the expansion plans to multiple locations.
This is in response to the fact that about 925 dogs and over 2,000 people come to the dog park on average over the course of a day, and they want to become a world-class, dream-come-true dog park of choice for both human and four-legged patrons alike.
"I think you can call that proof of concept, that people are craving this experience, where you can actually bring your dog, because we all feel guilty, right? When we leave our dogs at home, and we go, and we want to meet our friends…and your dog has been alone most of the day… Like, why don't you spend time with your little best friend?… It's an awful choice, and it's not a necessary choice because we've come up with a way where you can do both. I mean, that's really what Bar K is all about, solving that problem,"
Leib shared.
Although there is also a space for small and shy dogs, an outdoor bar with four television sets, free WiFi, and trained dog tenders park-wide to keep the place safe and handle any issues that may crop up, what makes Bar K even more unique is that they also offer dog services like grooming and training.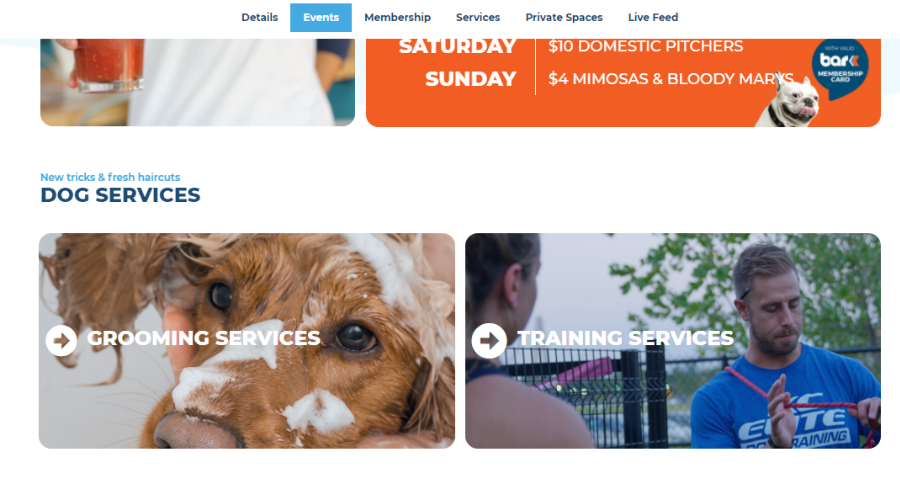 So, if you want to clean up your Fido after their messy play, you can rely on a variety of Bar K's dog services, from Exit Bath, Bath and Brush, Bath and Tidy, Shed-less Treatment, and Full Groom. They even offer added services like Nail Trim, Ear Flush, Teeth Brushing, Paw Fizzers, and Nail Painting if you want to go and pamper your pups.
On the other hand, if your goal is to get your pooch trained so as to strengthen your partnership, their "Train @ Bar K Program" also gives you and your dogs the tools you need to live the best possible lives.
Their dog training courses are managed by professional dog instructors with unique expertise and training styles that can provide guidance that's tailored to your dogs' individual preferences.
Admissions, Menu, and Daily Specials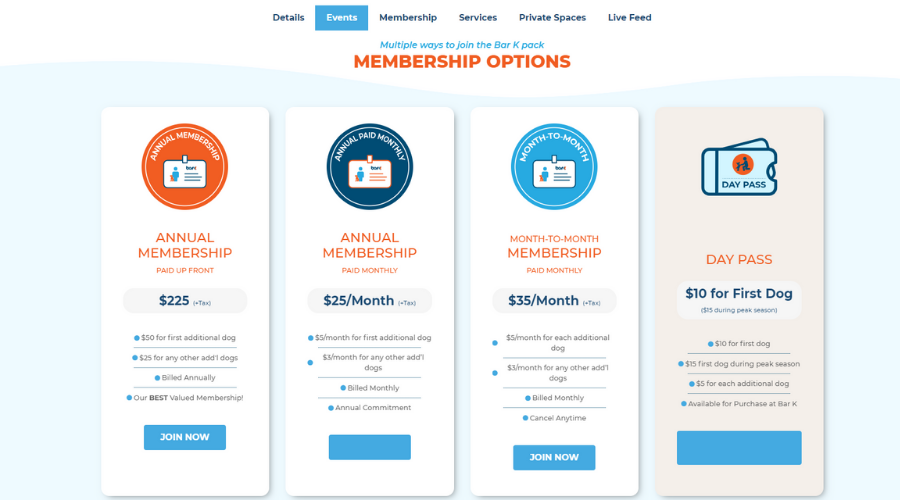 As expansive as the dog park is, there are multiple ways for you to join the Bar K dog pack.
While anyone can visit the park for free without their dog, those planning to bring their fur babies are required to either be a member of Bar K or purchase a Day Pass.
Monthly and annual membership options are available, but if you want to try and get a "feel" of the environment before plunging head-on, then you might want to take advantage of their Day Pass first.
Depending on whether or not it's peak season, you can pay a price ranging from $10-$15 for a Day Pass at Bar K. Monthly memberships, on the other hand, come at a price of $35 per month (plus taxes).
But, if you want to pay for your annual membership on a monthly basis, you can also do so at $25 per month. This cost still does not include taxes, though, and annual memberships paid upfront is worth $225 plus the cost of taxes.
As for whether or not you can savor food to your heart's content while waiting for your pooch to expend its restless energy, there's no need for worry on this matter either.
At Bar K, they serve sandwiches, fresh juice, coffee, craft beer, wine, specialty cocktails, and more, so you can readily enjoy your time without any disruptions.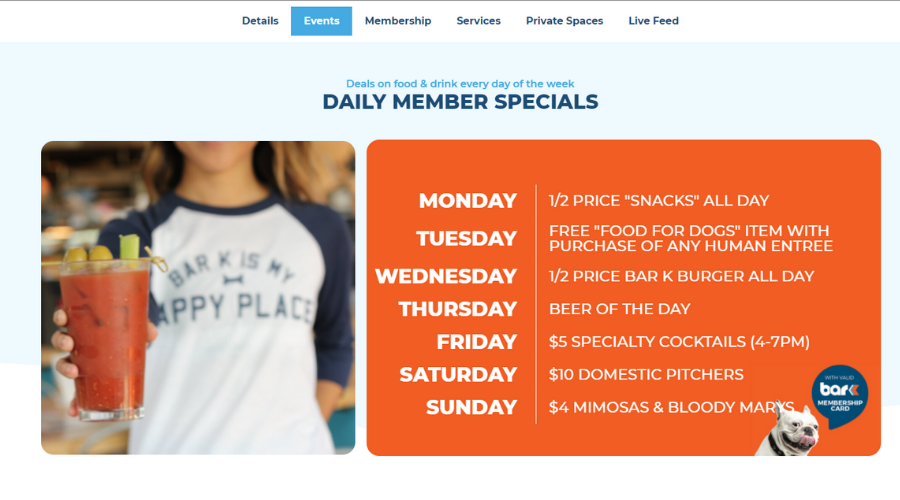 They offer daily member specials, too, so you don't need to go nervous about the food being too much for your tastes or your wallet.
For Leib, Bar K cannot simply be summed up in a few words. Instead, he encourages everyone to visit the dog park in person to see for themselves whether it's worthy of being a "doggie paradise on earth".
"The magic is in the park. And we've got this enormous space. The joyfulness of the environment is something that you really have to be present to appreciate,"
Leib said with a smile.
Learn more about Bar K!
Check out their website at https://barkdogbar.com/.