Ever wondered if your dog can make the switch to a plant-based diet?
Just as the vegan and vegetarian movements have surged for humans, the concept of getting their companion animals to consume plant-based treats has also become a rising trend among pet parents.
To cater to this growing interest, manufacturers of animal treats, like Bright Planet Pet, are making plant-based treats part of their product line.
Bright Planet Pet vs. Competitors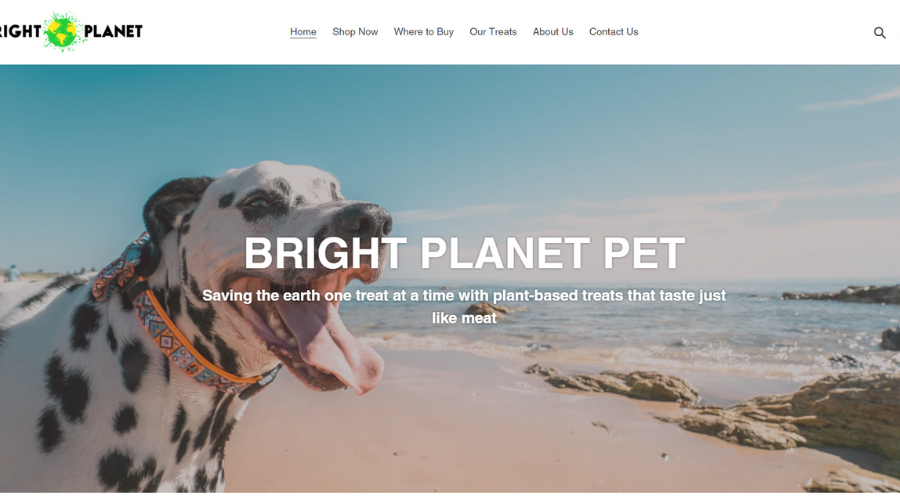 What makes Bright Planet Pet different from its competitors, however, is that it aims to save the earth one treat at a time with plant-based treats that taste just like real meat.
Founded by current CEO, Katherine Ellison, Bright Planet Pet is the first in its line to create plant-based treats the way it currently does.
In fact, they named their first flavor as "Better Burg'r Plant-Based Dog Treats". They made it from wholesome, all-natural ingredients yet tastes like a meaty hamburger.
Katherine and her team are also looking to add two other signature flavors to their product line. The first is what they call "Better Brat", which is a bratwurst-flavored treat. The other is "Better BBQ Chick'n", a roasted chicken-flavored treat.
Katherine shared,
"We've seen in the past couple of years the popularity of plant-based meat alternatives for humans. Apparently, about a quarter of the U.S. is working on actively reducing their meat consumption. And we know that a lot of the U.S. households have dogs. So, I decided that there's that intersection of what humans eat and what they feed their dogs. And I saw an opportunity and wanted to bring something to market."
According to Katherine, the strong demand for plant-based dog foods can be measured by the fact that a number of established pet food brands now offer vegetarian formulae. Also, new companies are coming in to join the competitive dog treat landscape.
Apart from helping improve dogs' general health, Bright Planet Pet also envisions providing assistance in sustainability efforts, helping address climate change concerns, and reducing dogs' carbon pawprints.
To this end, the Bright Planet Pet team has set it up so that its products take animals out of the supply chain for long-term sustainability.
The company also makes sure to donate to the Eden Reforestation Project, which plants trees in deforested areas around the world.
Making Bright Planet Plant-Based Dog Treats More Favorable for Dogs
Believing that taste is king, Bright Planet Pet takes steps to ensure that intended consumers will welcome its nutritious treats.
To this end, Katherine and her staff flavored the dog treats with a proprietary vegan blend that has the taste and smell of meat.
She added,
"We take our very healthy base formula—chickpea flour, brown rice, sweet potato, et cetera—and then we add in some of those vegan flavorings. When you open the bag, you can really smell that meaty barbecue smell. And so, we know it tastes like meat because when we feed it one-on-one with a meat-based product, many dogs—about 75% of all dogs—will pick our plant-based meat treat over an actual meat treat…"
In fact, they have also had a few humans eat Bright Planet Pet's treats just to check whether they really taste like meat.
The resounding conclusion they gathered from their taste-testers was that the nutritious treats taste like leather, but at the same time, also taste better than other dog treats.
Katherine continued,
"

So, really, that aroma really hits, and the dog gets that sensory action of that meaty smell. And then our treats are soft and chewy, so there's a little bit for them to chew on, and it does have that nice meaty taste as well."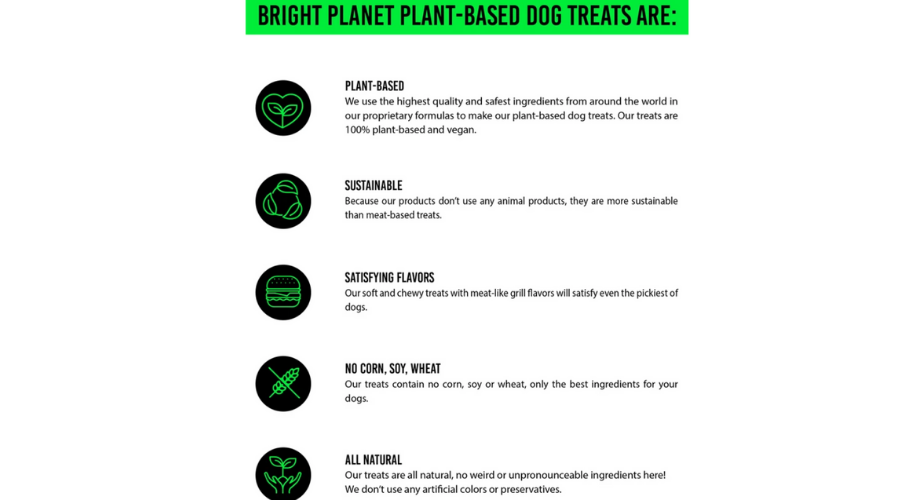 At present, Bright Planet Pet is focused more on establishing its brand and helping to convert more dogs to plant-based diets.
Although the team doesn't necessarily promote a plant-based diet, Katherine believes that it is still a healthy practice that can benefit dogs, just like in the case of humans.
As for some pet parents' worry that plant-based treats don't really provide dogs with enough nutrients, Katherine said,
"The difference with our product is that it's a treat. So, it's not nutritionally complete and balanced because it's not meant to be. But you can certainly give it to them on an occasional basis or use with training."
One great feature about Bright Planet Pet's treats is that they contain very low calories compared to other products on the market. This makes them a good choice for overweight dogs.
Where Bright Planet Pet Is Going
While Katherine herself is not a food scientist, she's an animal lover who has worked in the pet industry for more than 13 years.
Using her fair share of knowledge about pet nutrition, pet food production, and animal treat production, she developed the base recipe she wants for Bright Planet Pet's dog treats.
In fact, she worked with a food scientist to further refine the formula and brought it up to their manufacturer. The manufacturer was the one who added their own suggestions to make the treats even tastier.
When asked about Bright Planet Pet's roadmap, Katherine shared,
"At this point, we're focused on retail and building out that assortment, getting our two other flavors online and ready to go. From there, we'll see what happens, kind of baby steps. But our five-year plan is to come out with two flavors of dog food."
For a business that was established in the middle of a pandemic and is already selling on Amazon, Bright Planet Pet seems to be well on its way to achieving its goals step by step.
So, you might want to look into Bright Planet Pet's offerings if plant-based diets are one thing you want to have your pooch try.
Grab Bright Planet Pet's plant-based dog treats for your pooch!
Visit their website at www.brightplanetpet.com.