What do you recall doing at the age of 10? Probably playing around the house and block with your friends. Not Jasmine Thomas-Gainey, though. At that young age, she was already coming up with a business proposal and mixing up recipes and formulas for dog treats!
Four years into her steadily growing business, Jasmine has proven that age is only a number in the business world. At 13, she has accomplished and learned things that no kid her age would even want to begin to understand!
Read on to see how this promising young entrepreneur and business owner came to be!
The Inspiring And Remarkably Young Entrepreneur Behind The Growing Business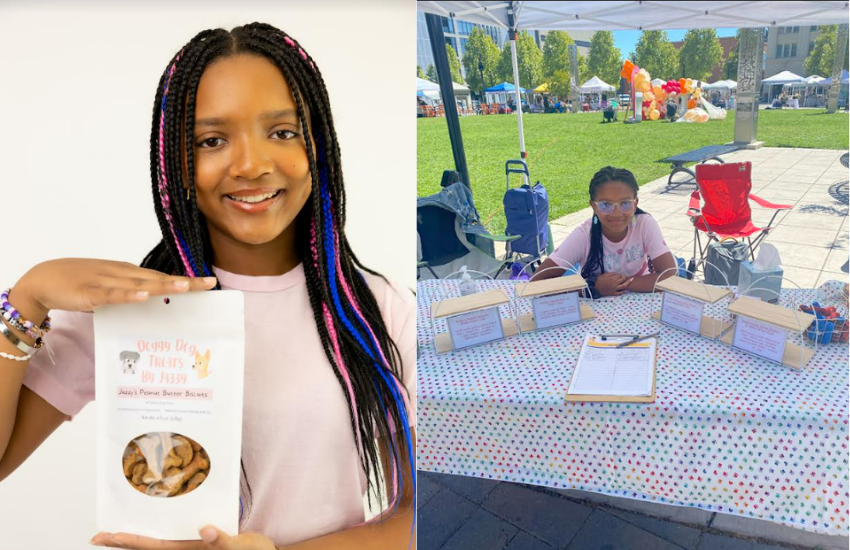 Jasmine Thomas-Gainey, currently 13 years old, is an inspiring and promising young entrepreneur that sells her human-grade, preservative-free, and home-baked dog treats on Etsy and at the markets near her home.
Her dream to establish a small business sprouted from her love for dogs and cooking/baking, a hobby she grew up doing with her grandmother. The thought of starting a business first came to her at the beginning of 2019.
During her 10th birthday the following year, her family gifted her a food dehydrator, dog treat molders, sealers, and other essential items to kick-start her business. She instantly started her plans.
She made a detailed business plan and gave a presentation to her parents, where she talked about profit margins and different ways to make treats. By then, she already came up with three original recipes.
She dived deep into her research, using existing dog treat recipes as a baseline or guide to create her own original formula. She played around until she could find the perfect portions, measurements, and ingredients!
 "We were able to substitute things and made them preservative-free and last longer but also make them healthy. Make them so dogs like them and enjoy eating them."
Give Your Pets The Tasty and Healthy Dog Treats They Deserve
Currently, Doggy Dog Treats By Jazzy offers various flavors to their customers, offering both variety and options for dogs!
"Just like humans, dogs have allergies too, and they can't eat everything other dogs can."
She has dog treats made of barley flour, dog biscuits with peanut butter, and bites created with coconut flour. These products are all-natural and organic, without any trace of chemicals or preservatives. They are also human-grade dog treats!
The dog treats utilize a natural preservative, rosemary extract, that helps extend the shelf life of the products. For now, they can last up to 6 months on storage! They can last even longer if kept in a freezer or fridge!
The dog treats have reached local retail stores and has sold quite well. You can also easily find Doggy Dog Treats by Jazzy on Etsy and Shopify! You may also find her on Instagram!
"The business is growing more than I thought it would."
Jasmine has expressed her plans to continue the business throughout high school — possibly even beyond that. With the increase in numbers, she and her family are looking for a commercial kitchen to make bigger batches of dog treats for future bulk orders.