Many senior dogs and dogs with mobility or joint problems might experience issues walking later on in their life. If your dog displays signs of mobility difficulties or pain when walking, you should see a vet immediately. There is a pretty good chance that they will need a wheelchair.
For your dog to move properly, you will need to give them a quality wheelchair that will provide them with freedom and mobility to move around and play. After all, dogs thrive in the outdoors.
Fortunately for you and your dog, canine wheelchairs have come a long way. From being scarce and expensive, it is now possible to order one with good features at a more reasonable price! Helping disabled canines is now easy, especially with companies like Eddie's Wheels.
How It Came To Be: Eddie's Wheels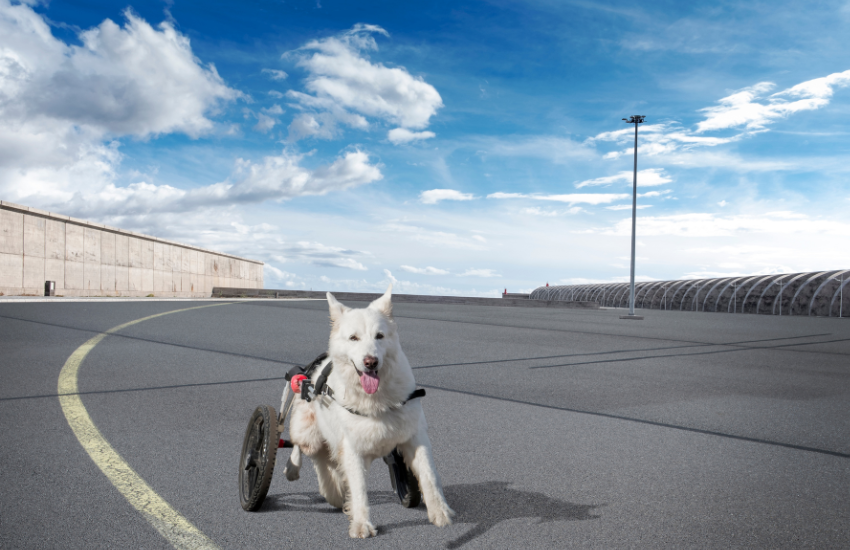 Custom-built, engineered, and tailored wheelchairs to match your pet's disability – that perfectly describes Eddie's Wheels' mission. As Leslie Grinnell, one of the founders, said,
"We make custom dog mobility carts for just about every kind of mobility issue."
Like any other business, Eddie's Wheels started small. It began with their Doberman, who woke up paralyzed one day. As it was in the 80s then, good-quality wheelchairs were scarce and limited. They tried reaching out to a company that makes dog mobility chairs but were told that their carts wouldn't work well for the body type and shape of their Doberman.
That opened the door for Eddie. Being a mechanical engineer by trade, he started making and creating. He made a revolutionary design for their pet – which later on was phrased and endorsed by local veterinarians.
Not long after their prototype, requests started flooding in. Leslie and Eddie saw a business opportunity and a way to help more disabled pets. Eddie made multiple prototypes that were distributed within the community. In 1999, a feature article written and published in the local newspaper further increased the number of orders coming in, spearheading the birth of Eddie's Wheels. 
"If you're going to do something custom, you have to do it right. So, that's what we do."
How It's Going: World's Best Custom-Built Dog Wheelchair
Helping disabled canines always had been Eddie's Wheels' objective. The company has thrived over the years since its establishment. It now accepts orders from around the globe and has made over 30,000 wheelchairs!
"Because this is custom, even though we have certain templates, we do our best to innovate, so each pet gets exactly what they need."
Eddie's Wheels has various wheelchair types on its product list. From simple wheelchairs for suddenly paralyzed dogs to more custom-built wheelchairs designed for dogs with progressive diseases. They also have front wheelchairs for dogs that are missing front legs and quad carts for canines that need overall support.
Their motto – We test our products on Animals – speaks a lot about their experience, specialty, and professionalism. They continue to take every order seriously, paying careful attention to every detail and ensuring that every cart will serve its purpose and aid each pet's level of disability!
"We have been doing it longer than everyone else."
Eddie's Wheels has an official website you can visit if you're interested in placing an order. They have well-trained and seasoned staff members who will gladly discuss your order in more detail with you!