Are you looking for a coconut pet store in Coconut Creek that sells natural pet food and supplies?
PetNMind is a five-year-old company based in Coconut Creek, South Florida that has everything you need for your cats and dogs!
According to Adrian Archie, founder and CEO of PetNMind,
"We focus on holistic products and nutrition, like raw foods, dehydrated foods, treats, and supplements. We have sustainable toys and things that we focus on. But really, quality for pets is our number one mission."
A Natural Pet Store Focusing on People
As an animal lover who likes interacting with people, Archie thought of starting a healthy pet food store after his fifteen-year-old cat, Rocco, struggled with health issues.
"I really got no help with what he was going through. I realized it was probably his food. And back in that time, quality brands started to pop up. But it was really those Legacy brands still then. So, just doing research on my own, figuring out (things). And I improved his health through that,"
Archie said, thinking back.
This experience made him realize that pet nutrition is the number one frustration many pet parents have, with hygiene following closely.
Consequently, after getting weary of corporate America, Adrian wasted no chances and immediately established PetNMind.
"We focus on people. What we realize as we grow this company is that pets don't speak human, right?… They can't tell us what they need. So, I think sometimes in the pet industry, we often forget that human needs to be guided, that human needs to be supported and receive translation to what their pets need and won't. So, we focus on that really heavily as well."
For PetNMind, this means offering quality products specifically for dogs and cats and building a human relationship based on trust, guidance, and knowledge.
Quality PetNMind Brands and Holistic Services to Keep Your Pets Healthy and Happy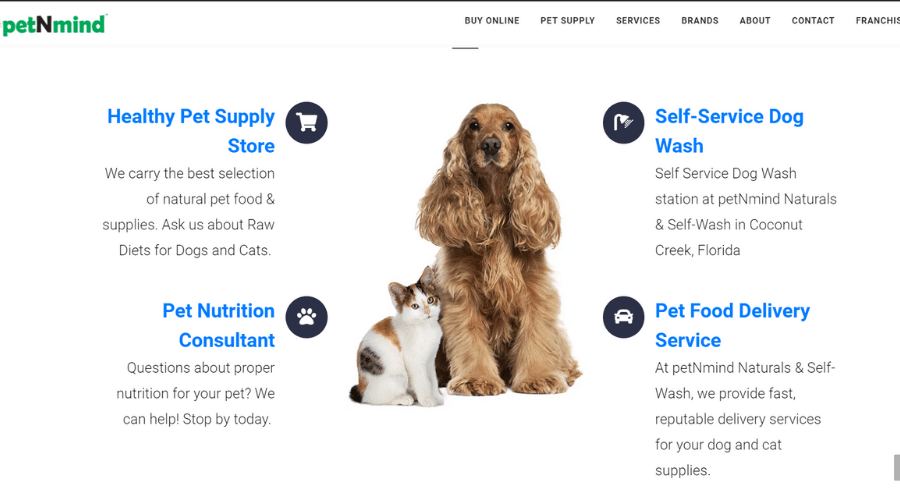 Apart from the close relationship that Adrian and his team offer clients, PetNMind also provides pet owners with natural pet food supplies that keep their pets healthy. Its product offerings consist of top-of-the-line selections of bulk, frozen, raw, dry, dehydrated raw, gourmet, and organic brands.
In addition, the holistic pet store in Coconut Creek, FL also focuses on educating pet parents about holistic nutrition and offers membership hygiene services.
When asked what inspired PetNMind's variety of products and services, Adrian shared,
"I have a Doberman and a Chihuahua. They don't go to a groomer. They don't need to be groomed, but they need their teeth brushed. They need their nails clipped. They need their ears cleaned. They need a bath once or twice a month. And I realized that was something that was suffering as well, with people that didn't take their poodle…to the groomer. Most dogs don't go."
Because of this, Adrian wanted the business to focus on guiding people through their pets' nutrition and hygiene. The aim is to help make sure that pet parents understand they were empowered.
"When you come in our store, number one, we are a communicator. And number two, we're always on the cutting edge of what's next because that's kind of what we offer. We're a solution-oriented store. We're a small format, right, with 2,000 square foot tops, and we're curated. So, we know what pet parents have a problem with. For the most part, we hear those stories over and over and over. So, now, we know what solutions to offer. So, it makes it easier for me, as the founder, and my team to keep up with those solutions rather than having a store full of everything,"
he added.
Helping Others Take Advantage of the Vitality of the Pet Industry by PetNMind Franchising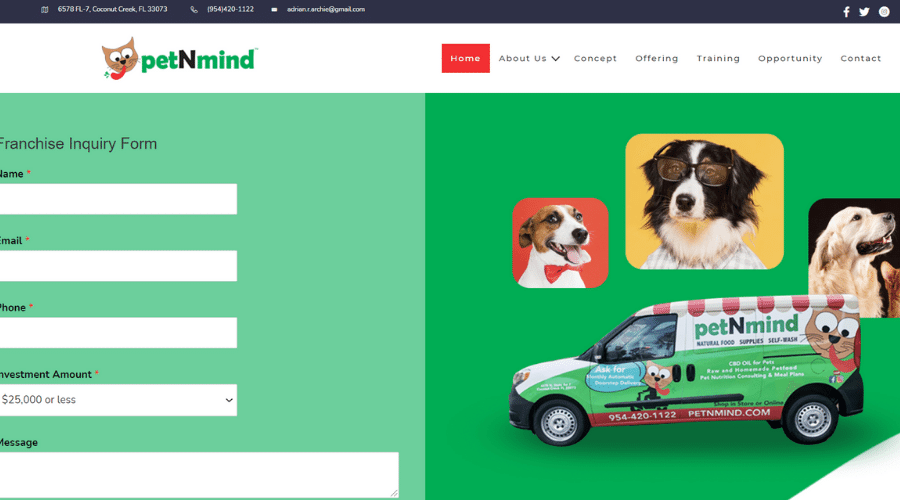 With its full line, PetNMind is a flexible pet food store that's able to pivot and scale up when the situation requires it.
In fact, PetNMind has started to delve into the world of franchising to give other people the opportunity to experience the same fruitfulness that the pet industry offers.
He said about the shift,
"It's an industry where people can really come and grow and have a legacy that they can pass through their family because it's not something that's going to fall apart when the world falls apart. It actually gets better because it can benefit us… So, what I envision—because, again, I love people just as much as I love pets—I want to help other people experience that. So, that's what our model really embodies. It's holistic."
According to Adrian, starting a franchise with PetNMind is easy since you can literally be an absentee owner and just have a manager and two or three employees to run it. You can also decide to scale it to multiple locations in the future once you get the hang of running things.
With everything that PetNMind aims to offer pet parents and their fur babies, it's safe to say that Adrian and his team are on the road to achieving their goals.
"We love people and pets, and we're changing the world, one pet and one person at a time."
Want to know more about PetNMind?
Visit their website at https://petnmind.com/.
Thinking of starting a new PetNMind franchise?
Be part of their family at https://buyapetfranchise.com/.