Does this sound like you?
You're a vet who is passionate about what you're doing;

You want to enjoy life in general;

But you're having a hard time with work-life balance.
If you answered "yes", there's no need to worry.
You probably only need a relief vet to take over your duties temporarily.
Fortunately, there's one place you can easily find a relief vet for your needs.
Simply go to Relief Rover's website, and voila!
You now have plenty of relief vet candidates who can help restore balance to your personal and professional lives.
Relief Rover to Help You Love Your Veterinary Profession and Your Life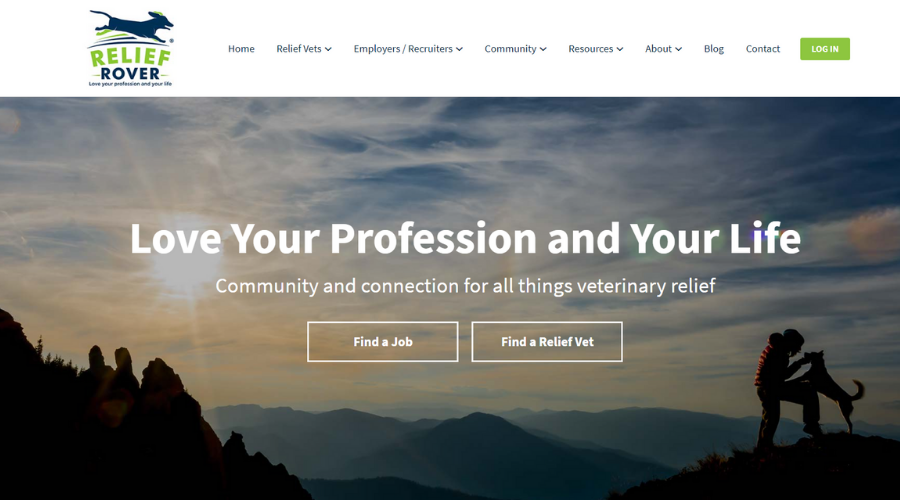 Cindy Trice created Relief Rover in 2017 out of a passion to help vets do what they love doing without giving up freedom, control, variety, and the opportunity to experience life.
She aims to foster a community and connection between relief vets and the vet practices that need them.
According to Cindy,
"I'm a veterinarian. I spend most of my time in veterinary practice as a 'relief practitioner' aka 'locum'. Basically, I go from practice to practice and fill in where they have me."
Whether it's because someone is on vacation, on maternity leave, or is ill, relief vets like Cindy help overworked vets find a relief vet at a touch of a button.
Relief work has been around since the veterinary industry started. But, Cindy believes that it's not for everyone.
Still, she and her team are of the same mind that it can be an excellent way of gaining valuable experience from various roles.
Cindy added,
"It definitely takes a certain personality type, I think, to enjoy it because you've got to be flexible… I learn something new all the time… I have to adjust, and I have to think a little bit harder about how can I care for this pet with the resources that I have."
Using Relief Rover
With people nowadays being on the move all the time, Relief Rover makes it easier for employers to find the relief vets who best match their clinics' needs.
All the employers need to do is pay a small monthly or annual subscription fee to the site, sign up, and post a job.
They can also search through the relief vet profiles that are visible to them and reach out to those whom they believe may be a good fit for their practice.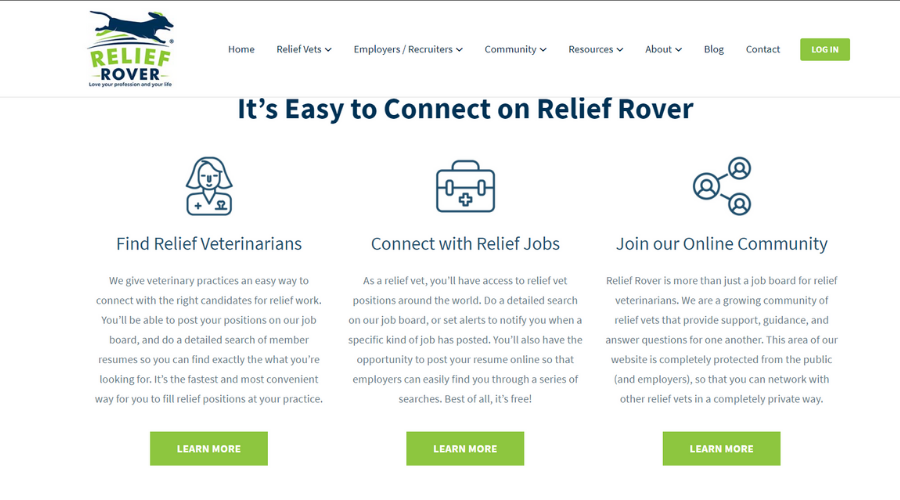 On the other hand, if you're a veterinarian, technician, or nurse looking to do some relief work, Relief Rover allows you to sign up and become a member for free.
Once you build your profile on the site, you can self-sort into groups based on your interest or geography and even get to interact on the platform without worrying about potential employers screening their activities therein.
Cindy described Relief Rover:
"I'm providing that matching service. But, we stay out of the business between the buyer of services and the seller of services. We wanted it to be a low-cost solution for people, for employers."
Given the burnout, compassion, fatigue, and a small number of vets serving a large pet population, Cindy hopes that Relief Rover can help address the mental health crisis that's associated with the veterinary profession.
"The majority of people who go into this career, we can't say no. We don't want to say no. We want to help everyone. But we only have so much capacity. The relief practice allows both relief professionals to kind of control their working schedule to suit whatever life phase they're in."
Learn more about Relief Rover!
Check out their website at https://reliefrover.com/.
Become a Relief Rover member at: https://reliefrover.com/relief-veterinarians/. Membership is free for all relief vets.
Find a relief vet on Relief Rover at https://reliefrover.com/veterinary-practices/.
You can also visit https://kickitpajamas.com/.