For many animal lovers, pets are often their ultimate companions, as their four-legged friends serve as their source of comfort.
Because of this, it's no surprise that most pet parents would rather stay with their fur babies no matter what circumstances may arise.
This extends even to situations where the pet guardian becomes homeless or goes through a crisis.
Luckily, nonprofit organizations, like Greater Good Charities, established programs that promote animal welfare. One of these programs to note is Rescue Rebuild.
According to Zach Baker, the director of the Rescue Rebuild program,
"We're part of a bigger charity called Greater Good Charities. And really, the easiest way to describe what we do is to think of Habitat for Humanity, but put that in the context of animals. So, we build things for animals, and we started doing that in animal shelters."
Rescue Rebuild Program to the Rescue
A shelter renovation program, Rescue Rebuild recruits volunteers to help animal shelters for dogs take creative renovation projects from concept to development. The aim is to help improve the lives of animals and people in crisis.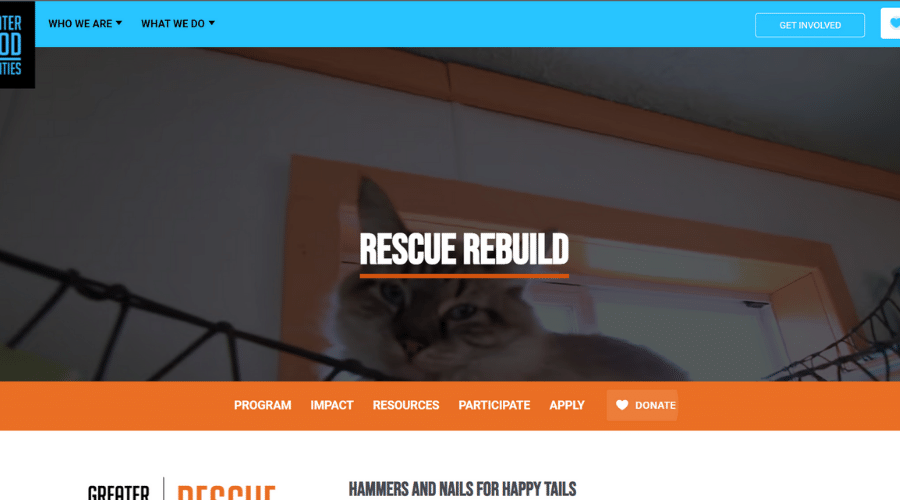 Some of the animals they've helped include those in animal shelters, domestic violence shelters, and homeless and veterans housing.
"We would go in with volunteers… And basically, our team provides guidance for them to be able to do these construction projects… So, the construction part is at the core of what we do. But really, as we've expanded and grown over time, we've seen a lot of different ways that we can help shelters,"
Zach said.
In fact, he added, another way they also provide help is through community building, where they spread awareness about the local shelters and teach people to reach out to them.
"Almost everyone has something they can offer to help a shelter. And I love seeing people surprised by the fact that they have no handy knowledge or experience. And in an hour, we've got them swinging a hammer or cutting wood or metal or hanging fence or whatever. So, that's kind of the core of what Rescue Rebuild is."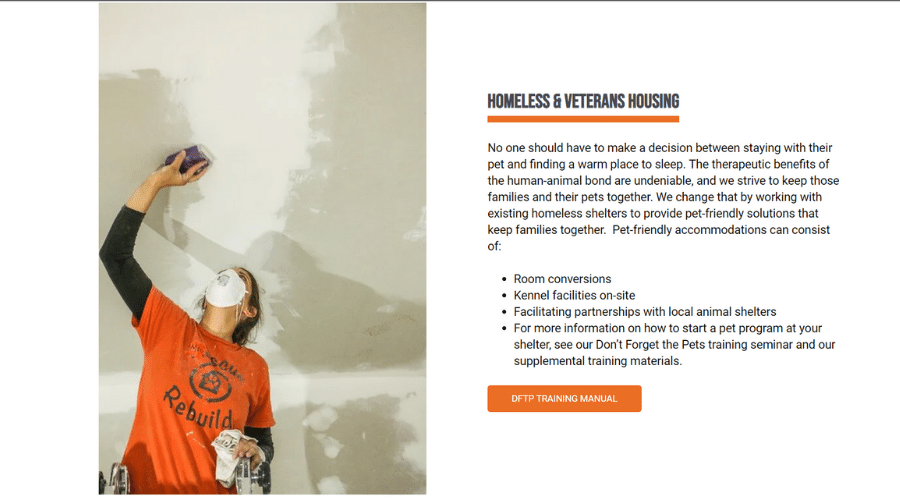 Apart from those efforts, Zach and the team at Rescue Rebuild have also started renovating rooms in domestic violence shelters to have pet-friendly spaces.
"So, maybe if there's a carpet, we put tiles in. We build some exercise areas, maybe they're even connected to the rooms we've put in… Any animal in that situation is just as stressed as the human. They've likely experienced a difficult time as well. And so, anything we can do to allow the animal and the human to stay together is just huge. So, we do that,"
Zach said, describing their work.
Rescue Rebuild on the Go
Since 2007, Rescue Rebuild has been working hard to make a positive difference in the lives of animals and their people.
As a matter of fact, they've partnered with more than 5,000 volunteers in this span of time.
Zach shared,
"We are a traveling program. We have six of us, and we have two trucks full of tools. And we drive all over the country, and we show up at these shelters, and we rely on volunteers."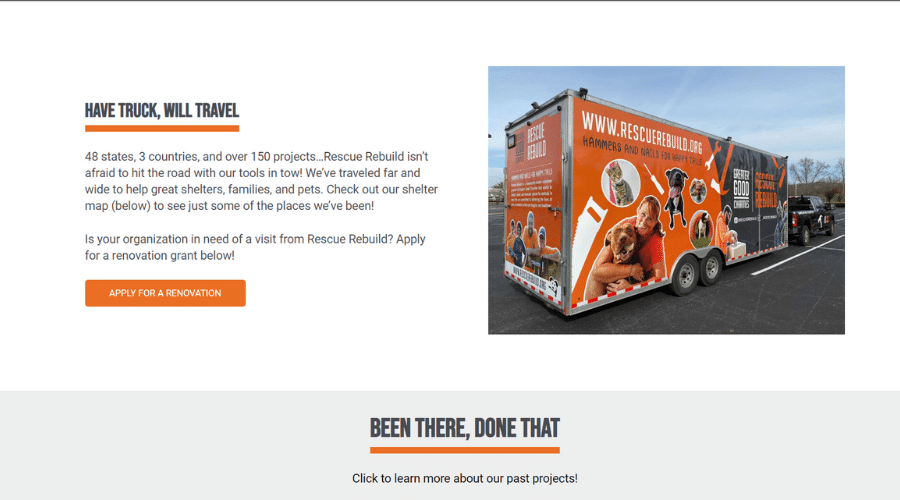 With the pandemic, however, Zach and the Rescue Rebuild team couldn't be on the go as much as they used to. This led them to look for other ways to provide help even with the travel restrictions.
One option they went with was the launching of a coaching or consulting program to help shelters take on their own renovation projects. They also partnered with Red Rover to expand more on the help they provide victims of domestic violence and home shelters.
When asked how he envisions Rescue Rebuild to help out further in the future, Zach commented,
"There's just this constantly shifting animal welfare landscape, where we're trying to jump into the things as they change. It's really trying to take animal shelters from being a place that's like…almost a prison sort of feel, to being a welcoming, exciting place. So, if we can have someone walk in a shelter, and it's bright and airy, and there are smiling animals and smiling people, that's what it's all about."
Learn more about the Rescue Rebuild program!
Check out their website at https://greatergood.org/rescue-rebuild.