As Mahatma Gandhi used to say, "Be the change you wish to see in the world."
And for dog trainers with Truly Force Free™ Animal Training, this means changing their client's behavior in order to get their dogs to truly change.
According to Shannon Riley-Coyner, the founder and owner of Truly Force Free™ Animal Training and Ventura Pet Wellness and Dog Training Center in Ventura, California,
"In many cases, dogs are fully integrated into our families and our lives, just like our partners, children, and friends. When dealing with problem behaviors, we often need to repair a relationship problem between the dog and the human. By looking at the problem behavior as a relationship issue, we can not only change the unwanted behaviors to desired behaviors, we can also improve the human-dog bond."
Starting Off With Truly Force Free Animal Training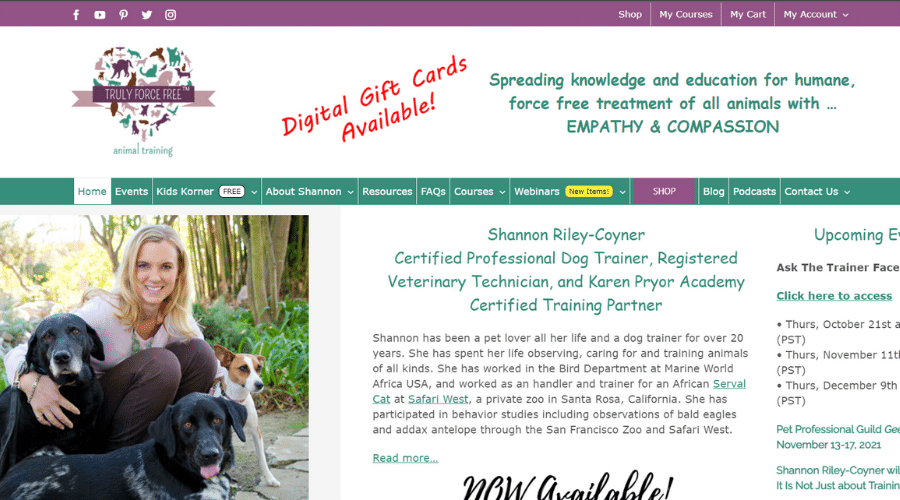 A pet lover all her life with more than 20 years of experience as a dog trainer, Shannon has spent most of her time caring for and training animals of all species.
She shared,
"As I became a vet tech, I went to a dog training conference, and Karen Pryor was a speaker there. And I'll never forget. She said, 'Aggression does not help aggression.' And I was like, 'Oh, my gosh! This thing that I've been feeling in my heart is actually real.' So, I wanted Truly Force Free Animal Training to show that there is a way to do all of these things with more compassion and empathy."
This led her to adopt a dog training philosophy that revolves around force-free, positive reinforcement.
She has also performed temperament testing and has provided assistance in training therapy dogs. For Shannon, it's important since it helps human companions to develop a bond with their animals.
Teaching Parents About the New Ways of Dog Training With Truly Force Free Animal Training
With the ultimate goal of cultivating healthy and happy relationships between pets and their people, Shannon took baby steps to educate people about the other ways to train without hurting their pets.
Some of the methods she's adopted include written blogs and video blogs, and she's also now added online courses and webinars to her repertoire.
Her experience also engendered her to create her own book entitled "The Evolution of Dog Training", which was also another way for Shannon to try and show people how dog training has evolved.
"I found that I was always talking to…people who are crossover trainers…who went from choke chains and pinch collars to clickers and treats. I say, 'Well, I don't use these (choke chains). And this is why.' And I found I was always explaining how…it happened. That there was this study that says that 'dominance and alpha theory is all dog-related' is incorrect, but unfortunately, it didn't pass on to the public… So, I thought, 'I got to write a book about this at some point',"
Shannon said.
Although she was confused when she first began, she has now learned to follow her intuition when it comes to dealing with animals.
"Really, dog training is not about changing the dog at all. Most of the time, it's about changing the person's way that they respond to the dog… If you change your behavior, then they're going to respond to you differently, and they're going to do things differently. So, you have to change yourself."
Learn more about Truly Force Free Animal Training!
Check out their website at https://www.trulyforcefree.com/.