Bathe your dog whenever you please with the best shower head hose from Rinseroo!
This pet and shower cleaner helps you say goodbye to the messy and backbreaking chore of rinsing your pet.
According to Lisa and Jake Lane, respectively the inventor and eCommerce manager of Rinseroo,
"It is reinventing the way we bathe pets. It's a slip-on shower attachment hose that makes pet bathing super fast and easy."
Rinseroo Reinvents the Way You Rinse Your Pets
A super-stretch, slip-on connector, Rinseroo is a patented shower attachment that fits most spigots and faucets and has an easy slip-on, slip-off design. It's lightweight, compact, and portable, with a mid-hose connector that allows quick conversion for sink use.
When asked how she came up with the idea, Lisa shared,
"I was in my shower bathing my dog. I was filling a cup over and over to get the job done, but it was messy and time-consuming. I thought, 'There has got to be a better way!' And right there in the shower, I had an aha! moment, and that is when the Rinseroo was born."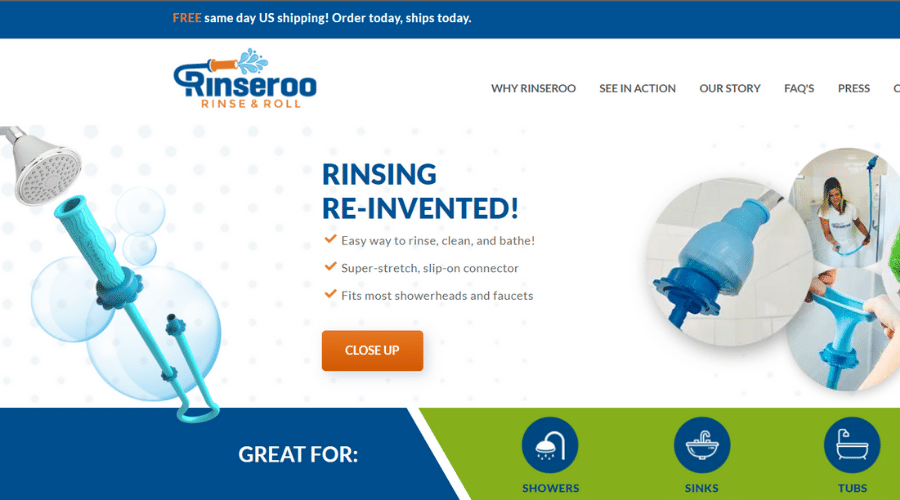 Having brought the product from concept to fruition, Lisa now has a bestseller that has made it into Amazon's "Most-Wished-For" and "#1 New Release" lists.
In fact, it is making headlines so much that the Rinseroo team is bringing in approximately $2 million in sales just in their second year in business alone.
"It's a simple concept, but you know, it just slips over the shower head. You could take your dog anywhere with it, and you can put it on an outdoor shower. You can put it on a sink faucet. So, it's really handy."
Rinseroo from the Ground Up
Lisa attributes part of Rinseroo's success to her experience as a pharmaceutical sales rep working for multiple different companies back in the day.
She believes that this background taught her about what buyers want and need and how to successfully pitch the product while talking about the benefits it can bring dog owners.
She was also grateful for Tamara Monosoff's book entitled "The Mom Inventors' Handbook: How to Turn Your Great Idea Into the Next Big Thing".
"I figured out how to figure what my margins might be and how to source it and how to find an engineer. And literally, that book changed my life. It really did. And because of that, we have a viable, profitable business, and we're helping so many dog owners out there."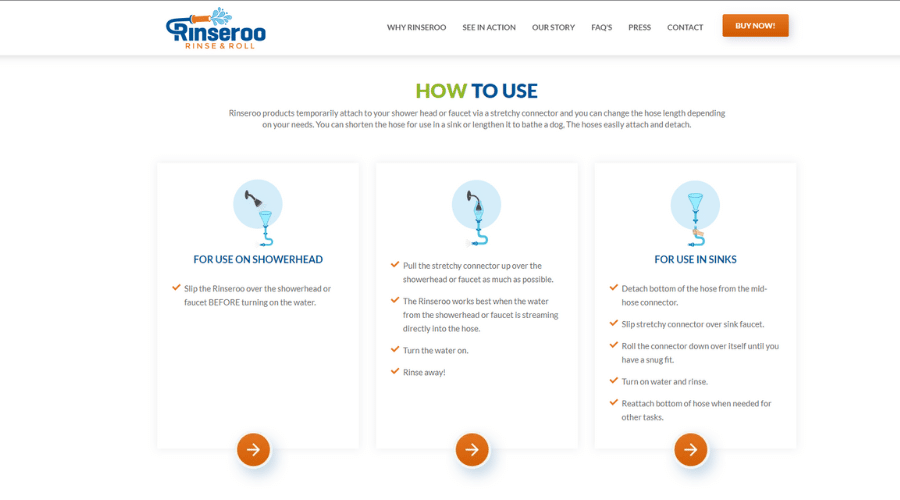 Lisa also thanks their customers for being part of their success and continued journey. As a matter of fact, their customers' feedback and ideas are a huge part of what their team is doing to scale and come up with new line extensions.
"We want not just to be known as the Rinseroo. We want a whole brand that's going to be…related to rinsing and cleaning dogs and whatnot. Everyone loves their dogs, and they're spending all kinds of time and energy and thinking of new things to do with them. And we're happy to have Rinseroo make bath time easier."
Learn more about Rinseroo!
Check out their website at https://rinseroo.com/.