Meet Lizzy and Max! Lizzy and Max are Shepard mixes, 1 1/2 and 3 years old. Both of them are very sweet and are hoping to be transported to a wonderful new rescue.
Lizzy and Max are two heart-worm positive, young dogs currently living in a flooded shelter in Louisiana. They have a wonderful rescue in the Chicago area that is willing to take them in. Magnificent Mutts, located near Chicago, Illinois will get them treated for their heart-worms and have them in good, loving furever homes in no time.
But, Lizzy and Max need to get there first. They need your help to get them to their new rescue. If you live anywhere along the route of their transport, sign up to drive a leg. PAWS Transports is coordinating their transport and they are offering extra gas money to anyone willing to drive more than one leg. Their transport is scheduled for Saturday, April 30, and Sunday, May 1. 
Lizzy and Max are traveling from Grand Cane, Louisiana to Hillside, Illinois. They need drivers for all the legs from Grand Cane, Louisiana to Sikeston, Missouri on Saturday.  Lizzy and Max's overnight drivers and Sunday legs are filled, but they desperately need help with the first part of their trip.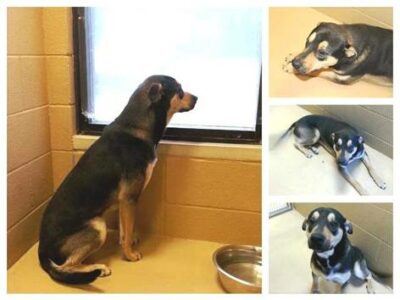 PAWS – Pushin' Another Waggin' to Safety is a volunteer ground transport team dedicated to helping animals from shelters and pounds reach their new rescue approved, adoptive homes or rescue foster homes. Most transports are in Missouri, Illinois, Wisconsin, Michigan, Iowa and Minnesota with occasional transports in Indiana, Ohio and other Midwestern states.
PAWS Transports is looking for people to share the story of Lizzy and Max, and have their transport filled. Share with friends, relatives, co-workers and other animal lovers. You can also go to their Facebook page at https://www.facebook.com/pawstransports/ to share the transport.
If you can help Lizzy and Max get to their new rescue, sign up on Doobert.com, https://app.doobert.com/org-transportation-scheduled/1573