The sad news is, despite how much we love animals, pet homelessness remains a huge problem in the U.S.
The silver lining? Organizations like Shelter Transport Animal Rescue Team—also known as START Rescue—are ready to lend a hand in solving this problem.
According to Steve Spiro, one of the co-founders of START Rescue,
"We do what we can, and that's the thing, it's another thing. We try and focus on what we can do and what we can't do, but it's been pretty successful."
Saving Animals' Lives With START Rescue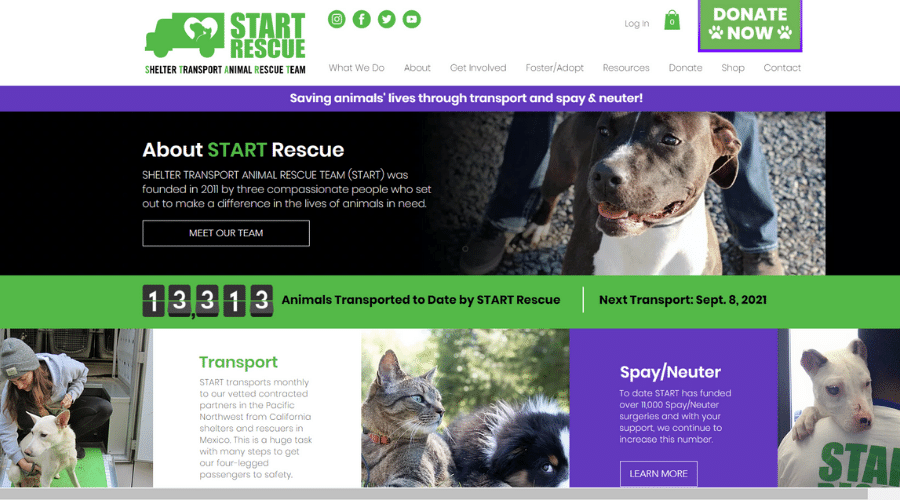 Formed in 2011, the California-based animal rescue organization was established by a group of compassionate people who set out to make a difference in the lives of animals in need.
START Rescue aims to break the chain of euthanasia occurring in California's overflowing animal shelters through 1) community spays and neuters, and 2) compassionate, long-distance transports to no-kill rescue groups.
Steve shared,
"Basically, we have two components of the rescue. We do transports from high-kill shelters in California up to the Pacific Northwest. And we also fund spay/neuter surgeries for low-income residents in certain areas of California."
START Rescue Gives Homeless Animals a Safe Home
For its transport program, START Rescue transports animal passengers every second Wednesday of the month to contracted and vetted shelters and rescuers in the Pacific Northwest.
To ensure the four-legged passengers' safety, the process starts with START Rescue providing its Rescue Partners with links to the shelters' list of at-risk animals. The latter will then choose which passenger they want to help.
Once the Rescue Partners communicate their choices, START Rescue will then create a manifest detailing each passenger's important information. The animals will be going out of state, so START Rescue sees to it that the pets meet agricultural requirements, have received all the vaccinations they needed, and have been certified to be healthy.
Afterward, the organization's 38-foot, outfitted bus (known as "The Beast") picks up the shelter animal passengers and drops them off to START Rescue's START-SAFE Rescue Partners. After the fur babies have settled in, the Rescue Partners then begin the work of getting them ready for adoption.
As per Steve,
"We send them an application form, which, we've been told, is easier to adopt a child than to take one of our dogs. And one of the rules is they have to send us updates of each animal that goes up. We get updates. So, then, we send that out—that update out—on a newsletter every other week so our donor base and people can see where these dogs come from and where they end up. So, it's been very successful."
Most of the animals START Rescue works with come from Delano, Kern County, Bakersfield, Los Angeles County, Modesto, Porterville, Riverside, San Bernardino City, San Bernardino County, Tulare County, and Visalia City.
As stated on its website, the reason why START Rescue transports homeless dogs for adoption to Rescue Partners in the Pacific Northwest is that Oregon and Washington States aren't oversaturated with unwanted, abandoned pets, unlike in California.
START Rescue Funds Low-Cost Community Spay/Neuters for Low-Income California Residents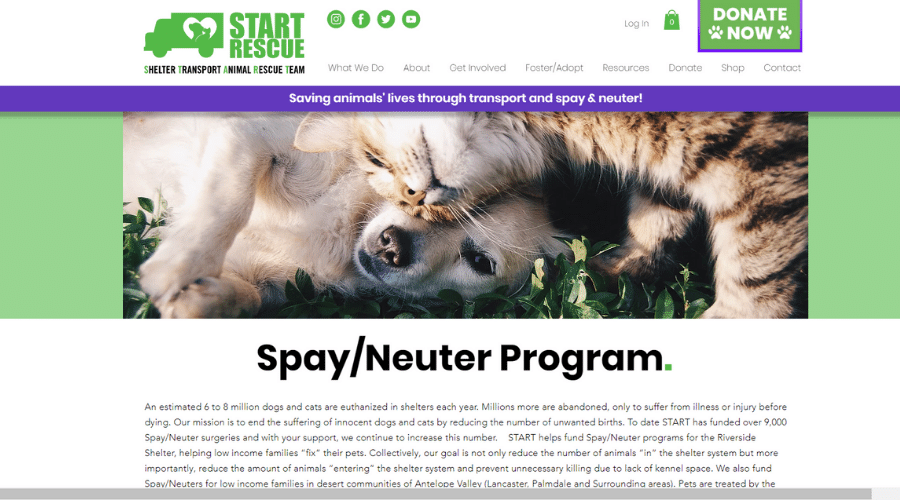 As for START Rescue's spay/neuter efforts, the organization wants to reduce the number of innocent dogs and cats euthanized in shelters every year and help end their suffering.
To this end, Steve and his colleagues have funded—and continue to fund—more than 9,000 spay/neuter surgeries aimed at reducing the number of unwanted births.
"So, what it is, is we actually have a plan… We try and focus on certain areas… So, we work with three shelters close to Porterville, Visalia, and Tulare. And they've got wonderful, wonderful people out there. It's a low-income residence there. So, what we do is we transport their dogs from the shelters. And we also help any residents that need spay/neuter out there… And there's a clinic. There's a wonderful lady called Diana Bentz. She has the Simi Valley Non-Profit Clinic in Simi Valley. And then she has the Porterville Non-Profit Clinic in Porterville, which are three hours apart. And she does a lot of—she does thousands and thousands of spay/neuters a year. So, we work with her,"
Steve stated.
START Rescue's H.O.P.E. Program Gives Hope
But their efforts don't only stop at animal rescue transport, though. Showing everybody that nothing can hinder them from going all-out on achieving their goals, START Rescue also operates START Rescue Resale Store and created the Homeless Owners and Pets Efforts (HOPE) Program.
"Again, we're not going to save what we can't. I wish we could, but we can't. So, instead, we do what we can, and that's the thing… We try and focus on what we can do and what we can't do…"
The START Rescue Resale Store is a nonprofit thrift store that has also become a resource for homeless humans and their pets.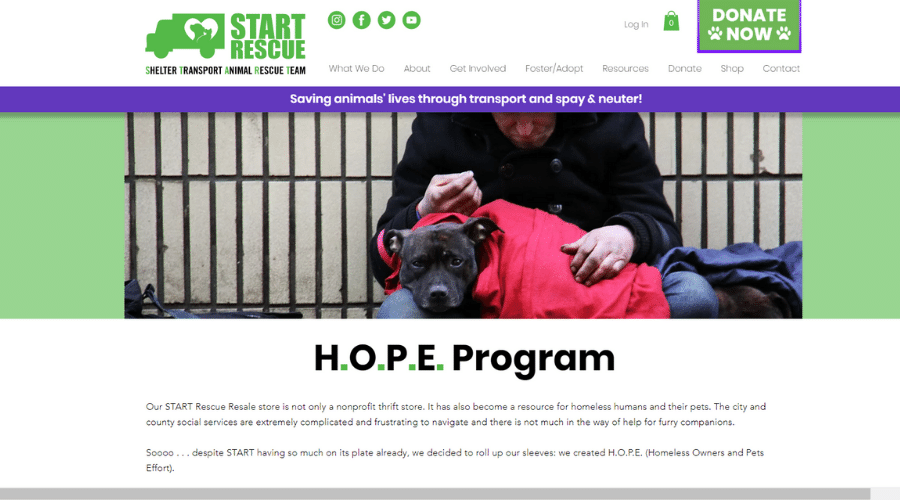 On the other hand, the HOPE Program aims to provide social services not only to anyone who is homeless but also to their four-legged babies. It gets its funding solely through donations made by donors with generous hearts.
Expressing his hopes for the future, Steve remarked,
"I'm hoping at some point, it shifts in the way of the animals' favor. I'm hoping that we go out of business. We don't need to do this anymore… And, you know, a long-term goal is getting their own place, their own sanctuary, rescue sanctuary eventually.  That'd be nice, but that's a lot of work and that's down the road. But I think it's just for one step at a time and just keep doing what we're doing. Keep what we're doing, keeping it successful, and keep helping as many animals as we can each month."
Learn more about START Rescue!
Check out their website at www.startrescue.org.