Fun fact: around 78% of pet parents can't leave their pets at home when they go traveling! What's more, 42% of them tend to choose holiday destinations that cater to their pets' needs.
Still think going pet-friendly―rather than just being pet-tolerant―is not worth it?
Then you might be shocked to also know that approximately 49% of the pet parent demographic are willing to pay a pretty penny if it means that they get to enjoy a reliable, pet-friendly experience.
With pets clearly ruling American households, it's not surprising to learn that the hospitality and travel industry is starting to implement pet-friendly policies.
However, most pet parents are wary of the results they find online. Before booking a hotel, they usually make it a point to contact the hotel's management first to make sure that the hotel offers pet-friendly amenities for their furry family members.
So, how can you upgrade the pet-friendly experience at your properties in a way that will leave your pet parent-visitors gasping in awe and rearing to give you five-star reviews?
With the help of Woof Together, of course!
Establishing the Standards of Dog-Friendly Hospitality With Woof Together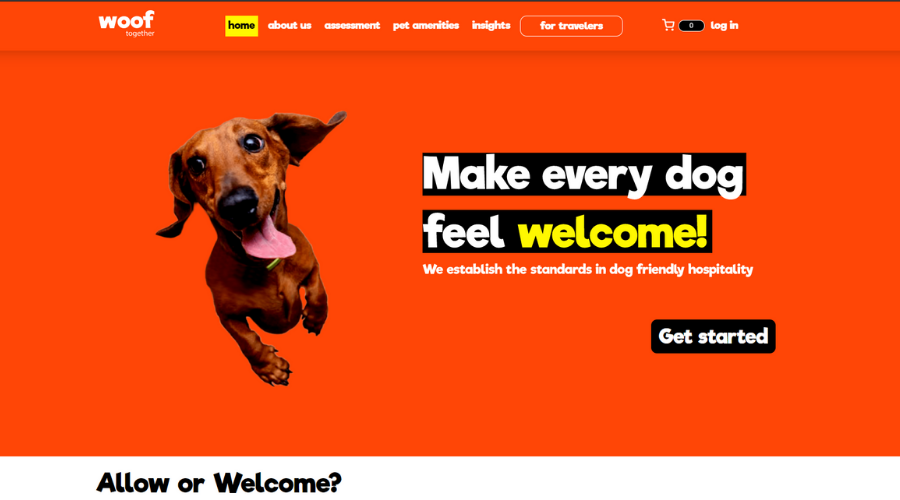 Woof Together is a 360-degree, full-service, pet care startup that aims to raise the standards of pet-friendly hotels and properties. Its goals include making the travel and hospitality industry a better place for pets and pet lovers.
It is co-founded by its CEO, Elena Dede. Elena herself is a doting pet lover who loves bringing her pets along with her.
As per Elena,
"We know that people are very much disappointed sometimes with the large pet fees that don't correspond to a pet-friendly service. So, we wanted to make the standards for what pet-friendly accommodation actually means."
To this end, Woof Together aims to enable pet parents to travel with their furkids hassle-free.
She stressed,
"For us, you cannot claim that you are a pet-friendly property if you don't have some basic amenities for the pets… What is more frustrating is…the pet policies online are so limited to some basic stuff… I think this is very unfair to pet parents."
With more and more people adopting pets, the human-pet bond is becoming stronger than ever. In line with this, Elena believes that post-pandemic, many will be traveling with their pets.
Hence, for Woof Together, it is vital to prepare the travel and hospitality industry holistically. This helps ensure that hotels and agencies can create a complete and memorable experience for both pets and pet parents.
It may include involving pets in tours and activities, as well as making preparations beforehand for pet emergencies.
Getting a Woof Together Certification
To get Woof Together approval as a pet-friendly accommodation, you need to take their online assessment.
Based on your "pet-friendly" score, they will then give you a roadmap of what you need to accomplish.
If you want to further upgrade the pet-friendly experience in your properties, you can also get access to their training curricula at Woof Together Academy.
The first fully online professional training program for pet-friendly businesses and hosts, Woof Together Academy combined the expert advice of the industry's professionals with the inspired ideas of Elena and her team.
It covers endless training tutorials on subjects that increase a hotel's or property's chances of success.
Some of these include training in housekeeping, revenue management, front desk, marketing, and crisis management.
They even teach how to communicate your pet policies online to potential clients.
"This is the first time that we created, you know, a framework for all these pet-related operations within a hotel. And I'm really proud because our team worked very hard, and there was nothing relevant before,"
Elena disclosed.
Woof Together also partnered with an international, well-acknowledged certifier to ensure that only deserving businesses receive certifications.
On the other hand, if your pet amenities ever need an upgrade for an unforgettable customer experience, Woof Together also acts as a supplier of pet amenities.
From highly absorbent dog towels and various cleaning products that remove pet hair, pet dirt, or pet odors, to comfortable dog sofa beds and biodegradable poop bags, you can get your premium pet equipment from Woof Together.
All you need to do is visit their website, select your preferred kit from the list they have available, and place your order. Woof Together will then deliver your kits straight to your door as soon as practicable.
Before closing the segment, Elena imparted the importance of pet-friendliness:
"We need to get in-depth on what 'pet-friendly' really is. No, it's deeper. And a very well-prepared hotel makes a difference compared to a hotel with people who were never trained on how to handle specific circumstances."
Learn more about Woof Together!
Visit their website at https://wooftogether.com/.