What if we told you that it's now easier for dog owners like you to take great care of your cute and lovable pooch?
If your response to this goes along the lines of "OMG, yes please!", then say no more.
You're in for a treat with Scout9's Pocket Scout!
Simplifying Pet Parenting With Scout9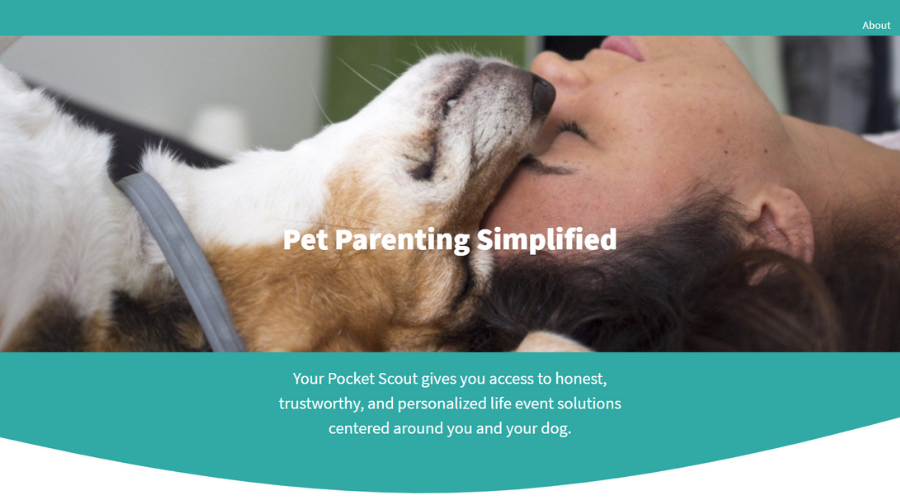 Co-founded by Patrick Opie and Luisa Ruge, Pocket Scout is an app that aims to help dogs improve their well-being by empowering their human parents to make smarter decisions on their behalf.
Luisa revealed,
"Our backgrounds are a little bit different. Patrick has more of a consulting, engineering, physics, and music background. My background is more in design…mostly focused on humans. About seven years ago, I shifted to focus on animals as legitimate users of products… So, our shared interests of dogs and how to improve their lives are what brought us together. And that's what Scout9 is, basically."
For his part, Patrick said that the idea started when he and his now-wife decided to adopt their very own fur baby.
As new pet parents, they continuously looked for ways how they can better take care of their pups. However, they often ended up disappointed, as nothing was readily on hand to help them with their dilemma.
"I remember, like, we're always looking for ways where we can kind of check if a product is good or discover something that's a good purchase or not. But, there's really nothing out there that can tell you… At the time, I was like, 'What if there's something that can kind of guide you through your dog's life? Like, onboard you to raise a dog and help you make these better decisions as you go along?' And that kind of led to the creation of our tech, which is the Pocket Scout,"
Patrick shared.
The Pocket Scout App by Scout9
Although still evolving as an application, Pocket Scout was designed to give pet parents access to honest and reliable solutions centered around them and their dog.
With the tagline "Pet Parenting Simplified", the app makes use of a canine-centric artificial intelligence (AI) to help human owners navigate their pet parenting journey.
Patrick explained,
"(Pocket Scout) is still this concept, but it is using machine learning language. We use RNNs and federated learning to create these models where people can kind of use this in their daily lives. And it learns from their actions and helps make decisions around their dog… So, in the future, it's kind of like a student but is able to intercept and solve and resolve any problem that you have for your dog and improve their well-being in the process."
The app effectively does this by asking for all the relevant information about you and your dog and then generating your pup's monthly journey. Once this is completed, Scout 9's Pocket Scout will then make the necessary preparations to ensure that you have everything you need to get ready for your Fido's life events like vaccination, training, socialization, dental care, and vet appointments.
When asked how design and the concept of dogs' well-being came together for this app, Luisa replied,
"A lot of the products and services out there are designed actually for us to use, and then the animal just makes do. So, my intention behind this was more (on): 'How can you make sure that the choices you're making on behalf of your dog actually reflect what your dog actually needs as an individual?' So, this whole concept of well-being came about, where, you know, dogs also have a user experience of a product. I think our responsibility extends to making sure that it is impacting them positively."
As to how you will be able to know whether your dog's well-being truly improved, the Scout9 team built Pocket Scout with proprietary models that take into account important factors.
Some of these factors include the number of calories and nutrients in their diet and patterns that would indicate that the pooch is actually on its best behavior.
"Sometimes, we can't get that discrete data, so we have to make a lot of inferences. So, we check with the user to see. If our assumptions are correct, then our recommendations are doing what they should be doing. And if they're not, we adjust and help make better decisions for other people. So, the more people that use this, the better and more insights we can get…"
Patrick elaborated.
This clearly makes Pocket Scout your lifetime AI partner in making sure that your dog's well-being remains a top priority.
Given their future goal of building a community of pet partners who are willing to share their experiences with their fur babies, the app shows potential in paving the way for the dog community to stand together in becoming rock star pet partners for your Fidos.
Luisa closed the podcast:
"I just think that there's an opportunity here to, in a way, enable dogs' consumer voices to be heard and to be understood. And the goal is to make sure that what we're choosing for them benefits them. So, I hope this resonates with them because who wouldn't want to give their dog a better experience?"
Learn more about Scout9!
Visit their website at https://scout9.com/.