Shelters and rescues often struggle with limited resources. Many rely on donations and fundraisers and don't raise enough money to accommodate the needs of their animals.
One way to lessen the burden is to build connections with other organizations and become a resource for one another. And that's exactly the idea behind the Doobert Trading Post!
We want to provide you with an easier way to collaborate with other shelters and rescues and offer each other a helping hand.
If your organization is in need of supplies or wants to share anything you have in excess, we highly encourage you to use the Doobert Trading Post and tell your partner organizations to do the same.
We show you how it works down below!
How to List Your Own Items
Step 1: On your Organization Dashboard, click on More and then Shortcuts.

Step 2: Click the plus sign near Trading Post

Step 3: Click List Items for Others

Step 4: Click Add New

Step 5: Add information about the item

Step 6: Click Add Item
How to Edit Items
Step 1: Click the pen icon to the right of the item
Step 2: Make the changes

Step 3: Click Update
How to Search for Items in Your List
Step 1: Enter the name of the item
On the top panel, you'll see a space for item names at the leftmost side of the screen.
Step 2: Select the category of the item

Step 3: Choose the item type
Are you looking for an item that you listed as "Needed" or "Offering"?
How to Find Available Items from Partners
Step 1: Click on the Trading Post tile and select Search Available Items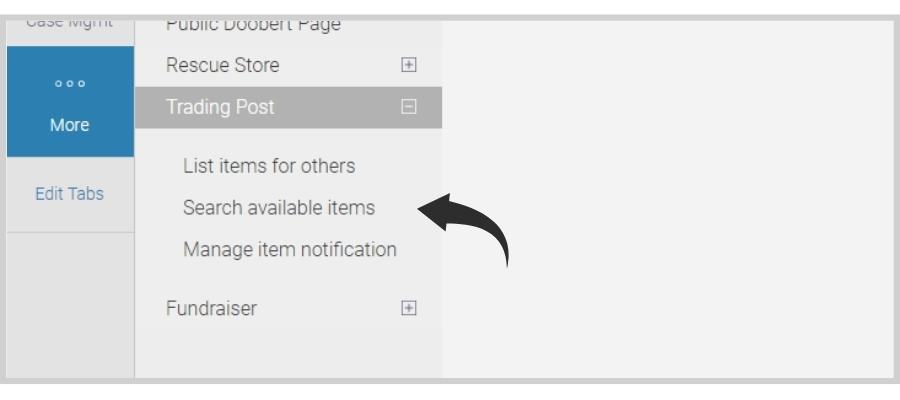 Step 2: Enter the item name

Step 3: Select which partner to search items from

Step 4: Select a category

Step 5: Select the item type (Needed/Offering)

Step 6: Click Search
Step 7: Click Request or Offer
If you're interested in an item listed by another organization, click Request. If you want to provide an item that another organization is looking for, click Offer.

After that, add a comment or message then click the Request or Offer button at the bottom.
How to Set Up Your Notifications
Step 1: Select Manage Item Notification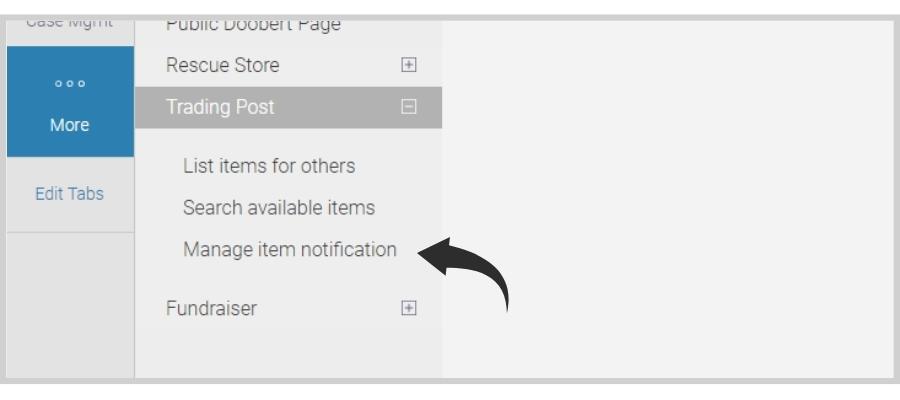 Step 2: Turn on the toggle switch
Step 3: Enter your coverage area
Step 4: Check the box next to the items you want to receive notifications for

Step 5: Click Save